LOCUST GROVE, Ga. – One dog is living up to his name these days. Lucky is just that — lucky to be alive.
Cobb County Animal Control is investigating a pet sitter who is being accused of animal abuse in at least two dogs' neglect and cruelty, including starvation.
"For it to be one of our own, is devastating because you would never expect that from someone who makes a living taking care of animals. It's just unreal," said Justine Stinnett, who rescued the dogs this weekend.
It all started when an animal rescue organization placed a dog named Lucky, an adult boxer-mix, with a pet sitter to be a foster home, until he could be adopted.
Stinnett, who works with dog rescue organizations, said she handed off Lucky to a Smyrna woman on Nov. 11. According to her, when she dropped him off, he was a healthy 50-lb. dog.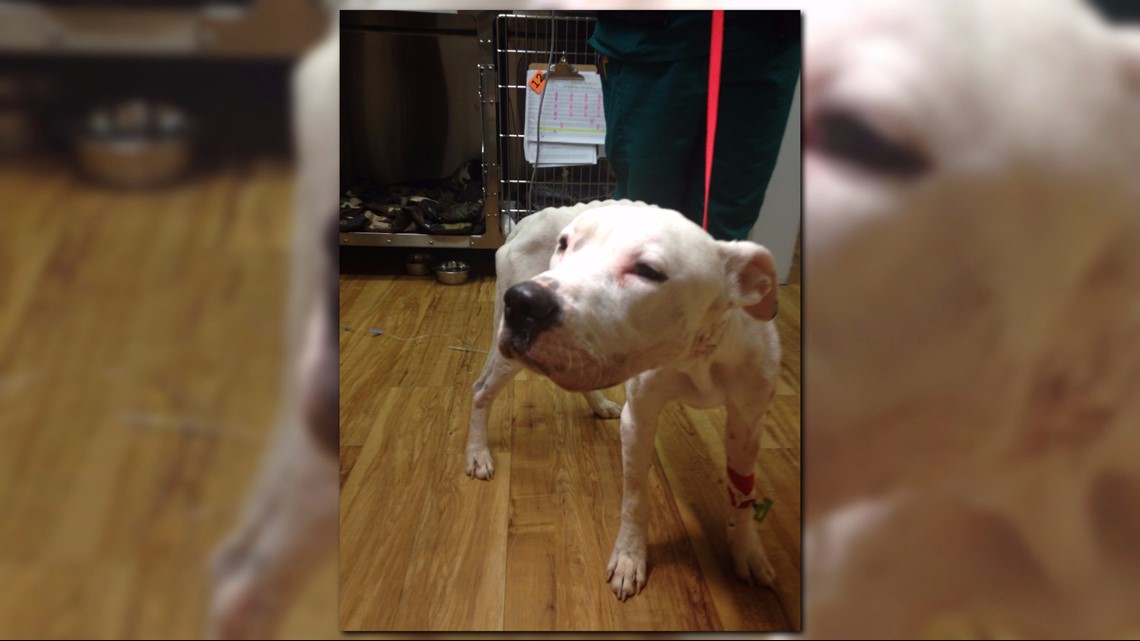 But just over a month later, she had to save her rescue dog, after she found out that he had missed a vet appointment. She found Lucky, emaciated inside a crate that the pet sitter allegedly left outside in the rain.
Stinnett said she believes that the pet sitter may have left her house and moved two weeks ago, intentionally leaving behind Lucky.
Lucky was taken to Woodland Animal Hospital in Locust Grove, Ga., on Sunday at 1 p.m.
Lucky should make a full recovery and restore his weight and strength in about a month, Dr. Lexie Mahn said. Lucky, the vet continued, had to have been denied food for weeks to be this thin.
"Angry. Sad. I don't know if I have all the words for it because it makes me boil just thinking about how a dog could become like this," Mahn said, when asked how she felt when she first saw Lucky.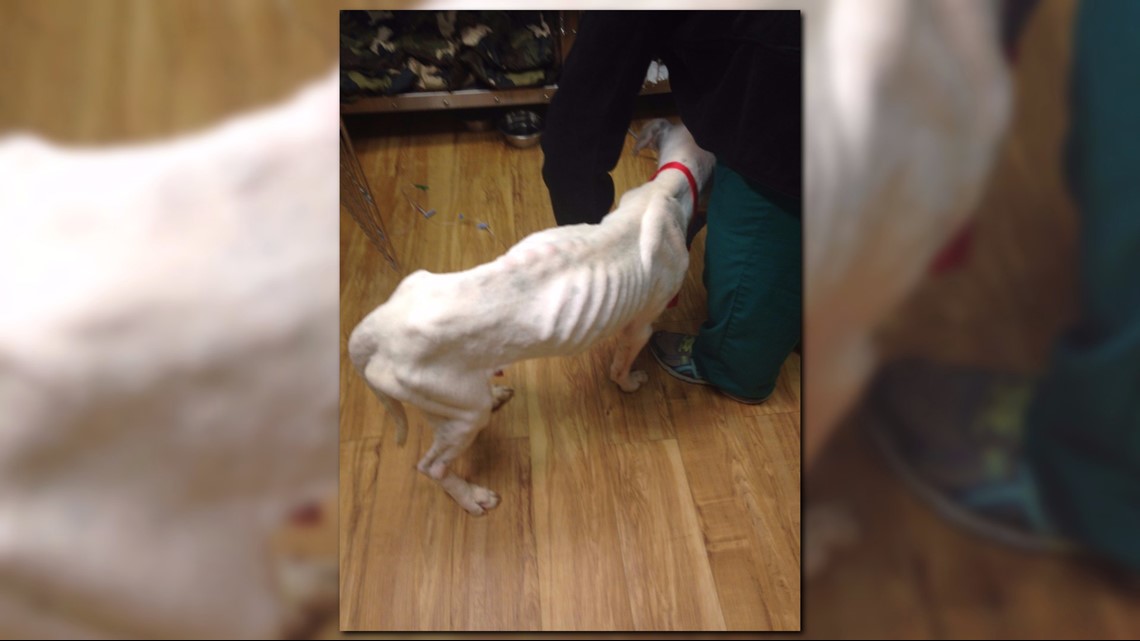 After Lucky's story went viral, the director of the Meriwether County Animal Shelter said she contacted Stinnett, concerned about a dog they had recently adopted to the same woman.
Simpson is a blind American bulldog. Stinnett immediately returned to the house to look.
"We went back to the house and the door was open and there he was. He was stumbling, he can't see. He's blind. So mine was deaf. So she left a blind dog and a deaf dog to die in a home with no food, no water. Nothing," said Stinnett.
The same woman has been linked to abuse within other people's homes, families who hired her to pet sit for them.
Katarina Vranicar is just one of more than two dozen pet owners that contacted reporter Rebecca Lindstrom with their concerns.
Vranicar said she hired the woman for two weeks around Thanksgiving to come three times a day. Instead, she said, according to her security camera, the pet sitter only came once every two or three days. Their house had an overwhelming smell of urine and their dog had lost weight, she said.
Efforts to reach the pet sitter have gone unanswered. 11Alive is not releasing her name because she has not been charged with any crime at this time.
But Stinnett had a message for her on her Facebook page:
"I trusted you... we all trusted you. You took a young, healthy, beautiful dog, and you broke him. You tortured him along with an older blind dog. They were defenseless. If you didn't want them anymore all you had to do was say so. One call and I would have been there."
Stinnett is trying to raise money for Lucky's vet expenses. For more, visit https://www.youcaring.com/lucky-718828.