There was a rhythm between Meko and Mavel Blanco. When she sat, her 3-year old dog took his spot at her side. When she slept, Meko nestled on her pillow while Blanco gently rested her hand on his curly black coat.
"Pets are family," said Blanco.
The last time Blanco says she saw her dog alive was when she dropped Meko off at the groomer. By the end of the day, Meko was dead.
"Meko suffered at the hands of somebody else," Blanco said. "He was kicked. He was slung around like he was a doll. And then he was put back on the table with his lead on, and he was choked to death."
Police investigated Blanco's claims. Their incident report states groomer Michelle Root is a former PetSmart employee who started her own animal care business. Root was found guilty of a felony animal abuse charge. We asked her to comment on her case, however she declined to speak with us.
(Story continues after the gallery below)
Meko, the dog killed after a trip to the groomer
Nationwide neglect and improper care is also killing pets.
An investigation by NJ Advance Media found 47 deaths connected to PetSmart over the past decade The report says 32 of the animals died since 2015. Owners say they took their dogs in for a nail clipping or haircut and died from rough handling or intense stress. Some dogs were allegedly placed in drying cages, unable to escape as air pushed in. According to NJ.Com at least one dog suffocated.
PetSmart states it follows the "highest grooming safety standards in the industry" for the 13 million pets groomed there every year.
"Any assertion that there is a systemic problem is false and fabricated," a statement from PetSmart said. "We extensively investigate any and every incident, no matter how minor. Our independent team of investigators, many of whom have law enforcement backgrounds, is committed to conducting these comprehensive investigations." (Click here to read their full statement)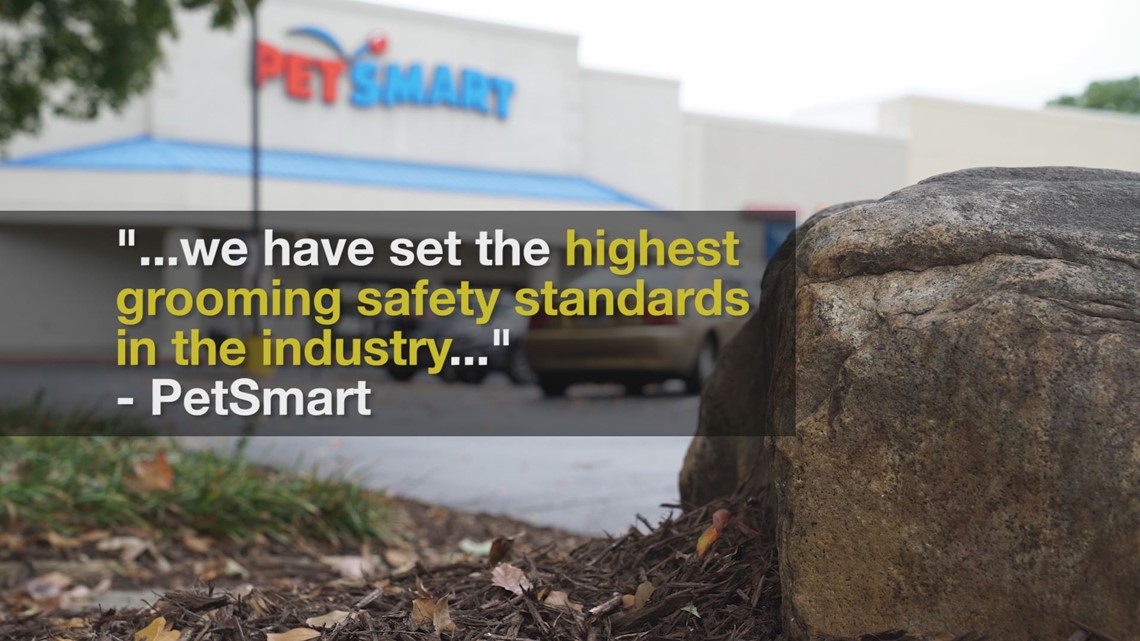 Do how do know if a cage is safe? You can ask your groomer how your dog will be dried and if heat will be used. Also ask how your pet will be monitored.
"We can't just say well our plan is that these things aren't going to happen. We need to know someone is there that can really notice when a medical emergency is happening and act accordingly," said Erica Elmore of Furkids Animal Rescue Shelter.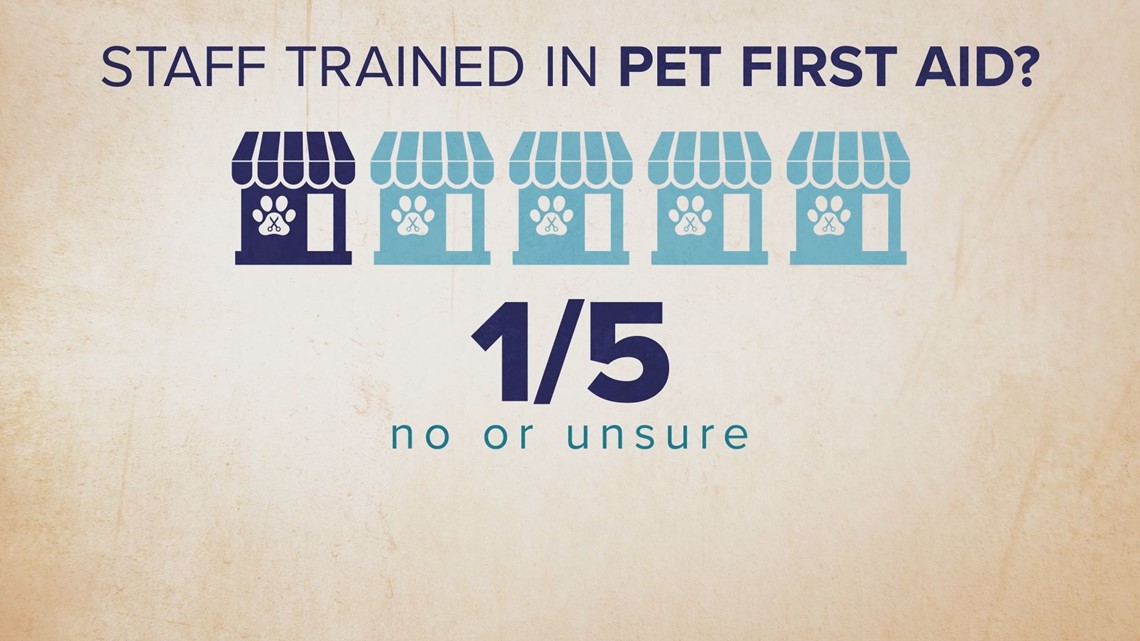 We contacted 50 Atlanta-area groomers to find out if their staff is trained in pet first aid. One out of five said no or were unsure. One out of four reported an emergency that required first aid.
* 22% of businesses said their groomers were not trained in pet first aid or they did not know if groomers were.
* 26% actual said that they had to use various forms of pet first aid at their establishments at one time or another.
* 22% said that they were not affiliated with a vet clinic or hospital in case there was an emergency.
There are no state requirements for groomers to be certified in Georgia.
"You can't just look at the credentials on the wall to say this is a good, safe place for me to bring my pet," Elmore said.
There are steps to take to keep your pet safer.
Brachycephalic dogs with short noses and smushed faces like English Bulldogs or Shih Tzus are more prone to injuries from rough handling, intense stress or overheating.
"There are special considerations especially with these breeds. That's where owners can really become proactive," Elmore said.
2. Choose your groomer wisely
In most states no certification is required, so do a safety check of your own.
Find out if how long the groomer has been working in the industry. Read online reviews and ask vets for recommendations. Get a sense of the groomer's experience level. Experts say if you have a specific breed, you may find a groomer that has experience or specializes in that type of animal.
"You should never feel guilty as an owner for asking about the process, how will my dog be restrained, how will it be dried," explained Elmore.
For more peace of mind, animal advocates suggest asking if the groomer has cameras for live monitoring or for playback in case anything goes wrong.
Story continues below gallery
Tips to keep your pet safer
Other questions to ask your groomer include:
- What will happen if there's a mishap or a medical emergency?
- Is the groomer trained in pet first aid?
- Does the groomer have a vet partner on stand-by?
- The more you talk to your groomer, the better prepared you'll both be.
"We need to appreciate the groomers who are doing it well and really are being respectful of some of these breeds needs," Elmore said.
In the year since Meko's death, several animal advocates have worked to raise awareness of the risks that can come with someone else is watching your pet.
"I would like to see the laws changed," Blanco said.
After her dog's death, Forsyth County passed an ordinance limiting how a pet can be tethered. Next, Blanco hopes to see statewide legislation to protect other pets. She's encouraging lawmakers to consider proposing "Meko's Law," which would create a database of people convicted of animal abuse.
"There's no real way for anybody to do a background check, and that's what this animal registry would do," explained animal advocate Eric Francis. "The main part of Meko's Law that I want to see go through is that you cannot own, you cannot possesses or foster animals. And you cannot work around animals (if convicted of felony abuse)."
A similar registry is already in place in Tennessee.
"If Tennessee can have a registry of some sort for animal abusers then Georgia should have one as well," Blanco said.
Their idea for a state animal abuse registry in Georgia remains exactly that - an idea. Blanco and Francis hope the death of Meko will raise enough awareness for someone to take action in the Georgia General Assembly.