ATLANTA — Artist Courtney Buchanan decided September 2020 was the time to share her artwork with the world.
It manifested in the form of a silk scarf. Each one is hand-designed and named to honor and celebrate the traits of a specific woman in her life.
"I basically take their style, their aesthetic, their positive personality traits, put it all in a blender in my brain, and then out pops a scarf," Buchanan said.
When she thought of her "sophisticated, well-mannered and impeccably styled" friend Sarah, she imagined a light blue and sage-colored scarf with a large white flower in the center.
The design was hand-drawn to represent what Buchanan thought was Sarah's most valuable trait: "the fact her sense of self-confidence allows her to be goofy, silly, carefree and lighthearted ... without worrying about what other people think."
Buchanan started a small business called CB Grey, with no background in fashion and in the middle of a global pandemic - a time where female-owned small businesses are hurting more than their male counterparts, according to a U.S. Chamber of Commerce poll.
The data showed before the pandemic began, 67% of male-owned businesses ranked the health of their business as "somewhat or very good," compared to 60% of female-owned businesses. By July of 2020, that number had fallen 13 points for women-owned shops compared to only 5 points for men.
For Buchanan, a new mom, the challenges didn't stop there. Her mother was diagnosed with breast cancer about a month after she launched.
"So it was like, oh, cool. I have a baby, a new business, COVID, and now my mom has breast cancer," she remembered thinking. "Looking back on it now, I [think], 'how in the world did I do that?' But in the time, it was like, well, yeah, of course I'm going to take care of my mom. Of course I'm going to keep running my business. I don't have another option."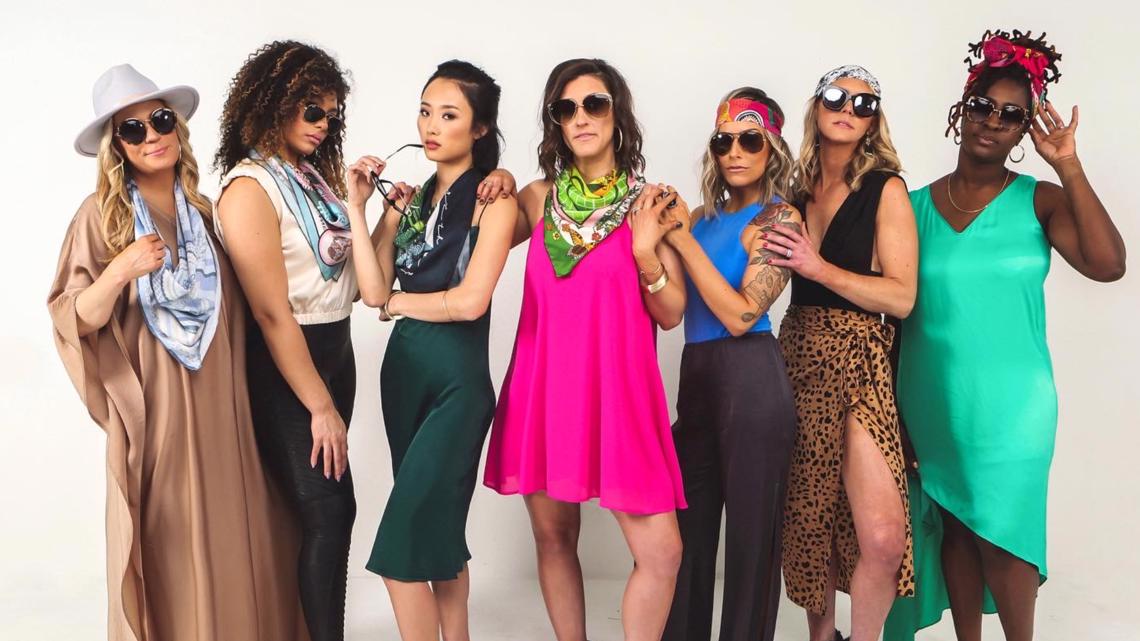 Her mom had surgery and is now doing well. Buchanan's story is a familiar one for women in business.
A survey of more than 150,000 business leaders in more than 50 countries conducted by Facebook, World Bank and the Organization for Economic Cooperation and Development shows female entrepreneurs have suffered more from lockdowns because of other responsibilities like homeschooling, caregiving and household chores.
Luckily, she got a little help from the pandemic, since most of us were only getting dressed from the waist up.
"The world we were living in was the world of Zoom calls and masks, which a scarf lends itself to both of those things," she said.
Buchanan said she knows the stats are against her, but she'd do it all again. She encouraged other women to do the same.
"There are so many things that you don't have control, over and you have to be able to pivot," she said. "If you want something, go for it. I mean, don't let a pandemic stop you."