ATLANTA — Earlier this week, the nation commemorated the anniversary of the Tulsa Massacre of 1921 and the fall of Black Wall Street.
The historical event occurred between March 31 and June 1, 1921, when a Black community in Tulsa, Oklahoma, was attacked by an armed white mob who bombed and burned the city - destroying the culture the residents had built for themselves.
In the aftermath, countless lives were lost, and Black-owned businesses and homes were burned. The Black Wall Street that was built to uplift and advance the Tulsa community was destroyed, and for years it was left out of history.
However, this week, Atlanta entrepreneurs are honoring the lives lost and hope to bring awareness to the history with various events to participate in and learn about Black Wall Street.
Black Wall Street Business Expo
The Black Wall Street Business Expo is a way to rebuild Black Wall Street by showcasing Black excellence through entrepreneurship and the remembrance of Black history that seemed to get lost over the years.
"A lot of people didn't realize what Black Wall Street was or that it even existed until this 100-year commemoration, which was last year," founder and CEO of the Financial Literacy Institute, Jasmine Young, told 11Alive. "This event is to commemorate Black Wall Street, but also at the same time to revive the spirit that was alive back then, today," she adds.
The event will have various Black-owned businesses set up shop for attendees to browse and purchase products - but that's not the only highlight. They will also hold a panel discussion on the importance of financial literacy within the Black community.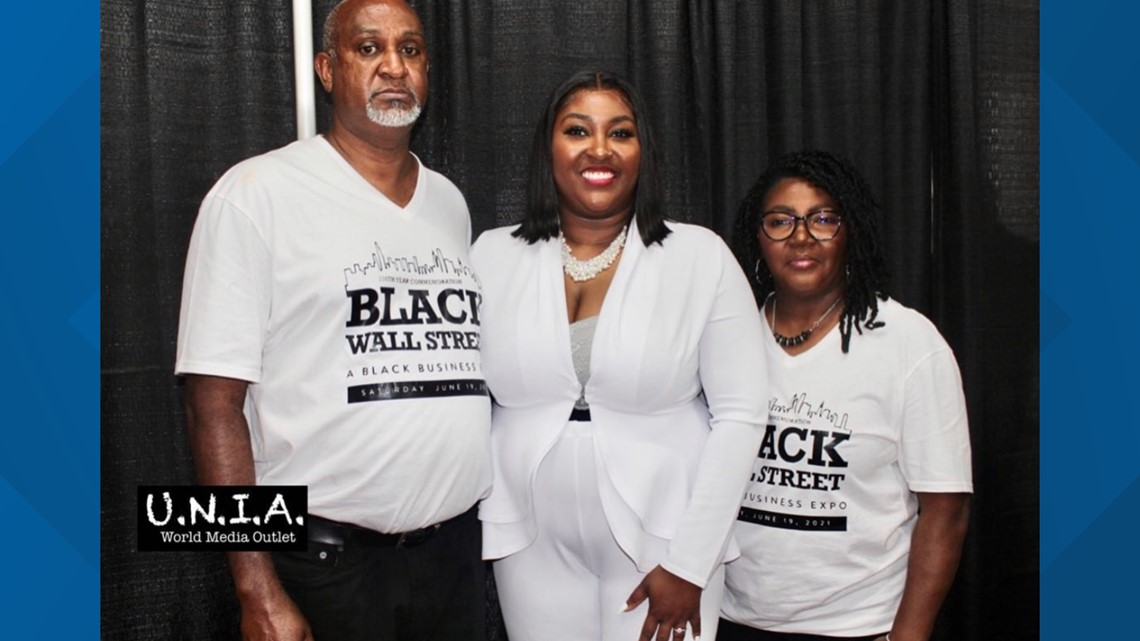 When asked what "rebuilding Black Wall Street" meant, Young explained that it is not just about bringing the community together. She said it is also about educating the community, especially when it comes to money and creating "generational wealth for an entire race."
She uses a strategy based on "cooperative economics," which she said allows the "Black dollar" to circulate within its community before moving out to other communities.
"It's a way for us to support and grow our sales, build our confidence back in one another and trust back in one another, especially with business and with money."
The event will hold a raffle to grant one vendor $1,000 to invest back into their business. Young believes grants like these encourage the Black community to strive for individual success.
"We don't have to put up with inequality. We don't have to put up with injustice. We can bring our money back to our community and be interdependent instead of depending on other ethnicities and systems that don't support us."
The Black Wall Street Business Expo will be held Saturday, June 4, at The Westin Peachtree Plaza from 12 - 6 pm.
Tickets can be purchased online.
The New Black Wall Street Market
The Black Wall Street Business Expo is not the only one commemorating the anniversary of the Tulsa Massacre.
Earlier this week, the New Black Wall Street Market at Stonecrest had appearances by Pastor Jamal Bryant of New Birth Missionary Baptist Church who spoke on the importance of economic parity within minority communities.
"It was a commemoration of the past and a celebration of the future," Matthew Hampton, the New Black Wall Street Market Director, said.
The NBWSM opened last year on the 100th anniversary of the Tulsa Massacre. Today, it consists of over 100 Black, minority and female business owners who sell their products and services in the market.
Since its opening, Hampton has seen the impact that it has had on the community and the vendors who make up the market.
"I see the families working together and building their businesses. I see the families able to invest more in their businesses. I see the growth," Hampton said. "I see them having a better family car than what they had because they have this consistency of the market."
However, the market's success did not come without difficulties, including rising construction costs amid a global supply chain shortage and criticism within the community.
The NBWSM came under fire in February when former market vendors saw construction issues. In an article by Black Enterprise, the vendors cited problems of leaking roofs ruining their inventory. Hampton told the news outlet that the leaks were due to unexpected heavy rainfall.
When asked if these issues have been addressed within the NBWSM, Hampton said that the problems were fixed.
He said that unexpected problems like those are inevitable in business. Still, it is the diligence of the entrepreneur to find solutions and continue to take action to achieve their mission.
"If you're an entrepreneur, you know that you're going to have difficulties there. What's most important is that you don't look at your problems, but you look at the promise of what you're doing and that's what we've tried to do," Hampton explains.
"You've got to fight. You have to be innovative. You know, plans don't go the way you imagine them. You walk in and you fix a roof and then the roof leaks in. So you have to be tenacious," he adds.
Today, he said much more to come from the NBWSM, including beauty salons, more restaurants and a food court. And in terms of continuing to build up the community, the market will be holding multiple events and promotions, including their effort to open 1,000 Black business accounts and Black bank accounts before Juneteenth.
Overall, Hampton said he believes in the NBWSM because it is not just a conversation on the Black community's issues but also a solution.
"It represents action, and it represents us not getting together to have another conversation about the same problems, but it's actually a solution," he said.