ATLANTA — You may have seen a post, warning people to not respond if you receive a text message like the one in the photo below. The text comes from various unknown phone numbers, with a picture of the same girl.
The viral post claims it's a form of sex trafficking, and that if you respond, your location can be tracked.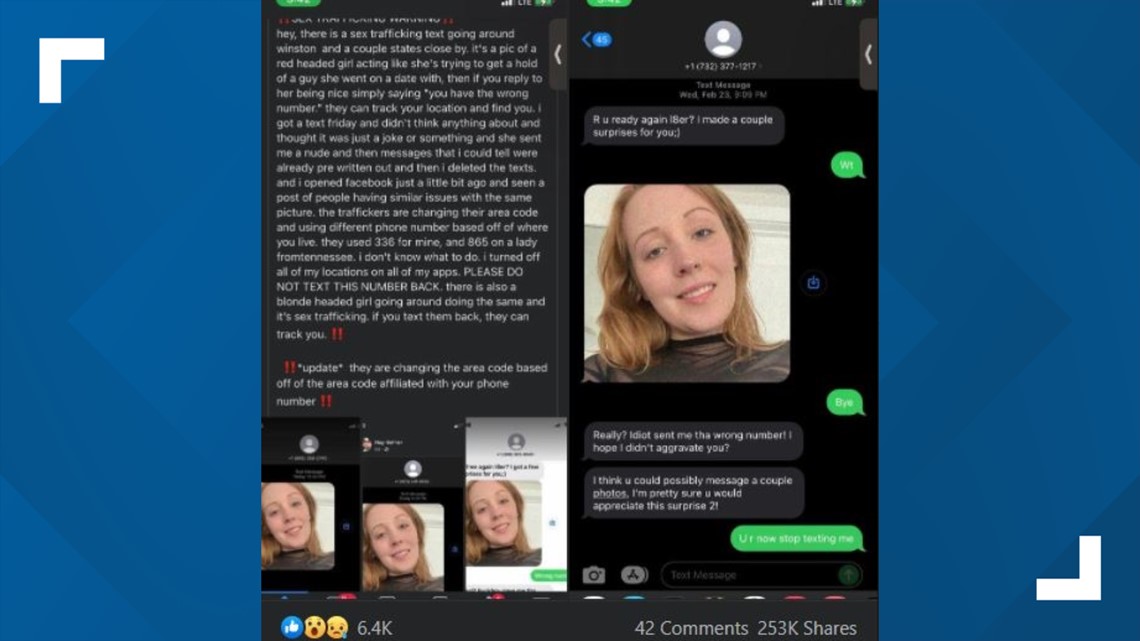 Experts are warning that these texts, which have been sent to people nationwide, are scams.
Simone Williams with the Better Business Bureau serving metro Atlanta, Athens and northeast Georgia, said the nonprofit organization, as a whole, has received reports about this.
"Scammers are going where people are," Williams said. "In the beginning, it looks like a romance scam that turns into a phishing scam."
Williams said at a local level there haven't been reports, likely due to the fact that people don't seem to consider it a scam.
"I'm thinking people don't consider it a scam because they did not lose any money. But what they have to remember is that a scam, is not only financial... you can lose your personal information, which can then turn into losing some of your finances," she stated.
The Facebook post, which as of Friday night has been shared more than 250,000 times, claims the texts are a form of luring people into sex trafficking, and that if you reply, they can track you.
"It's the new version of an urban legend... it's the newest way to scare people," he said.
Pierce explains that this kind of text scam has been around since around 2019, with different versions of it being released.
He warns to not respond to the message for a few reasons:
"They're really hoping that you're going to start a conversation with them. That does two things for them. One, it validates your phone number, so they can sell that number to advertisers and make money off of that. The second thing they can get off of it is if they get the conversation going far enough, they can get personal information off of you," he said.
According to Pierce and Williams, all of this could then lead to an identity theft situation, a romance scam or a phishing scam.
"We're seeing that younger adults, 18 to 35, are getting scammed at the same rate, or more than, older generations. In a romance scam, they say, 'Hey, you can trust me,' then you start telling personal things about yourself in which the scammer is using that information," Pierce said.
They said the best way around these text messages is to not respond, block the number, and report it to the BBB that way the organization can then warn communities of this.
"This scam is actually targeted more towards Gen Z, because of the use of their text messages... and they're more liable to respond and they're more liable to give up information while in Gen X, not as much," Pierce said.
To recap, the text messages are real -- even two of my colleagues have received them. However, according to Pierce and Williams, the claims about sex trafficking and tracking a location are not... but they should be reported.
"It's more of a bot that's actually sending out the text, and then once someone begins to reply and respond to it, a human kind of picks up and takes over from that point. We don't know necessarily know who's doing it, but we do know that it's basically to gather information," Pierce added.
If you receive a text like this one, make sure to report it to the BBB by clicking here.
"Never give personal information to strangers, never share your credit card or banking information, your full name, home address or social security number with someone you never met in person," Williams reiterates.