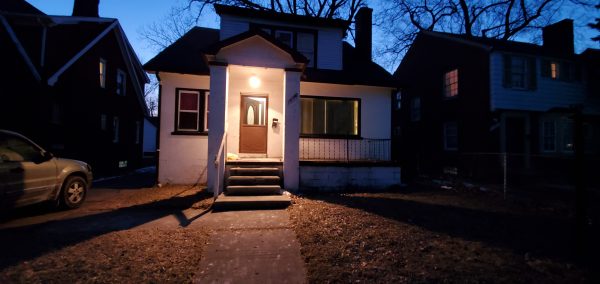 In this series, NerdWallet interviews new homeowners across the country about their unique homebuying journeys and the financial decisions that helped them along the way. (Do you want to share your first-time homebuying story? Reach out to vlai@nerdwallet.com.)
Detroit took a massive hit during the 2008 financial crisis, and to this day, many residents can't afford the down payment, mortgage and other costs associated with owning a home. That's partly why renters still outnumber homeowners in the city.
However, some have become homeowners in unconventional ways: Keitha Caldwell was able to buy a fixer-upper for $17,500 after winning a lawsuit against her former employer over a workplace injury. The 38-year-old retail manager and single mother of two, who eventually had to move in with her parents after the injury, saw the purchase as a ticket to independence.
Learn more about Caldwell's home buying journey and get tips geared for first-time homebuyers from a Detroit real estate agent. (This transcript has been lightly edited for clarity and length.)
What brought you to Detroit?
I've been here forever. Detroit is where my family is. It's where I was born and raised, and it's what I know.
Why did you decide to buy a home in Detroit?
I got injured at my job in December 2016 and had to be off of work for 22 months. I could no longer afford rent because I had no income, so I had to move in with my parents. I also have two kids.
Because of my injury, I sued my employer and in November of 2018, I received $21,297 from the lawsuit. I felt like it was time to regain my independence. I thought the best thing I could do was pay cash and purchase a home. I didn't want to worry about housing ever again.
What were you looking for in a home?
Initially, I just wanted something located between my daughter's high school and my job. I didn't care about what the house looked like or how many bedrooms it had, but it was a big deal for me to have a yard because I love being outside.
What was your homebuying journey like?
I got injured at the end of 2016 and could no longer work. My rent at the time was $800 per month, but I had exhausted all of my savings, and after 13 months, had to move in with my parents at the beginning of 2018. Almost a year later, in November 2018, I closed on the house and moved in the week before Christmas.
It took me a month to look at 50 houses. I would go out twice — sometimes three times — a week to look at homes. I was out looking from the time I dropped my daughter off until she was done with school.
The first home I saw had everything I needed, but I wanted to see more. After seeing several additional homes that were missing so many important things, I decided to put a bid on the first one. I got it the next day.
How did you know that the home was the one for you?
The house has everything I needed. It has five bedrooms and two baths. It does have two major issues (gutters and plumbing problems), but everything else is cosmetic. It also has a nice backyard, but I do need a fence because I have little dogs.
What's your approach to finance, and how did you save for the home?
Because of my injury and being off of work, I was really frugal and in survival mode. I used cash from the lawsuit against my former employer to pay for the home. When you use cash, it's a faster process versus using a lender. I paid for it all upfront.
My budget was under $20,000, which is normal for fixer-uppers in Detroit. The home started off at $16,000 and ended up at $17,500. Closing costs were included. And two months before I purchased the house, my doctor let me go back to work [at a new company].
Were there any surprises or challenges? Would you have done anything differently?
I actually would do this all over again because even though the home needs some work, it's livable and I have a vision of what it will look like when all the improvements are done. I think I bought a house at the right time.
What advice would you give to someone considering moving to Detroit?
Make sure you get your home inspected. Get a walkthrough and see what you're up against before you take on a fixer-upper.
Advice for first-time home buyers
Perrin Emanuel, a real estate agent in Detroit, shared a few key tips for first-time buyers.
You might be competing with investors. Because Detroit is so affordable — move-in ready homes are available between $50,000 and $75,000, according to Emanuel — investors are pouring in. "We're seeing a lot of national and international investors because of our price points, he says. "This makes it really competitive for homebuyers."
There are programs to help low-income families become homeowners. "A lot of banks are participating with state programs to help money out here," Emanuel says. A few of these are Well Fargo's HomeLIFT program, the Detroit Home Mortgage program and the Wayne County Home Buyer Program.
Photos by Keitha Caldwell.
The article How I Bought a Home in Detroit originally appeared on NerdWallet.