HARPURSVILLE, N.Y. – We're getting closer! (no really).
April now-famous-and-very-pregnant giraffe, whose live stream has garnered millions of views over the last few weeks, is expected to give birth any day now.
(Click here to watch the live stream)
After a day of "interesting behavior", signs are continuing to point to an imminent arrival of a new calf at Animal Adventure Park in Harpursville, N.Y
Tuesday's update reads, "Progression! The udder continues to fill. Giraffes do not "bag up" with a full udder in the sense of a cow, dog, goat, sow. Their udder is very subtle and tucked between the legs. The development occurs, generally, just prior to birthing. Photo of this morning's mammary growth in comments. Here forward, we are most concerned with this area and will gauge our status from it, until a hoof is waving hello!"
What you've missed from #GiraffeWatch
In case you missed it, Animal Adventure Park owner Jordan Patch offered a few updates and FAQ's on April last week.
Is April actually in labor?
There's been a lot of speculation of how long April has been in labor and if she's actually contracting. Patch explained that it's not very likely that you will be able to tell April's labor until you see an actual hoof begin to poke out of her rear-end. Giraffe's instinctively hide their labor for however long it's lasting in order to not draw attention from predators who will wait out a giraffe's labor in order to attack once the calf is born. One sign of active labor is when the giraffe's water breaks. It can be anywhere from a slow trickle of liquid to a flow of mucus.

Then why is the feed up if we're not sure when the calf is coming?
Animal Adventure Park is currently in its off-season and the park is closed to visitors. People who've visited the park in previous months knew of April's pregnancy and the park has been receiving inquiries about her giving birth. Animal Adventure felt this was a good way to keep those who wanted to follow along with April informed.
Is the calf a boy or girl?
Animal Adventure says their ultrasound equipment cannot tell the sex of the calf.
Why is April's mate, Oliver, kept separate from April?
Male giraffes instinctively care about three things. Mating, fighting and eating. Oliver is only allowed inside with April a little at a time and under close supervision. Otherwise, he could be a danger to April and her calf by either fighting her, attempting to mate with her or eating her food. Male giraffes also are not part of the child rearing process.
How can we tell if April is contracting?
Giraffes are pros and hiding their labor, but Patch explains there are certain signs he looks for that he believes are her contractions. They include movement in the hips, straightening of the neck and stomach movement, which is the calf moving inside.
What if YouTube removes the video again?
Animal Adventures says they have a back-up plan and will go live from their Facebook page of the feed.
When the public submit names for the baby?
Once the calf is born and the sex is determined, Animal Adventures will post a contest announcement on their social media platforms where you can submit your name suggestions.
ANOTHER CUTE GIRAFFE: Dobby | Denver Zoo's baby giraffe

Dobby | Denver Zoo's baby giraffe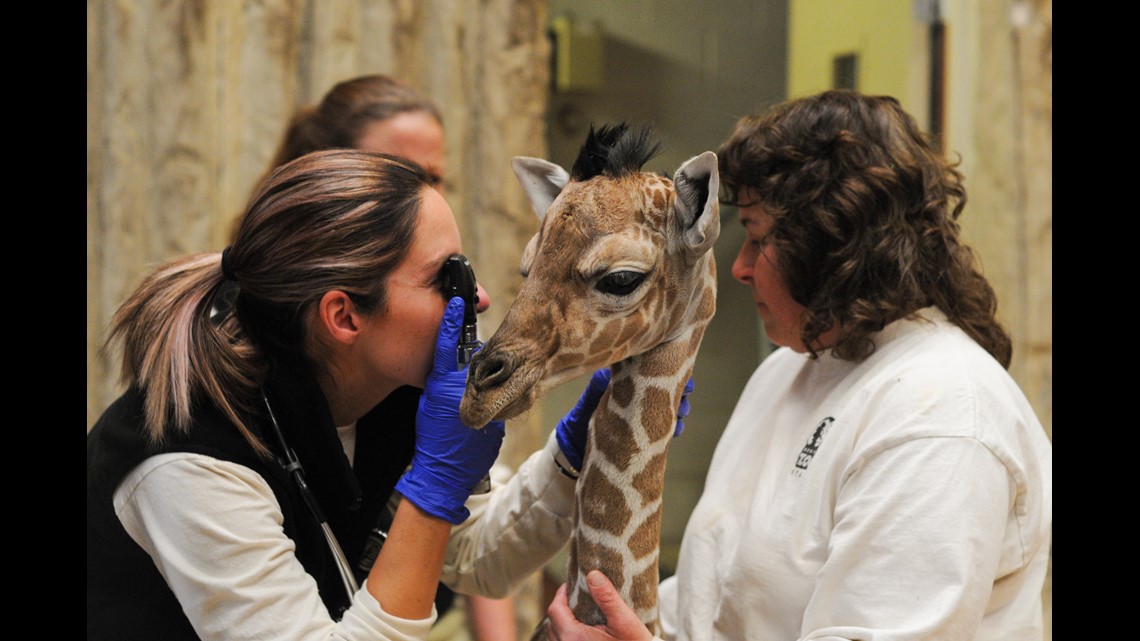 How old is April?
We learned that April is 15 years old. In natural habitats, a giraffes' life span is about 15 years. However when in human care that can extend to 20-27 years old. Patch explained that April is in good and strong condition that not only is her life span expected to go well past the 15 years, depending on how she handles her fourth birth, she could possibly be fit enough to have more calves.
READ | 15 facts about giraffes you might not know
MORE | All of your 'April the giraffe' questions answered
AND | How long do I have to watch that giraffe before it has its baby?!
How long has April been with Animal Adventure Park?
April has been with Animal Adventure Park since September 2015 and this is her first calf birth at the park. Once her calf is born and she is done nursing it, he or she will move on to another facility as it's rare to keep family members together with fear of incest.