ATLANTA — A study says Atlanta is one of the nation's fastest gentrifying cities – the fourth-fastest, in fact – which won't come as a surprise to anyone who lives here.
All you have to do is walk the Beltline to see how areas from the Old Fourth Ward to the West End have been transformed by chic restaurants, boutique shops and high-end housing developments.
It's a longstanding concern in the city, particularly in historically black communities where longtime residents have been displaced from their homes. Mayor Keisha Lance Bottoms' affordable housing plan, released last month, notes that "low-income residents of color and others" are at risk of "involuntary displacement from neighborhoods facing gentrification pressures."
It's no secret it's happening on a large scale. But where, specifically, is it worst?
(Click here for a full-scale version of the image below)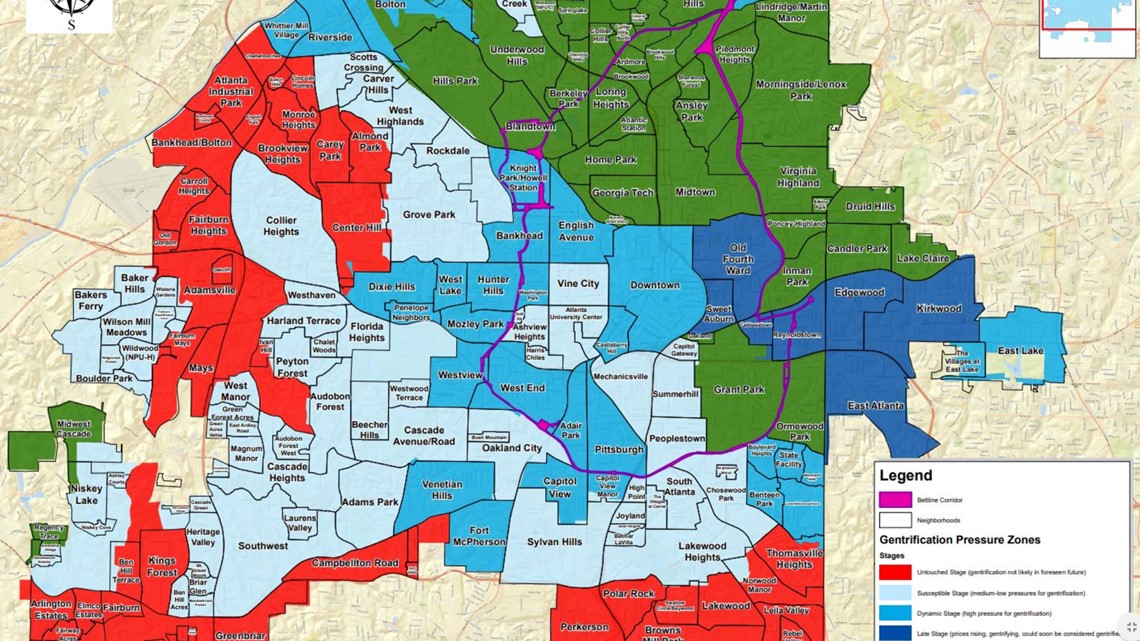 The Neighborhoods
Unsurprisingly, most of north and east Atlanta – think Grant Park up to Virginia Highlands and beyond to everywhere around Buckhead – are considered fully gentrified, "established with high prices." And the pockets around there that aren't – Old Fourth Ward, Edgewood/Kirkwood, Sweet Auburn – are considered "late stage" ("prices rising, gentrifying, could soon be considered gentrified").
The most serious emerging pressure points are in west and southwest Atlanta, around where the Beltline is finishing.
This includes neighborhoods like Pittsburgh and Capitol View to the southwest, which the city considers in the "dynamic stage" – or high pressure – of gentrification.
The stretch of high-pressure neighborhoods extends northwest to the West End and up to Bankhead. There are neighborhoods within that Beltline perimeter, including Vine City and Mechanicsville, that are only considered in the "susceptible stage" – medium to low pressure – but that anecdotally are also rapidly gentrifying.
Census data compiled by Governing Magazine shows that in many census tracts west of downtown, around Vine City and the university corridor that includes Morehouse, Spelman and Clark Atlanta, home values increased by close to 100 percent or more from 2000 to the start of this decade.
Census Tract 43, directly on top of Spelman, saw home values increase by 399 percent in that span.
Even going out beyond the beltline in southwest Atlanta, neighborhoods like Capitol View and Venetian Hills are considered in the "dynamic stage" of gentrification, and going west so is Collier Heights. Directly to the south, Sylvan Hills and Lakewood Heights are gentrifying quickly, too.
Very little of Atlanta's map is considered in the "untouched stage" – where gentrification is considered unlikely in the foreseeable future.
It's basically confined to the farthest reaches of the city map, from Greenbriar and Campbellton Road in the southwest, to Perkerson and Browns Mill Park in the south, and in the west from neighborhoods like Adamsville up to Brookview Heights.
With so much of the city gentrifying, Mayor Bottoms' plan intends to create 20,000 affordable homes by 2026 and bring in $1 billion in affordable housing investment.
"Across the nation, housing affordability is among the most difficult challenges facing cities today," the mayor says in her outline of the plan. "Atlanta is no exception."