ATLANTA — A racially-charged meme shared on Twitter by a former, long-time Atlanta talk-radio host had Atlanta Mayor Keisha Lance Bottoms firing back.
"Can anyone remember what slave owners did for their slaves," the meme poses. "They housed, fed, gave medical treatment, restricted their ability to own firearms and only taught them what they needed to know."
"Exactly like the current Democrat Party platform of today. Same party, different plantation," the meme concludes.
The tweet was offensive enough that it elicited a response from Mayor Bottoms, who replied back, "No, I can't, but my grandmother did, as she was the child of a freed slave. In addition to raping, starving and beating them, they also separated them from their families. Sound familiar?"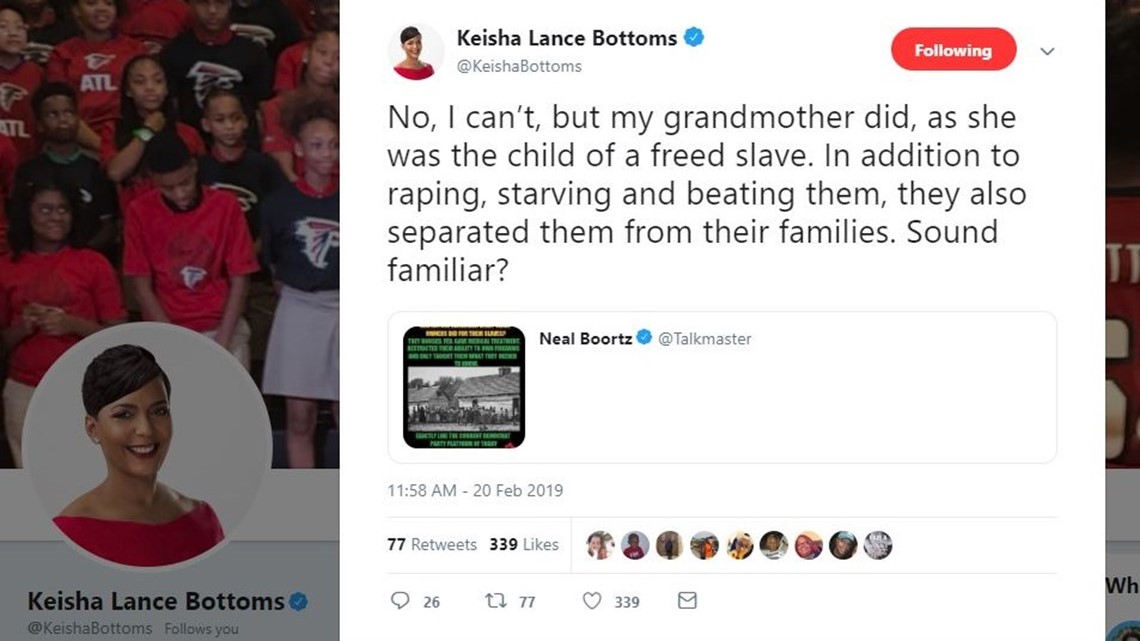 11Alive reached out to Boortz for a chance to further clarify his tweet. In a 16-word statement statement, Boortz told 11Alive flatly, "Tweet stands on its own."
Boortz hosted the Neal Boortz Show from Atlanta for decades, going back almost 40 years. He was one of the longest-running talk show hosts on Atlanta radio. Though the nationally syndicated show ended in 2013, WSB Radio still airs his daily commentaries on its airwaves.
11Alive reached out to the radio station's newsroom, who said Boortz hasn't been affiliated with the station in years. We also left a message with the radio station's program manager to see if there would be any changes in light of the comments.
11Alive also reached out to a spokesperson for Mayor Bottoms for further comment, but have not gotten a reply, yet.
The radio host's comment comes on the heels of another racially-charged incident in North Georgia in which a black student at Kennesaw State University had a photo of him taken without his permission that was later posted with a caption that read, "Need to call the klan to solve this issue." The student accused of taking the photo, Levi Smith, is no longer at the school.