In the competitive world of opera, Atlanta-area singers can get their first big break by landing a role with Capitol City Opera.
"We hire young, enthusiastic talent who want to work on a show and be good in it," said Michael Nutter, director of the newest production, "Man of La Mancha." "It's a chance for them to grow and learn and go out in the world."
Started in 1983, it's the only one in the Southeast that helps train local singers.
"People come and hear our productions and say, 'We had no idea that this quality of talent was right in our back yard.' That's why we're here," said Catherine Giel, Director of Music. "We're hoping that we can help train these singers so they have a better shot at professional opportunities."
Capitol City Opera's next performance is "Man of La Mancha," which opens at the Conant Performing Arts Center on the campus of Oglethorpe University on March 24. The musical runs for one weekend only through March 26.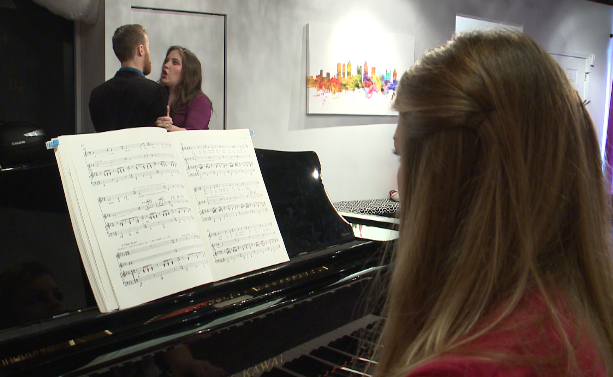 11Alive's Jennifer Leslie had a chance to sit in during rehearsals for the production, which includes 21 cast members and a seven-piece orchestra.
"This is the first time someone has come up to me and said I want to pay you to do this thing that you're studying," said Daniel Weisman, who plays the role of Sancho. "I just finished my master's at GSU."
Like Weisman, many of the cast and crew have advanced degrees in vocal performance. But opera is so competitive, it's not their day job.
Nutter works in human resources for an Atlanta law firm.
Giel is a commercial real estate broker.
Jonathan Spuhler, who plays the role of Don Quixote, works in a doctor's office. He said Capitol City Opera gives him the ultimate flexibility.
"I don't have to force a full-time music gig to work right away," he said. "Music to me is an expression of humanity."
For Rachel Eve Holmes, who plays the role of Aldonza, Capitol City feels like coming home. She was born and raised in Jonesboro.
"Capitol City has been so encouraging," she explained. "It's a warm, inviting environment where we can grow."
Holmes is a graduate fellow in opera at the University of Georgia.
"There are no egos," said Nutter, the director. "We work as a team. Young artists need that resume to be built. They need that experience. They need that training in the real world."