WOODLAND, Wash. — Prior to their deaths, Child Protective Services opened an investigation into a family that perished in a California crash, according to Washington state officials.
Six children lived with their married adoptive parents, Sarah and Jennifer Hart, at the home in Woodland.
Three of the children who lived in the home died in Monday's crash when the SUV driven by Jennifer Hart navigated onto a dirt turnout on Highway 1 in California and then didn't stop, falling over the cliff and plunging about 100 feet. Jennifer and Sarah Hart, who were in the front seats, both died.
Three children, 19-year-old Markis Hart, 14-year-old Jeremiah Hart and 14-year-old Abigail Hart, were found dead after the crash.
An ocean search effort is underway for the couple's other three children, 12-year-old Sierra Hart, 16-year-old Hannah Hart and 15-year-old Devonte Hart. Mendocino County Sheriff Tom Allman said Wednesday afternoon that investigators "have every indication to believe" that all six children were in the SUV during the crash.
The cause of the crash remains under investigation.
The Washington State Department of Social and Health Services confirmed to KGW that Child Protective Services had identified the children as "potential victims of alleged abuse or neglect" on March 23.
Child services tried to make contact with the family on three separate occasions in the past week after neighbors made a call claiming the children in the home were not being fed, but officials were unable to reach the family.
"We have not made any findings in this investigation and we had no prior history with this family," said Norah West, media relations manager for the Washington State Department of Social and Health Services. "We are working with all involved law enforcement agencies on their respective investigations."
This past Friday, neighbors say they called child services, who responded to the home. The Clark County Sheriff's Office confirmed the visit happened because of a report that the children weren't being fed. A few hours after the visit, neighbors said the family took off.
Neighbors told KGW that one of the children, Devonte, made a daily habit of sneaking next door to ask for food, often multiple times per day. The neighbor said Devonte said his mothers didn't feed them, withholding food as punishment, and that they weren't allowed to go outside.
The six adopted kids were all homeschooled.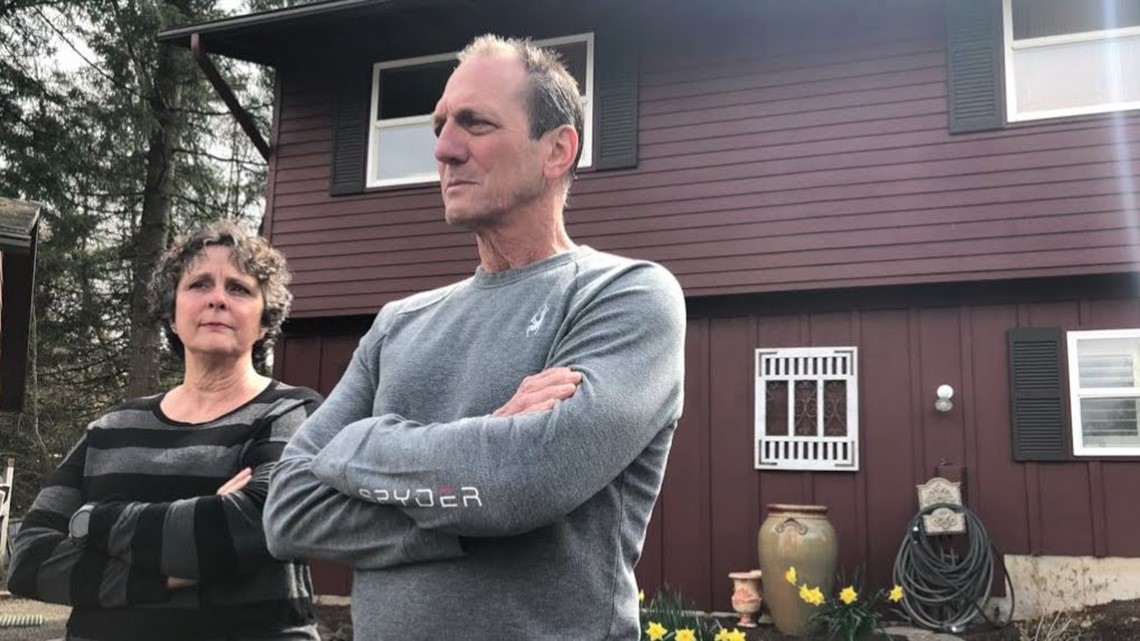 After days of this, and other accusations of abuse, Dana DeKalb, called child services. She said a CPS worker came, the Harts refused to answer the door, and hours later, the family was gone.
"The next morning when we saw that the vehicle was gone, and then Sunday morning when it still wasn't there, we figured something was off," said Bruce DeKalb, Dana's husband.
"Because they never go anywhere. They go to the store and back but ... ", Dana said.
"We figured that they saw the business card and loaded up the kids as quick as they could and took off," Bruce said.
Clark County Sgt. Brent Waddell said the sheriff's office received a request from Cowlitz County Child Protective Services to do a welfare check at the home on Monday. The deputy who attempted to do the welfare check reported that nobody was home. Child services told Waddell they had attempted welfare checks at the home twice before after receiving a report the children were not being fed, but were unsuccessful both times.
Clark County sheriff's deputies returned to visit the home Tuesday, after they received a request from California authorities to check on the home. They told California authorities it appeared the family left on a temporary trip. No one was there, but animals and family belongings were still at the home.
One of the mothers pleaded guilty to charges of domestic assault in 2011, after police in Minnesota said Sarah Hart hit one of her daughters.
A teacher initially called police after seeing bruises on the 6-year-old girl's stomach and back. According to court documents, the girl later told a detective and social worker that her mother hit her, leaving bruises.
Detectives followed up with Sarah and Jennifer Hart. According to the criminal complaint, Sarah admitted to a detective they had recently started spanking one of her daughters to deal with her behavior. She said she brought her daughter into a bathroom, bent her over a tub and hit the girl.
The detective wrote that "the defendant admitted she let her anger get out of control."
Prosecutors charged Hart with misdemeanor "domestic assault" and misdemeanor "malicious punishment of a child." Hart pleaded guilty to the assault charge and the malicious punishment charge was dismissed.
She was sentenced to 90 days in jail but wasn't required to serve any of the time if she followed the terms of her probation.
Lt. Shannon Barney with the Mendocino County Sheriff's Office said investigators with the California Highway Patrol have launched a thorough investigation about the cause of the crash.
He said they are aware of Sarah Hart's criminal past and calls to child protective services, and will "take a broad look at this case, but they're a long ways from coming up with a determination yet."