STONE MOUNTAIN, Ga. — Anita Redmon was a trailblazer: the first female police officer in Doraville history.
"We lived in the city of Doraville and I always got the 'Your mom pulled me over,'" remembers Mona Reese, Anita's middle daughter. "She was great. She was stern but she was sweet. She was firm. She was awesome."
A single mom in the 1970's, Anita worked hard to take care of her three daughters. Friends and neighbors noticed how close the family was. They were known as "Anita and the girls."
"She worked her butt off and she did it," says Melinda Duncan, Anita's oldest daughter. "She raised three very strong women and I am very proud of her for that."
Redmon was working as a crossing guard when the Doraville Police asked if she wanted to work for them. She started in the radio room, the place you found most female employees at police stations in the 1970's. But Redmon worked her way up to officer. The police even came to rely upon her approach to help with difficult suspects.
"They would call her when they were having problems trying to arrest somebody and they were refusing to get in the back of the car," remembers Duncan. "She could talk to them and, for lack of a better term, sweet talk 'em into getting into the back of the police car and everything was fine."
Despite the demands of the jobs, Redmon always kept in touch with her daughters. Redmon bought her daughters a CB radio, which police officers used in their squad cars to communicate.
"Where I lived was out of range for her to hear me," says Duncan. "But we did the 1, 2, 3 click… which means I love you. She could hear that and click it back and she knew I was home I was safe."
Redmon's daughters worried every day their mother worked: 25 years of patrolling. They breathed a sign of relief when she retired after 25 years.
Redmon took a part-time job as a gate agent at Stone Mountain Park. She was on-duty shortly after midnight on July 16, 2005 when someone approached her booth at the west gate of the park.
A murder in Stone Mtn. Park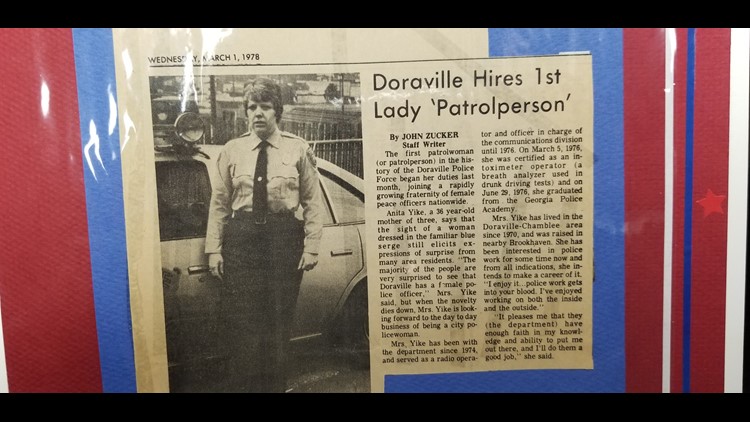 Redmon yelled over the park radio, "44. 44. 44." It was the code for armed robbery. A Stone Mountain Park Police officer was just 45 seconds away. But by the time he sped to the gate, Redmon had been shot and the suspect was gone. No money was stolen.
Stone Mountain Park Police Chief Chuck Kelley was more than Redmon's boss. He was a friend of her and her family.
"I got to the hospital," remembers Chief Kelley. "I actually went into the Emergency Room while they were working on her."
But Redmon couldn't be saved. She'd been killed by one shot in her abdomen by a .25 automatic. The weapon has never been found.
Even after her death, Redmon did not stop giving.
"They're (the hospital) coming to you saying, 'can you donate her organs?' and immediately all three of us said, 'yes,' because that's what she would have wanted," says Duncan.
It seemed as if the entire town of Doraville came out for her funeral procession.
"The people that came out and lined the streets the whole drive from the house to the funeral home where the service was held," recalls Donna Dennison, Redmon's youngest daughter.
Meanwhile, the Georgia Bureau of investigation and Stone Mountain Park Police were working the case.
"I have never seen an investigation where so many resources from the state came to bear," explains Chief Kelley. "Within eight hours there were 25 GBI agents working the case."
Chief Kelley says they zeroed in on one person of interest. However, after extensive questioning and investigation they did not have enough evidence to go forward with charges.
"The park needs this to heal because we lost one of our own," said Chief Kelley.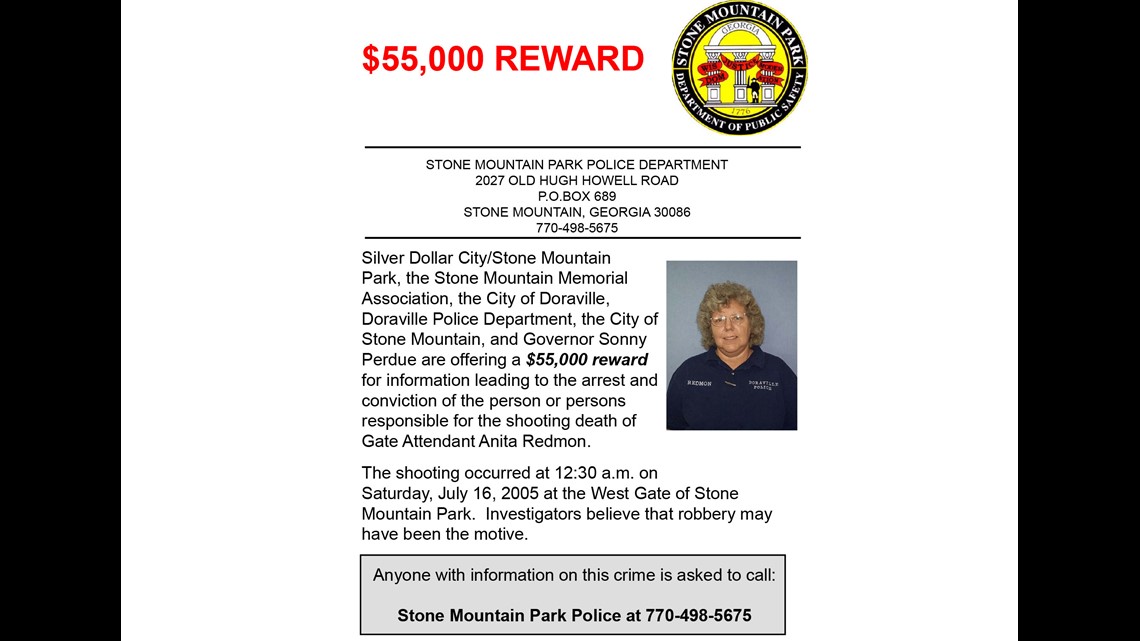 "It's not going to be solved from physical evidence," agrees Dennison, Anita's youngest daughter. "It's going to be solved form somebody bringing information forward, therefore the $55,000 reward is important."
In the meantime, Anita's girls are keeping her memory alive.
"It's little things like my daughter's laugh," says Dennison. "Or in driving, I'll see something and it'll just bring back amazing feelings of goodness."
There is a $55,000 reward for information leading to an arrest and conviction in this case. Call Stone Mountain Park Police if you have information at 770-498-5675.