ATLANTA — There's a place in Atlanta where musicians can learn to play the bamboo flute, the guzheng, and even the erhu.
These instruments in the western world are known as the flute, 21-string Chinese plucked zither, and a Chinese violin, respectively.
Yao Lu, who owns the Magic Eastern Music Studio and leads its performing ensemble, said that's the beauty of sharing her culture through music.
"So actually, we try to make it (diverse)," Lu said.
Lu, along with other musicians and students, learned how to play conventional Chinese and East Asian songs with a creative edge.
"We play traditional instruments but we want to make the music not be too traditional," she said.
A master at the bamboo flute and the 21-string guzheng, she accomplishes this by adding western influences, including jazz and pop influences and electronic elements that fuse with older East Asian sounds. It's to help connect the growing and vast Asian audience that exists in Georgia.
"I think the Asian community is growing in the metro Atlanta area," Cindy Fang, a musician with Lu's Magic Eastern Ensemble said.
Fang, who has lived in Georgia for 10 years, started with the studio when she was young. The ensemble was founded in 2018 and the studio started a few years beforehand. Both musicians said the studio has gained new prominence as Georgia's Asian American and Pacific Islander (AAPI) community continues to grow its presence.
With new organizations helping to bring the community together in culture and education, Fang said the ensemble stands out.
PHOTOS | Magic Eastern Ensemble
"We try to rebrand this kind of old, ancient, traditional music and we invite other communities and invite other ethnicities to listen to our music," she said.
Fang plays the shaoqin erhu, an instrument that resembles what's known as the traditional two-string Chinese violin with an electronic gadget. It is believed that Fang is the only shaoqin erhu player in Georgia.
She says the instrument helps the ensemble broaden its sound and attract new listeners.
"We're trying to (bridge) this kind of Asian, AAPI community with larger audiences," Fang said. "You can use the instruments to make it more diverse, (add more) music elements."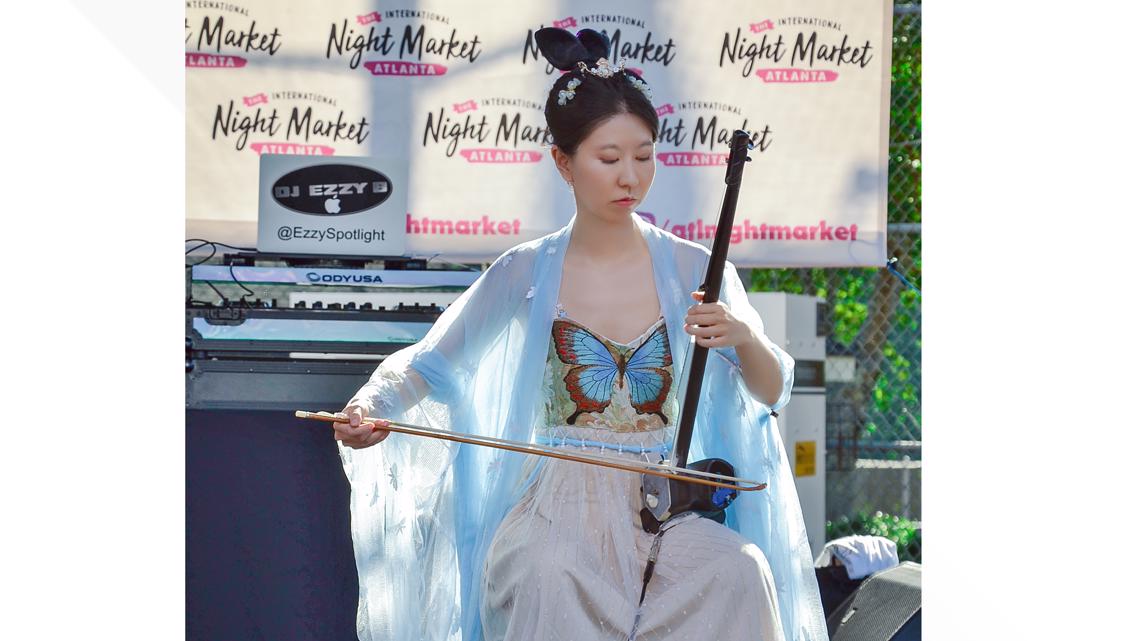 They've worked to get their music in front of more people which has translated into a fully booked Lunar New Year.
"I think she's pretty packed with all of the performances," Fang said of Lu.
The 15-day celebration kicks off on Jan. 22, when families ring in the Year of the Rabbit. Even before the celebration officially starts, Lu is visiting schools, and colleges representing her nonprofit, while also getting the ensemble performance-ready to play at festivals across Georgia.
"For me, doing the celebration is just doing my job, (playing) the instrument," Lu said about Lunar New Year. "I feel so happy because I like it."
Lu joked besides playing Lunar New Year shows, she also enjoys eating holiday food.
And the music won't stop once the holiday is over.
Later this year, they will have a concert at Aurora Theater in June and anticipate playing a gala in December.
They said keeping busy isn't a bad thing -- it's all part of bringing the cultural community together and giving people new music to appreciate.
"This is my favorite thing in my life," Lu said. "Just playing my instruments."
Lu is currently working on a new website that will soon be released. In the meantime, people who would like to learn more about the ensemble or the studio can visit Magic Eastern Music Studio on Facebook. Anyone who wants to learn is welcome to join.