76 bullets and a mother's quest for justice
<p>"I can't rest until my son's story is told. I want the world to know what happened to my son."</p>
To read by chapter or watch by video, click on the CHAPTERS TAB to the right on your screen.
LAWRENCEVILLE, Ga. – Framed baby, family and sports photos leave a trail of memories and immense pride along the staircase wall, and they are the only way Monteria Robinson can see her son's smile.
"Every day, I would see him in the morning," she said, sitting in front of her mantel lined with her son's many accolades--ribbons, trophies, plaques, a diploma. "His smile… I just miss seeing his smile on a day-to-day basis."
It's been one year since Monteria lost her son, 26-year-old Jamarion Robinson, when at least 76 bullets ripped through his body, according to the Fulton County medical examiner.
The shooters? U.S. Marshals.

Inside her home, she sifts through the many photos and medals and trophies. Swiping a tear from her cheek, quickly, before it falls, she wishes for the impossible.
"I just want to hug him. Tell him I love him. I miss him."
But, what she has vowed to make possible, is justice. And she's ready to fight for it.
"I have to be his voice because my son is not here to tell his story," she said. "I can't rest until my son's story is told. I want the world to know what happened to my son."
She doesn't want what happened to him to happen to anyone else.
"I don't want there to be another Jamarion Robinson."
EYEWITNESS VIDEO | Contains explicit language
:
PHOTOS | A mother's fight for justice
On Aug. 5, 2016, Jamarion was killed in a rapid spray of bullets while inside his girlfriend's East Point apartment. Nearly three minutes of gunfire were captured on a resident's cell phone.
"His head, hands shot off, arms, entire upper and lower torso area, down his thighs, his shins, his feet," Monteria recalled.
Community activist Nicole Borden walked through the apartment after the Georgia Bureau of Investigation processed the scene in 2016. Bordon and Monteria believe the use of force was excessive.
"As you're going up the stairs the numbers keep getting larger—15, 20… and you start to think like, when are you going to stop counting? I mean, No. 68. Can you imagine going to a crime scene and you see No. 68 bullet," Borden asked, counting the police-marked bullet holes in the walls.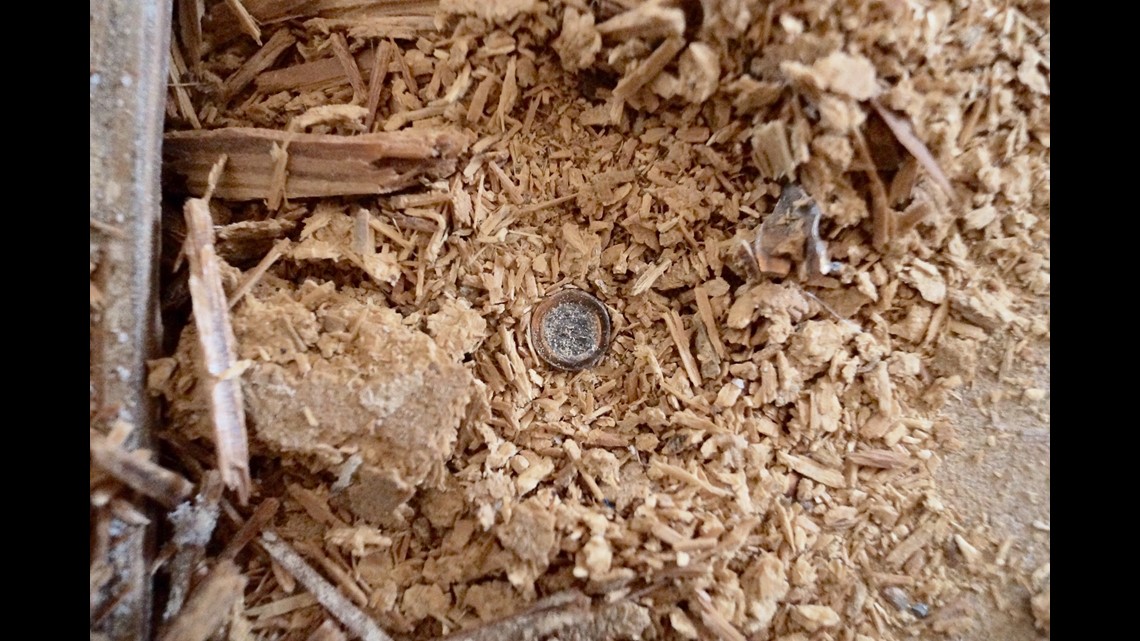 U.S. Marshals said Jamarion had a gun.
But Borden questioned how he could get six bullet wounds – one in the palm of his hand – if he was continuing to hold and fire a weapon.
And one year later, his mom wants answers.
"We're asking for transparency. These officers need to be held accountable," Monteria demanded. "I want the world to know my son was shot, 76 bullets into his body. Why?
My son was handcuffed after 76 bullets entered his body. My son was dragged down a flight of stairs after being shot 76 times. Why?"
Based on the wounds he suffered, she said, it appears someone stood over his body and continued to fire their service weapons directly at his body.
"His arms are mangled. He had six bullets in the palm of his right hand. In his palm. In his left hand, he had five bullets so you tell me how someone could be holding a gun," she pleaded. "His arms are blown to pieces. Why?
I want to know why. Why was his body riddled with bullets? Why?"
Innocent until proven guilty
:
Jamarion Robinson | Medical Examiner's findings
Jamarion was a wanted man.
But, his mother doesn't understand why so many law enforcement officers were needed to arrest him—or why, since police were aware he had recently been diagnosed paranoid schizophrenic, Marshals didn't show up with a mental health professional to assist them.
After the fatal shooting, Marshals said they went to arrest Jamarion at the request of the Gwinnett County and Atlanta Police departments.
They said just a few weeks earlier he had poured gas on the floor beneath his bed and in front of his mother's bedroom.
According to the arrest warrant, a friend stopped him before anything happened.
Monteria said she called police, not to have him arrested, but to get him mental health treatment.
APD had their own arrest warrant for him for allegedly pointing a gun at officers while being confronted at a friend's apartment complex.
In the past two years, he had left a paper trail in courts across metro Atlanta, pleading guilty to a series of traffic violations, all misdemeanors.
He pleaded not guilty to charges in Cobb County for possession of a controlled substance and was arraigned in Union City for failing to stop at a stop sign.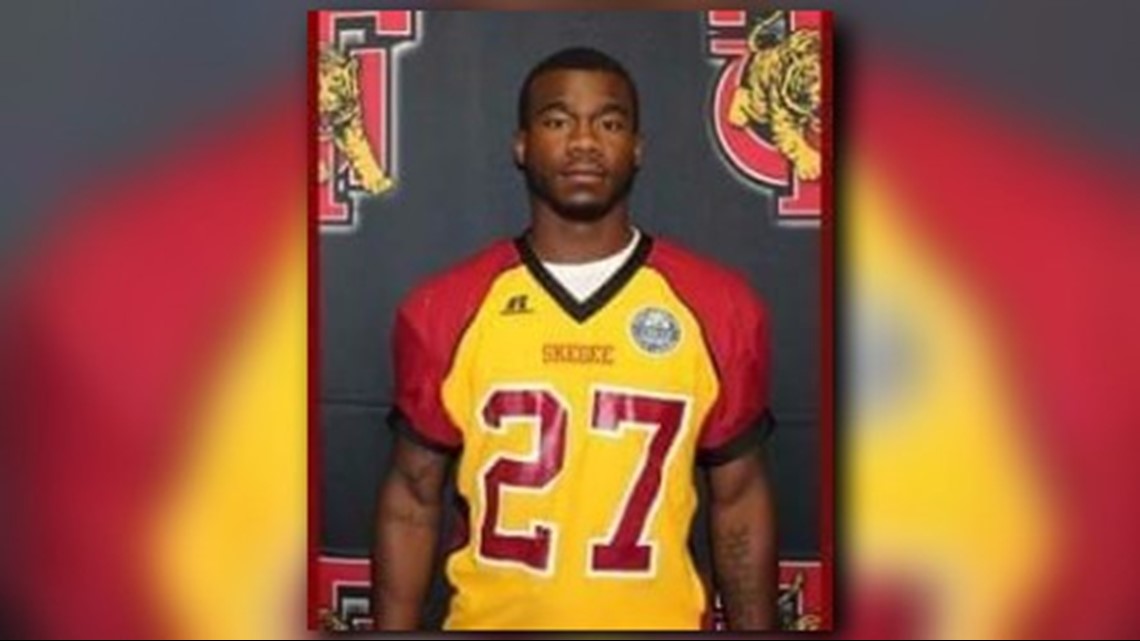 His mother said that he thought his problems were behind him and he was returning to college to finish his biology degree. But he'd never make it back.
"These officers, they are not the judge, jury and the executioners. If my son was a suspect in a case, why didn't they arrest him the right way?"
Not caught on camera
:
"We're asking for transparency. If you have nothing to hide, come in and tell us your version of what happened to Jamarion Robinson. Was it a made-up gunfight?" she questioned.
The issue is, the events leading to Jamarion's death were not caught on camera.
"If you have nothing to hide, why not come forth and tell your version of what happened? No one had their body cams on that day. Why not?" Monteria probed.
U.S. Marshals don't wear body cameras, even when serving arrest warrants. Marshals are federal agents within the Department of Justice. Even though the DOJ has given more than $20 million in grants to support body camera programs at local police departments, they don't equip their own law enforcement with them.
In 2016, 11Alive asked for an interview with U.S. Attorney General Loretta Lynch to explain why not. The response was a written statement stating, "The Department of Justice is looking into the use of body cameras and has been consulting with our federal law enforcement components."
"They have enormous power, they need to be subject to these checks and balances," Jay Stanley, a senior policy analyst with the American Civil Liberties Union (ACLU), said.
VIDEO | A mother wants accountability
:
In fact, the ACLU took the U.S. Border Patrol to court demanding that, in certain situations, officers wear body cameras. The Border Patrol has started to implement them, slowly. The ACLU has said it may take aim at U.S. Marshals next.
"I think it's a real problem if the federal government is asking and encouraging local police forces to use body cameras, but not its own police forces, like the U.S. Marshals, when they're engaged in the same activities," Stanley said.
VIDEO | DeKalb County Police chief on body cams
:
Fulton County District Attorney Paul Howard launched his own investigation into Jamarion's death to determine if any of the Marshals will face criminal charges.
"If we had body cams, a lot of the issues that have been raised about that case would go away," Howard said just after the 2016 shooting. "But that videotape doesn't exist."
And while East Point Police assisted the U.S. Marshals, and do have dash cameras; the officers on the scene were in new police cars, which did not have cameras installed yet.
Howard believes that if an agency has the equipment, the community's expectation is that they will use it. He said every law enforcement officers working in the field should now be wearing body cameras.
"There's no difference if somebody's shooting at you, whether it's a U.S. Marshal or not," Howard said. "And if the U.S. Marshal doesn't want to wear body cams, then my position is, they shouldn't be involved in the arrest."
VIDEO | Community rallies, marches with mother for answers
:
At this point, the case is at a standstill.
"This case is under active investigation. Our task in completing the investigation is compounded by the fact that the shooting involved a Federal Marshal's Task Force. Gaining Federal cooperation in such investigations is very time-consuming," Howard said in a statement Thursday.
But for Monteria, all the justice in the world will never replace the future she lost.
"I will never be able to meet his future wife. I will never get to meet his future grandchildren."
But a year later, her mourning has turned into purpose.
On Saturday, the community came together in support of her family and march for justice at the Fulton County Courthouse.
PHOTOS | 76 bullets march, rally
It's the first step, she hopes, to getting answers.

"We're asking the community to come out and support us. To stand with us. We're asking for transparency for why these things happened.
Why was Jamarion shot 76 times?
Why did they handcuff him after his body laid there for hours?
Why did they never call for an ambulance?"
"That was my baby. That was my world and people just…it's like they don't understand what I have to deal with every night. I have to go to bed with this on my heart and I try to be strong for him, because I know I have to be his voice, because my son is not here to tell his story."
VIDEO | 'My son's life was taken from him'
:
On Friday, Howard released the following statement about the case:
"Yesterday, we had a very long and fruitful meeting with the family of Jamarion Robinson and their attorney, Mawuli Davis. We expressed to them the same information previously provided to the local news organizations reaffirming that this is an active and open investigation. We have requested certain information from Federal Authorities, which we feel is necessary to complete our investigation. As soon as our request is fulfilled, we will then release our recommendations and findings with respect to this case."
11Alive's Christie Ethridge, Rebecca Lindstrom and Julie Wolfe contributed to this story. Lindstrom and Wolfe reported the original November 2016 story.