We walk down a steep embankment next to a Gainesville apartment complex. We're enveloped by evergreens and hardwoods, native to Georgia. Spider webs and downed trees begin to fill in the woods, which have no discernible trails, but are open enough to attract hikers or dog walkers.
After about 20 yards, the sound of children playing at the apartments fades and is replaced with birds chirping, squirrels running through the leaves, and the sounds of motorboats on Lake Lanier.
It's a peaceful, almost idyllic, North Georgia setting.
Until we realize we're walking towards the site of one of the Atlanta-area's most notable cold case murders: Hannah Truelove. The 16-year-old Gainesville High School student who was killed just a few hundred yards from her home.
"This is the spot where Hannah's body was located," Lt. Dan Franklin of the Hall County Sheriff pointed out. "It's basically a ravine that is used for runoff for street drains from the apartment parking lot."
Aug. 23, 2012 started off as a normal day for Truelove.
She went to school at Gainesville High School, returned home to the Lake Lanier Club Apartments where she lived with her mom, and hung out in the yard of the apartment complex for a few hours with friends.
"She had lots of friends. Seemed to be pretty popular in school," Franklin said.
Truelove was last seen at 7:30 p.m. that day, standing outside in a common area of the apartments. By 9:30, when she had not returned home, her mother knew something was wrong.
"It was out of the ordinary for Hannah to not show up at dark," Franklin said. "And so that's when her mother became concerned and called for help."
Police searched the area, but a sudden rainstorm hit in the late evening or early morning hours of Aug. 23 and 24. Two to three inches of rain fell in just a few hours, creating downpours and sudden streams in the woods surrounding Truelove's apartment complex.
The next day, a man walking his dog in the woods saw what he thought was a mannequin. But when he got closer to inspect, he realized it was Hannah. She'd been stabbed several times and left in a stream bed a stone's throw from Lake Lanier.
"She was laying under submerged water for a period of time and so, unfortunately, what that did is it washed away a great deal of our trace evidence and blood evidence," Franklin explained.
From the beginning, Hannah's case had multiple layers. First were some suspicious tweets she sent in the days before her death.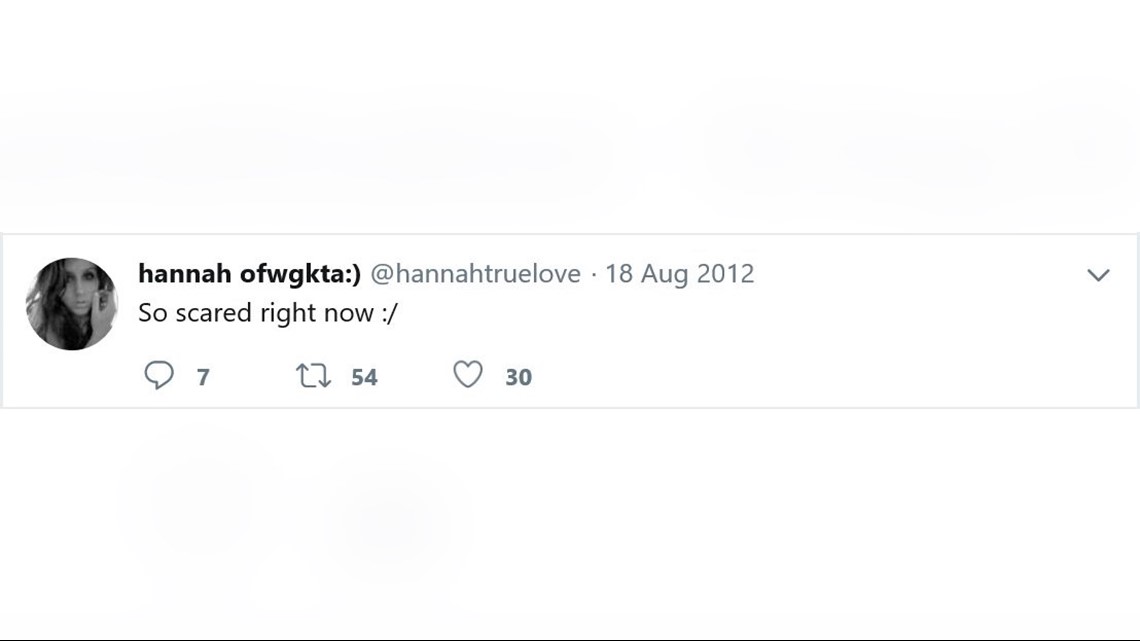 "There was something about, she has a stalker and something about, she was so scared right now and had to get out of these apartments," Franklin listed. "So with the help of family and friends, and numerous interviews, we were able to build the context of those tweets. And to vet them out. And, basically, they were just her venting, and there was nothing that was a legitimate threat that came from those."
There were also rumors she had a secret cell phone her mother did not know about.
"We chased that as far as we could chase it and we never determined that," Franklin said.
Investigators said Truelove communicated with friends through a Nintendo DS. They scoured the device for clues, but found nothing that could crack the case.
But Lt. Franklin believes Truelove knew her killer.
"I think there were too many people out that evening. If she was taken against her will, they would have hurt something or heard a struggle," Franklin theorized. "I feel she came to this location with somebody voluntarily. Somebody she knew."
He also thinks more than one person may have been present when she was stabbed.
"Who we try to reach are not necessarily the person that had the knife in their hand, but anybody that was present and maybe would be less culpable and didn't have as much responsibility but was just there, maybe in a situation they didn't want to be in," Franklin said.
Franklin was the original investigator on the case and, six years later, he remains on the case. Though he's been promoted to a supervisor position - which usually means they don't keep cases - he specifically asked to stay on Truelove's case. In fact, it's now his only active investigation.
"The burden to get justice for Hannah is squarely on my shoulders and the shoulders of my co-lead at the GBI (Georgia Bureau of Investigations)," Franklin said.
Franklin keeps Hannah's Nintendo DS close by as a reminder to always be searching for new clues in the case.
"I never forget about Hannah. I think about her every day," he said.
If anyone has any information about Truelove's murder, they're asked to call Hall County Sheriff at 770-531-6885 or Crime Stoppers at 1-800-222-TIPS.