JOHNS CREEK, Ga. – Nikki Nickelson led a tortured life following the abuse she suffered at the hands of convicted child abuser, and now-accused child killer and "cult leader," Anna Elizabeth Young.
Nickelson, then-12, called Young, "Mother Anna," while attending her religious boarding school, "House of Prayer," in Alachua County, Fla., back in 1992. It was in that "house" where her life and countless other children's lives would never be the same.
Gerri Hill, now 46, witnessed the severe abuse Young imposed on her little sister, as well as the years of agony she endured as a result.
"It was just an emotional roller coaster for my little sister. She had to seek counseling for it, and of course she didn't live a normal childhood life because of her legs," Hill said.
Their parents were Pentecostal, like Young and the school she ran. Hill said her parents visited Nickelson every weekend. But one weekend she called her parents and asked them not to come.
"My mom felt like it was kind of strange for her to tell her that, so my mom went anyway," Hill remembered.
What her parents found was horrifying.
"They were just speechless. They didn't know what to do or what to say. I mean, they were just speechless when they saw my sister laying there and had been burned the way that she was," Hill, who was a teenager back then, recalled.
It all started with a bath Nickelson was forced to take a week earlier.
"She just said that she was trying to teach her how to take a bath," Hill said. "She supposedly had taken a bath that was too short, so she called herself teaching her how to take a bath."
According to Hill, her sister told her that Young filled the tub with scalding hot water, dumped bleach, ammonia and other chemicals into the tub, and then had her held down.
"She had [someone] hold my sister down in the tub, while she calls herself bathing her and she just started bathing her from waist down."
The 12-year-old girl clinched her legs tight, keeping the inside of her legs from burning, but the skin on her legs and feet were severely injured with third-degree burns from the chemicals and scorching water.
She was taken to the hospital and spent several months in the burn unit, and underwent as slew of surgeries and skin grafts, Hill said. She spent many more months going through physical therapy to relearn how to walk, and a psychiatrist.
But, she said the scars, physical and emotional, lingered.
"It was very hard for her because she was ashamed of her legs and how they were different from everybody else," Hill said. "It was very emotional because I walked through the process with my little sister and my parents during this time."
"It was just very, very emotional. It's nothing I would want my worst enemy to experience."
While Nickelson never returned to Young's school, she was also never able to be the pre-teen she should have been, her sister said.
"This was a 12-year-old child -- a 12-year-old child that needs to be out playing and enjoying life and being with her friends."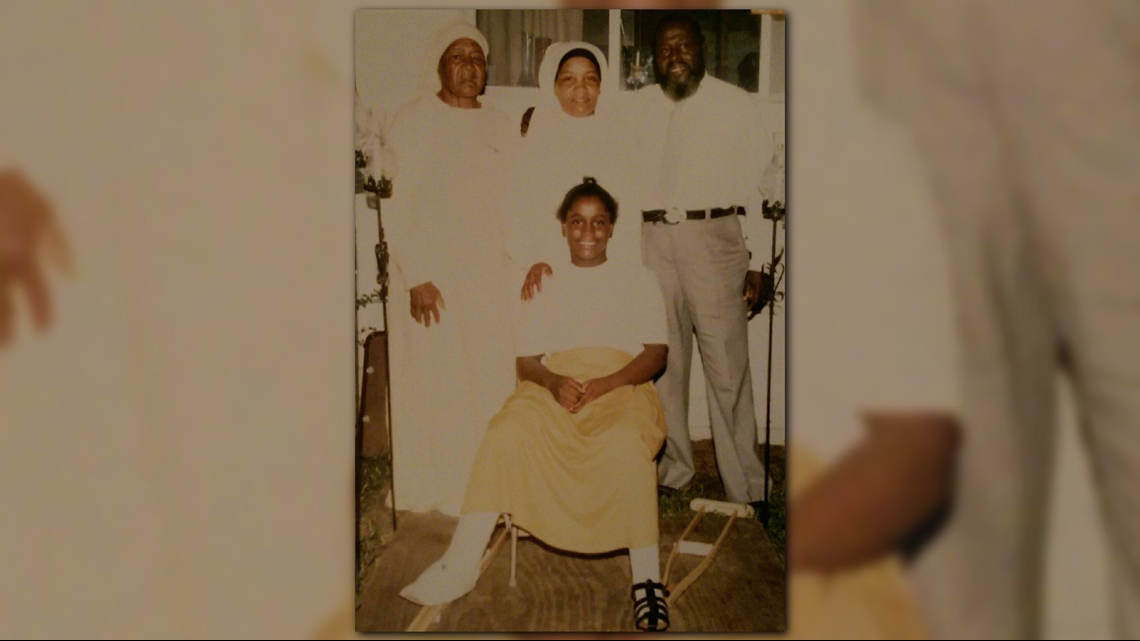 "She didn't want to wear shorts… all she would where is long dresses to try and cover up her legs," Hill remembered.
She continued to have complications with her legs and was disabled and could never work, according to Hill, because she could not stand on her legs longer than an hour.
While Young may have disabled her physically, but she did not break Nickelson's spirit.
"She was very outgoing person, she was a sweet person. She always liked to give back to other people. She loved kids," Hill said, who took care of her sister after their parents died.
"I think about when we were little kids all the time, and then I think about the times she lived with me and we would go out and do things."
And when Hill gave birth to her own daughter, Nickelson helped take care of her niece, playing with her and spoiling her with lots of Hello Kitty.
Closing a chapter
Young was eventually convicted of brutalizing Nickelson, Alachua County Sheriff's Office public information officer, Art Forgey, said.
Young fled Florida and was not located for nine years.
One of the FBI's most wanted was found hiding out in an attic at a relative's house in Illinois in 2001, where was arrested and charged with felony child abuse and extradited back to Florida.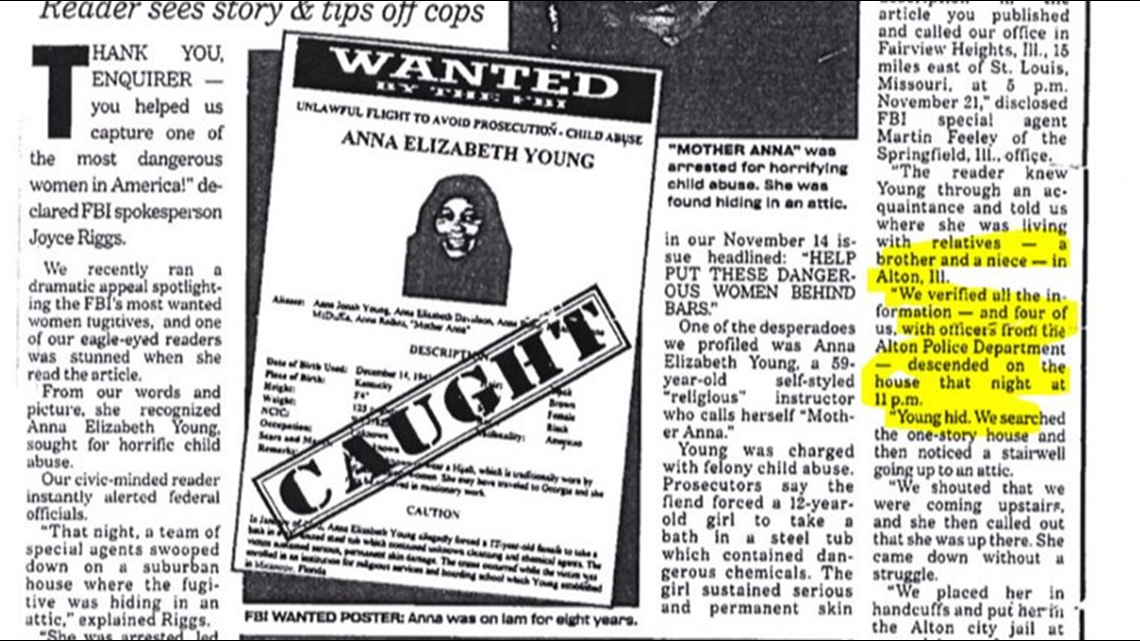 She was convicted and served her sentence for the abuse.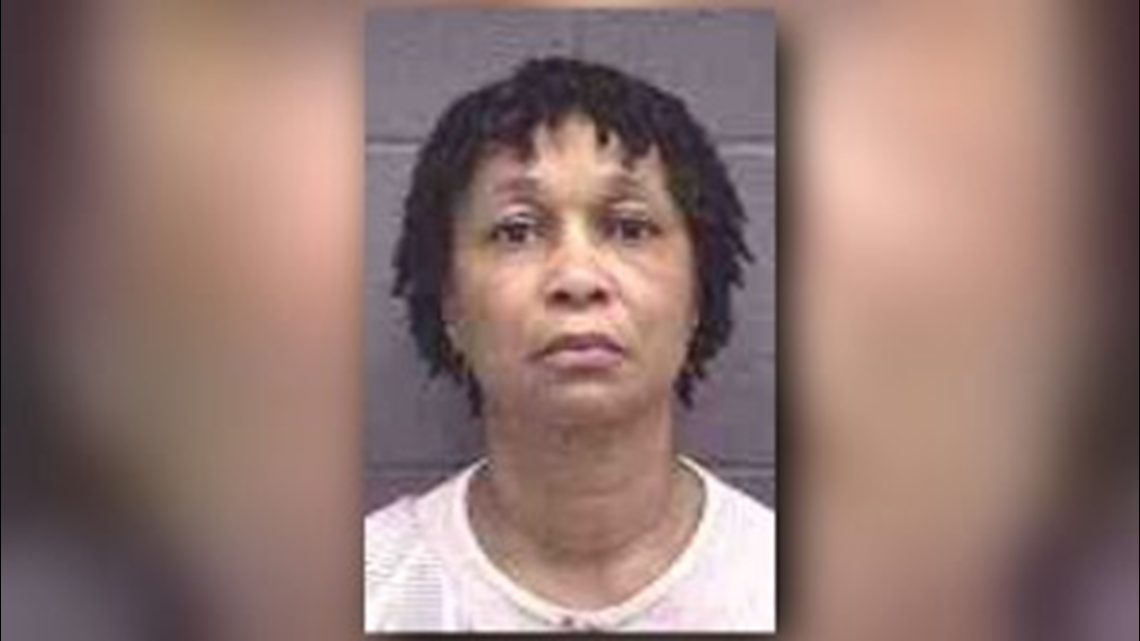 Nickelson died on April 28, 2015 from diabetes and other health issues.
Hill buried her little sister on what would have been her 37th birthday.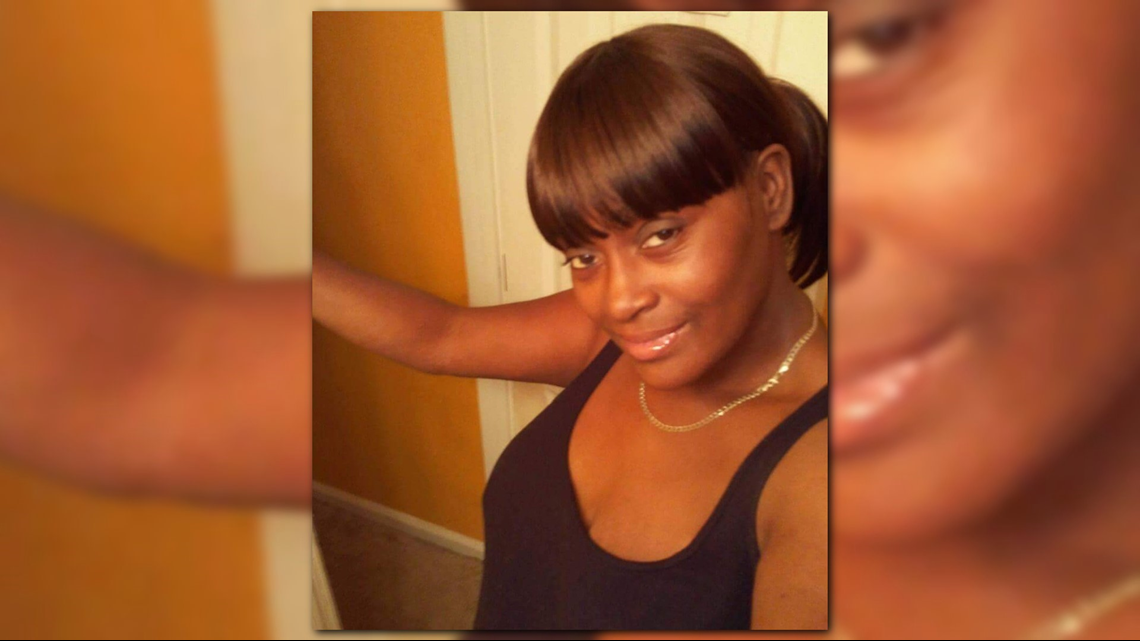 More changes, more victims
Young, 75, was arrested again in Cobb County, Ga., on Thursday, Nov. 30, where she had been living on the run after she allegedly tortured and killed a 2- or 3-year-old boy, Emon Harper.
In January 2017, the Alachua County Sheriff's Office in Florida developed new information during their investigation, after a tipster from the House of Prayer came forward. Since that admission, detectives traveled the country putting their case against Young together.
Their investigation indicated that Young had not only tortured children in her boarding school between March 1988 and June 1992, but had committed the premeditated, first-degree homicide-murder of Harper, who was also known as "Moses."
According to the sheriff's office, the investigation detailed that Young starved the children, tortured and abused, maliciously punished and placed them in cages--all of which led to the toddler's death, sometime between 1988-89.
A grand jury recently indicted her on a first-degree murder charge for his death, Forgey said.
However, Young was no longer living in Florida. But her last known whereabouts were Georgia.
After securing an arrest warrant, the United States Marshals Southeast Regional Fugitive Task Force was requested to find and apprehend Young on the outstanding murder warrant.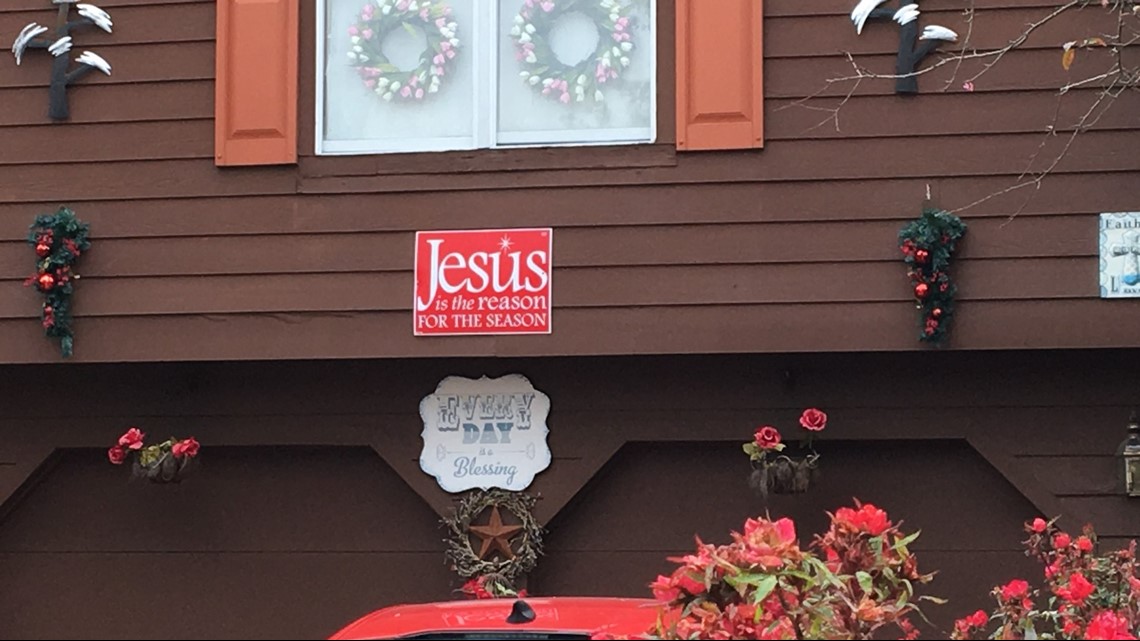 The Fugitive Task Force, along with the Cobb County Sheriff's Office Fugitive Unit, located Young at 174 Bridgestone Dr., in Marietta, Ga., where she had been living under her husband's last name, Anderson. Her Cobb County home, front yard and stoop were adorned with nearly two dozen holiday-, Jesus- and religious-related signs, like: "Jesus is the reason for the season" and "Every day is a blessing."
The fugitive task forces conducted surveillance at her home and on Nov. 30 they made contact with Young-Anderson at her home and took her into custody without incident.
Officials, however, don't believe this is the end of their investigation or her trail of murdered and tortured children. In fact, they have documented cold cases spanning back nearly 50 years.
"We can document abuse and other victims back to 1968. We have worked with authorities in other jurisdictions to try to address some of those case," Forgey said.
Their investigation into her has led them to other states' unsolved child murders, including Michigan, and possibly Puerto Rico.
"We believe there are more victims, we don't have a steadfast number though, because it is unknown how many children crossed her path," Forgey continued.
Young-Anderson was booked into the Cobb County Jail, and a Fugitive from Justice Warrant was secured for the Florida charges.
She was taken into custody by the US Marshall Service in Atlanta, but she has not entered a plea yet. She waived extradition and the Alachua County Sheriff's Office is arranging her return to Florida to face her murder charge.
"Living right up under my nose? It's crazy. It's unbelievable," Hill said of living in the same state as her sister's torturer. "The last time I knew she was in prison."
Hill wants justice done once again—but this time around, she doesn't want the woman who tormented her sister to get out of jail.
"I just pray if there's anybody out there that she has abused, that she has brainwashed, or that she has harmed in any kind of way, just please come forward, so that this time she will never get out of prison ever," she said.
PHOTOS: Fugitive 'cult leader' arrested for child's torture, murder