Teresa and Clarence Bramblett of Clarkesville, Ga., surrendered to Habersham County authorities late Wednesday after they were each charged with 340 counts of cruelty to animals in connection with a large case of animal hoarding at their home.
Along with the cruelty to animal counts, the couple was charged with one count each of holding or possessing a game animal without a permit.
Habersham County Animal Control officers executed a search warrant at the Bramblett home on April 12 after a barking complaint, and impounded more than 400 animals including dogs, cats, goats, sheep, donkeys, pigs, rabbits, chickens, ducks, doves, quail, pigeons, pigs, chinchillas, a horse, a goose, a llama, and a squirrel. More than 300 of the animals were dogs.
According to Habersham County Animal Care & Control Director Madi Hawkins, the deplorable conditions the dogs were being kept in necessitated the euthanization of some of the puppies.
"Three of the puppies were already deceased when we arrived," she said. "Two or three others were in cardiac arrest when we arrived, so yes, they had to be euthanized."
Authorities said they were not able to determine whether or not Teresa and Clarence Bramblett were running a puppy mill, despite the large number of dogs at the home.
"There was not any evidence of sales in our jurisdiction," Hawkins said.
Hawkins said the animals were kept in multiple enclosures on various portions of the couple's property, including areas that were considered too small for the number of animals being housed. She said some of the livestock were being kept in pasture areas.
The animal cruelty charges for the couple were for 312 dogs, 11 cats, five goats, five rabbits, three chinchillas, two donkeys, one sheep and one goat. The violation of game holding permit charge involved a squirrel which was kept caged inside their home.
PHOTOS | Habersham puppy mill bust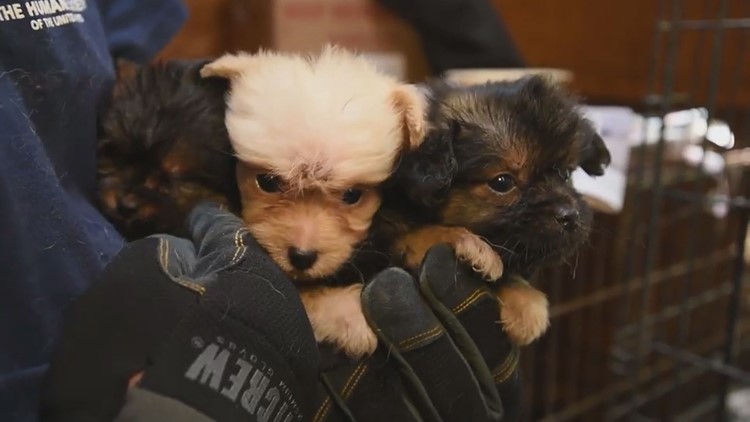 Hawkins said about 40 of the dogs have been retained by Habersham County Animal Care and Control and will be available for adoption at a later date, after they have received extensive medical care and socialization. All of the animals will be spayed or neutered prior to adoption. Hawkins says the agency will release information regarding adoption when the process of adoption of these animals begins.
Emergency Placement Partners, through The Humane Society of the United States, worked with Habersham County authorities for placement of the animals. Other agencies that worked with Habersham County Animal Care and Control include Atlanta Wild Animal Rescue Effort, Angels of Assisi, Angels Among Us, Cashiers Highlands Humane Society, Furkids, Georgia House Rabbit Society, Hands for Paws, Humane Society of Northeast Georgia, Humane Educational Society, McKamey Animal Center, Nashville Humane Association,
PAWS of Bryson City, Save The Horses and Sweet Olive Branch Farms.