ATLANTA — While homicides are up across Atlanta for the third year in a row, according to data reported by the Atlanta Police Department, there was a slowdown in some other violent crimes last year.
Here's a look at the current homicide numbers reported by APD since 2019 - a year before the pandemic took place.
2019 -- 95 homicides
2020 -- 152 homicides
2021 -- 159 homicides
2022 -- 170 homicides
The data shows the numbers have been on the rise. However, Dr. Thaddeus Johnson, a Georgia State University criminology professor, said to be careful with the perception of what this data could mean.
"These year to year comparisons are really informative, but to get the full picture, we need to also understand how these numbers stack up to the pre-pandemic levels, which was our pre-pandemic benchmark, our old crime market," Johnson explained.
Johnson explained that he uses 2019 as a benchmark year because it was the last year before COVID-19.
Johnson said that Atlanta's criminal market changed in 2020 due to the pandemic. Making comparisons of APD's current crime data to data in 2019 allows people to understand better how current crimes compare to parts of our old criminal market.
Johnson said comparing crime from one single year to the next doesn't give full context and that these reports only show crimes reported to APD.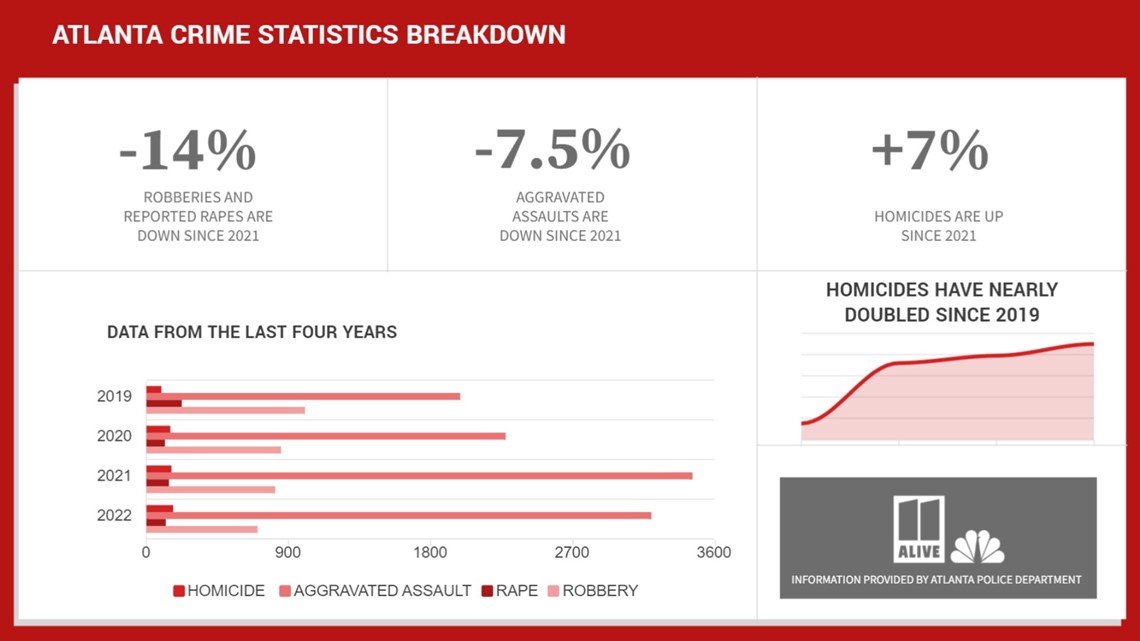 On the other hand, 2022 saw a slight drop in some other violent crime categories. Here's a look at the current aggravated assault, rape and robbery numbers reported by APD since 2019.
Aggravated assault

1,990 in 2019
2,278 in 2020
3,463 in 2021
3,202 in 2022
While aggravated assaults saw a decline since from 2021 to 2022 -- the numbers are still larger than those reported before the pandemic.
Rape

224 in 2019
118 in 2020
143 in 2021
123 in 2022
Reported rape cases dropped between 2021 and 2022.
Robbery

1,006 in 2019
854 in 2020
817 in 2021
705 in 2022
Reported robberies have been on the decline in the last few years. To view current and past APD crime reports, click here.