DEKALB COUNTY, Ga. — Police shot a man after he allegedly raised a gun at officers while being barricaded in a home in Lithonia Saturday morning. The Georgia Bureau of Investigation said the man, 36-year-old Jeremy Haugabook, died after he was taken to the hospital critically hurt.
According to the GBI's preliminary investigation, the incident stemmed from a domestic dispute involving a gun. A 911 caller said they were texting with one of the residents who said he had locked himself in his bathroom. The resident told the 911 caller that he could hear his mother's boyfriend yelling at her and said he believed he was going to shoot her, according to the GBI.
Once officers arrived, the GBI said they were able to get the resident out of the home safely. Police added that gunshots were reportedly fired before they made it to the scene.
Officers tried negotiating with Haugabook inside but ended up calling their SWAT unit out for assistance around 5 a.m. As SWAT officers arrived, the GBI said they were able to get a woman out of the home. SWAT continued the negotiation but could not get Haugabook to come out.
The police department said its SWAT unit entered the home after obtaining an arrest and search warrant. According to the GBI, the officers encountered Haugabook in an upstairs bedroom— armed with a handgun. The GBI said officers told Haugabook to drop the gun and that's when he allegedly pointed the gun towards the officers. The GBI said he was shot by one officer. Police previously said several shots were fired at Haugabook.
Haugabook was taken to the hospital, where he was pronounced dead. No officers nor anyone else were hurt in the shooting, the GBI said.
Michael Norris lives in the same cul-de-sac where the standoff took place. Neighbors were evacuated from their homes for more than seven hours.
"I thought I was in an action movie. I was waiting for Denzel or Shamar Moore to come in," Norris said. "It was just crazy that...and, like I said, nothing like that happens around here."
Neighbor Fred Witherspoon said he heard the rounds.
"I heard the shots. I just hoped— all I thought about was those three boys that are there. They're really, really good kids— really good, really quiet," Witherspoon said.
Neighbors said that the mother and son are doing better.
"This gotta stop you guys," Witherspoon said. "This is really really sad, hurts my heart."
DeKalb Police initially said Haugabook was "experiencing a behavioral health crisis." When asked if a mental health officer was on the scene, they responded that its mental health officer does not work overnight and that the situation was too volatile to have them there.
Norris has his theories on how to solve future problems.
"We need to get guns off the street," Norris said, "That these guns out here are allowing people to just go crazy. And, again, like I said, it's just the viability of being able to have a gun. And then, somebody, because you're angry, wants to take that out. If you don't have a gun, then maybe people can talk and de-escalate situations before they get to that situation."
Officers were wearing body cameras, but the department said they would not release the footage at this time.
The GBI is still investigating the circumstances surrounding the shooting. Once it finishes its investigation, the case file will be given to the Stone Mountain Judicial Circuit District Attorney's Office for review.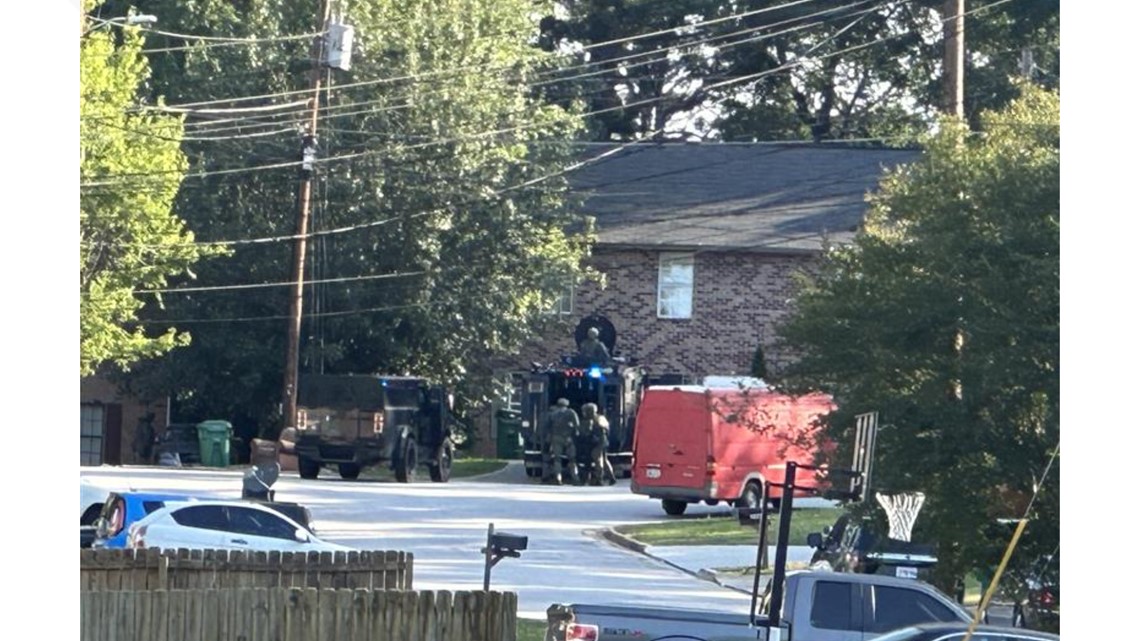 This is a developing story. Check back often for new information.
Also download the 11Alive News app and sign up to receive alerts for the latest on this story and other breaking news in Atlanta and north Georgia.