ATLANTA – "It didn't really hit me until I got up on the casket. When you're walking down the aisle and you get up on that casket, that is when it gets real."
One father is reliving the reality of the two most tragic deaths any parent can fathom. Meanwhile, he's holding on tight to his only living son left and doing everything he can to come to terms with what has happened.
Prayer and therapy.
"I'm praying and I'm glad they don't have to suffer no more. I'm glad that they are in a better place… I wanted to see my sons grow up," Jameel Penn said about losing his two youngest sons.
"I think about them every day. I just take it one day at a time. It is still hard, but I'm thankful that God blessed me to have one child, one left."
Penn's two toddlers, 1-year-old Ja'Karter Penn and 2-year-old Ke'Yaunte Penn, who his brother called "K'-Man," were found dead Friday, Oct. 20 in their southwest Atlanta home, that they share with their mom, 24-year-old Lamora Williams who called 911.
When police arrived at the Howell Place apartment, they discovered a gruesome scene. The children were dead and had burn marks on their bodies.
According to the arrest warrant, police believe Williams put the two children in the oven and turned it on.
Penn, who was separated from his children's mother, said Williams called him Friday night and said, "They're dead."
"Who's dead?" he questioned.
Moments later, Williams placed a video call to Penn from inside the apartment.
"When she turned the phone to the floor, I seen my two sons on the floor—both not moving. One by the stove; one not too far from his brother. They both weren't moving," the father of three remembered vividly.
"Every time I close my eyes from now on, that is what I'm going to see," Penn said.
His oldest son, 3-year-old Jameel Jr., was home when his brothers were killed, but was not injured—and witnessed what happened. He describes the scene for his father like it was yesterday. For that, and the loss, Penn is getting him the emotional help he needs.
PHOTOS: Infants killed in Atlanta apartment
PHOTOS: Infants killed in Atlanta apartment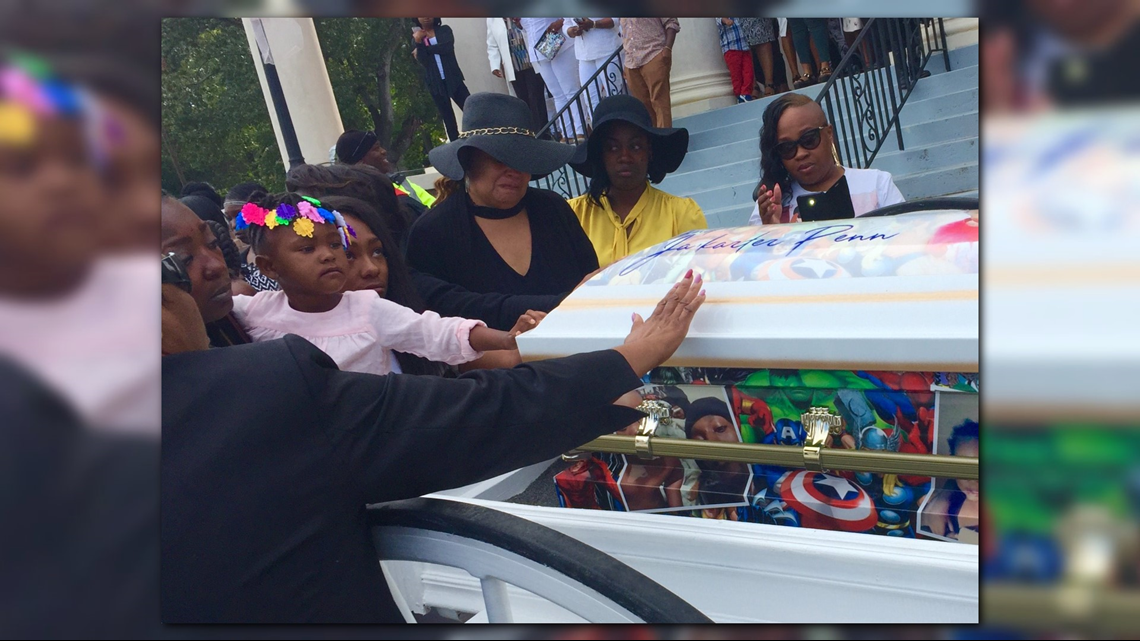 "He describes everything," Penn said. "And, it is like when we talk about it more he gets into full detail. He starts saying stuff that he seen. This happened, this happened and you know he is not lying. He isn't lying. Everything Jameel told me I believe is exactly what he said. The way that my son spoke in complete sentences to me, a 3-year-old, I know for a fact he is not lying."
He talks about it every day, Penn said. In fact, he said, his son witnessed what his mom allegedly did to his brothers.
"That is part of what he said, yeah. She put them in there," Penn said. "He described fully detailed that my two youngest boys was on the floor. I believe every bit of it because the video call showed didn't show me everything he said, but it showed me the rest of what he said. They not moving."
>>>WATCH | A toddler's memory of 2 brothers' murders
His therapist, Penn said, is helping him cope with the details, that were disturbing to share in this story.
"He has a therapist because he needs to get that off his mind. At 3-years-old, if we do what we are supposed to do as far as getting the right therapy, taking him to the counseling that he needs, it will be off his mind in a couple years. But right now, it is still mind-bothering."
So much so, that the small boy asks his dad when his little brothers are coming home.
"He asked me yesterday, he said K-Man and Ja'Karter are going to come back after they been dead. It just broke me. He know they dead, but he still think they coming back."
Funeral services for the young boys were held on Saturday, Oct. 21 at West Hunter Street Baptist Church.
Willie Watkins Funeral Home and South View Cemetery donated their services for the funeral.
Watkins said he spoke to the surviving boy and gave him advice on how to process everything. He told Jameel Jr., that when someone asks him where his brothers are to tell them that they're in a better place.
He said, "Tell them, 'They're in heaven and I'll see them one day again.'"
Since the funeral, Penn has talked to Williams on the phone since she's been in jail. But, he said, she showed no emotion and avoided the question weighing on his mind.
"I kept asking her what did you actually do to them she will go around the question every time," he said. "No emotion, no remorse, no nothing. That right there tells me you don't care at all."
"I want to know what you did. That is the only thing I want to know and I want to know why."
She has told police that she left the children with a cousin around noon on Friday, Oct. 20 and returned around 11:30 p.m., discovering the caregiver was gone and the children were dead—an account police dispute.
Williams has been charged with her two sons' murders and made her first court appearance on Monday, Oct. 23.