JOHNS CREEK, Ga. — The FBI is asking for help from the public in locating a suspect who they said robbed a Fifth Third Bank branch in Johns Creek on Tuesday, Dec. 22.
According to a release from the FBI, at about 1:06 p.m., the suspect shown in surveillance images walked up to the counter of the bank branch, located inside a Kroger store in the 10900 block of State Bridge Road and pointed a gun at the teller.
The release said the suspect passed a note to the teller that announced the robbery. The suspect passed a grocery back to the teller and ordered them to place the money into the bag.
According to the FBI release, the suspect left the bank with an undisclosed amount of money.
The suspect is described as a light-skinned black male, standing about 5-feet-8 to 5-feet-10 inches in height. The suspect is described to be in his 20s.
At the time of the robbery, the release said, the suspect was wearing a dark-colored hoodie that was wrapped tightly about his head along with a medical-type mask that concealed his face.
The suspect wore a dark-colored jean jacket over the hoodie, dark-colored pants, and dark-colored sneakers with white soles, according to the FBI.
Authorities looking for Johns Creek bank robbery suspect seen in surveillance images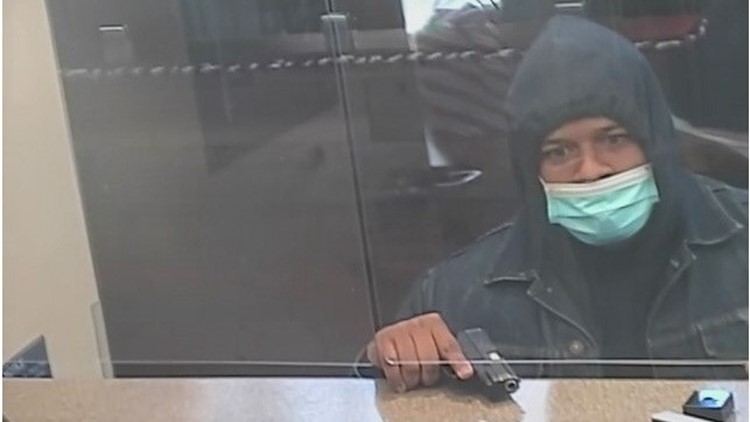 Anyone with information about the suspect or this armed robbery is asked to contact Crime Stoppers Atlanta at 404-577-TIPS or online at StopCrimeATL.com.
Crime Stoppers tipsters may remain anonymous and do not have to give any identifying information to be eligible for a reward of up to $2,000 for information leading to an arrest