DALTON, Ga - Dalton High School Principal Steve Bartoo said he was just outside the classroom of Jesse Randal Davidson on Wednesday morning when he heard the gunshot.
"I'd gotten a call from one of our assistant principals that Mr. Davidson was not allowing people into his classroom," Bartoo said Thursday, while retracing his steps in the hallway outside. "I came up to the doorway and saw the window into the classroom was covered with newspaper, which is not standard practice for us."
Bartoo said he knocked on the door and put his key into the lock when Davidson "slammed the door closed and said, 'Don't come in here,'" Bartoo said.
Bartoo then called the school's resource officer and then tried to enter Davidson's classroom again.
"[Davidson] then said 'Don't come in here. I've got a gun,'" Bartoo said, who said he was just outside the door when he heard a gunshot.
Students were allowed to return to Dalton High School Thursday morning to pick up their personal belongings, with classes set to resume Friday.
Davidson, 53, is set to make his first court appearance Thursday at 2 pm. Davidson is facing six charges, including making terroristic threats and acts and aggravated assault involving a gun.
He also faces charges of carrying a weapon in a school safety zone and reckless conduct.
The shot was fired, broke through a window and left the building, but no one was hit. No students were injured except for one female student who hurt her ankle while evacuating the building.
PHOTOS | Dalton High School following shooting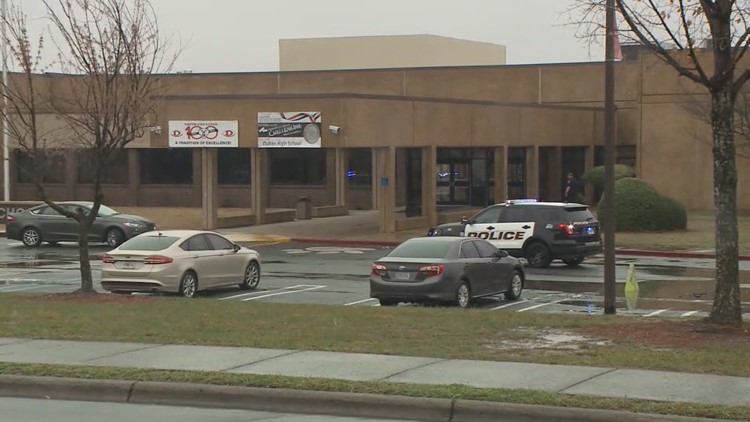 PHOTOS: One day after Dalton High teacher fires gun through window