GRIFFIN, Ga. — (Correction: Arrest records originally indicated the parents were charged with murder. Officials in Griffin said in an afternoon press conference those charges were listed in error.)
A father and mother in Griffin are accused of attempting to murder their 10-year-old son through a pattern of abuse that included neglecting and starving the child.
The parents, Tyler and Krista Schindley, are accused of attempting malice murder - the most serious murder charge in Georgia - and other charges in warrants that allege they "intentionally withheld food (starvation)" from the child.
At a press conference, officials said the child was found walking on his own by neighbors, who asked if he was OK. He stated he was going to the store to get some food because he was hungry, according to the officials, and when officers responded he asked to "please not make him go back."
Kim Seigler, who lives next door to the Schindleys, said the neighbor who found the little boy said he was barefoot when she spotted him outside her window on Wesminister Circle.
The child was described as very small and very thin - weighing 36 pounds. He was being treated in the hospital for malnutrition and a low heart rate, and was in stable condition.
Seigler said she had no idea the child was 10 years old. She said when she would see him out on occasion, it was always from a distance.
"He had on kind of big clothes. I thought he was at the most 6 years old," Seigler said.
The parents' charges also include first-degree cruelty to children for causing "cruel and excessive physical and mental pain" to the child when they "intentionally withheld food from the juvenile for an extended period of time." According to the warrants, this caused "dental injury and disfiguration" for which they also withheld medical attention.
It adds the parents "locked the juvenile child inside his bedroom, leaving the child alone in the residence, for extended periods of time, and on multiple occasions, with no access to lights, food, clothing or adult interaction and/or assistance" as well as no "hot or warm running water, outside view, toilet paper, electronic communication, human interaction, adult supervision or access to exit."
"I can't explain how shocked we were, really been affected by this," Seigler said.
Battery charges also allege the parents "made physical contact with the juvenile victim" causing injuries.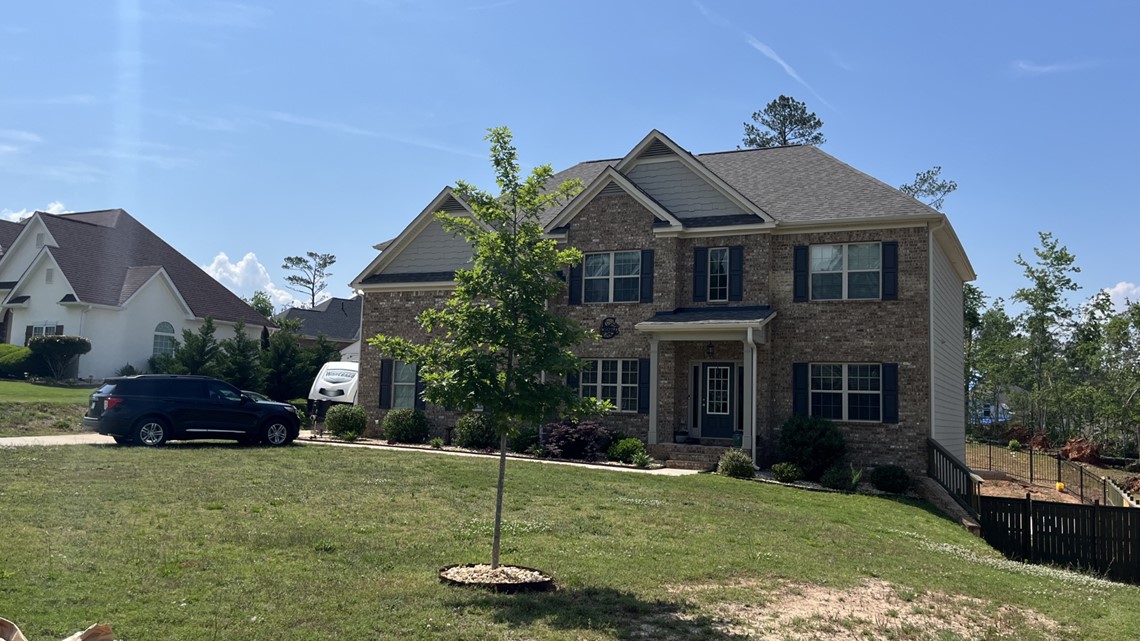 The warrants do not specify when and how the incident occurred, only charging the parents for offenses in a time period between May 12, 2020, and May 12, 2023.
There are other children in the home, officials said, who are being interviewed. But there were no other charges at this time related to any treatment of the other children.
Seigler claims five children lived in the home next door to her.
"The children would never speak to you unless the grownups were not around," Seigler claimed.
Officials said the other children in the home are currently in the custody of Georgia's Division of Family and Children Services (DFCS).
Neighbors said the Schindleys moved into the newly built home just a couple of years ago. On Tuesday, there was someone staying at the home. However, they refused to come to the door to answer any questions about the accusations or what happened.
11Alive learned the Schindleys own True Rest Spas in Peachtree City, McDonough and one in Tennessee.
The parents' charges include:
Criminal attempt to commit a felony (2 counts, the attempted felonies being malice murder and second-degree murder)
False imprisonment
Simple battery and battery - family violence
Cruelty to children in the first, second and third degree