ATLANTA — Law enforcement officers have released the 911 call placed on the same night Clark Atlanta University student Alexis Crawford said she was sexually assaulted by her roommate's boyfriend.
This call, placed by Crawford's roommate and friend - Jordyn Jones - on Oct. 26 wasn't about the alleged assault, but about her boyfriend, Barron Brantley taking off with her car.
Police have charged both Brantley and Jones with malice murder in Crawford's death.
During the 911 call, Jones gives the operator her McDaniel Street address and tells her she needs the police to respond.
"My ex-boyfriend just stole my car," she said to the dispatcher.
LISTEN: Jordyn Jones calls police, reports that boyfriend stole car
Last week, Detective Michael Young testified during Brantley's preliminary hearing, which provides more context to the call.
The detective said in court that Oct. 26 was homecoming for Morehouse and Spelman. Jones told police the three of them had been out drinking, came home and began drinking more. Jones got up and went to bed for about an hour. When she woke up, the bathroom door was locked. She knocked on it and Brantley allegedly came out saying "I didn't touch her, I didn't rape her."
WXIA
Young testified that Jones told detectives she and Brantley were arguing and that's when he allegedly ran out of the apartment and took off in her car. In the 911 call, Jones tells the operator that, as well.
Jones: He took my keys and he [expletive] ran and I'm bout to ...
Operator: What kind of car you got?
Jones: A 2017 red Chevy Cruze.
The operator asks for a tag number, but Jones didn't know it and said she could get it to her. The operator tells Jones she didn't need it at the moment, but to make sure she had it when the officer arrived.
Operator: We'll get an officer out for you.
Jones: And it's Michigan plates.
Atlanta Police said Jones didn't complete an incident report after the call.
RELATED: What we learned during court hearings for Alexis Crawford's accused killers
It's unclear if the couple had the argument before or after Jones noticed that Crawford was unconscious. However, the detective said during his testimony that Jones did call a mentor saying something happened to Crawford.
When Jones' mentor arrived, the detective testified that Crawford was crying and said she had been sexually assaulted. The mentor called 911 around 1 in the morning. First responders and police came to the apartment to talk to the roommates. Crawford was taken to the hospital to have a rape kit done on Oct. 27.
RELATED: Who is Barron Brantley? The man accused of killing Alexis Crawford, his girlfriend's roommate
On the night of Oct. 30 the girls reportedly got into a fight after a trip to the liquor store. Police said as the two were fighting, Brantely - who had been hiding in the apartment without Crawford's knowledge - came out of the bedroom and allegedly choked her.
As he was choking her, Jones allegedly got a trash bag and put it over Crawford's head. Authorities said Crawford died from asphyxiation.
Police said Jones told them they put Crawford's body in a bin and dumped it over a hill in a park in DeKalb County.
Crawford's family reported her missing on Nov. 1. Her body wasn't found until Nov. 8. Both suspects were taken to the Fulton County jail.
Remembering the life of Alexis Crawford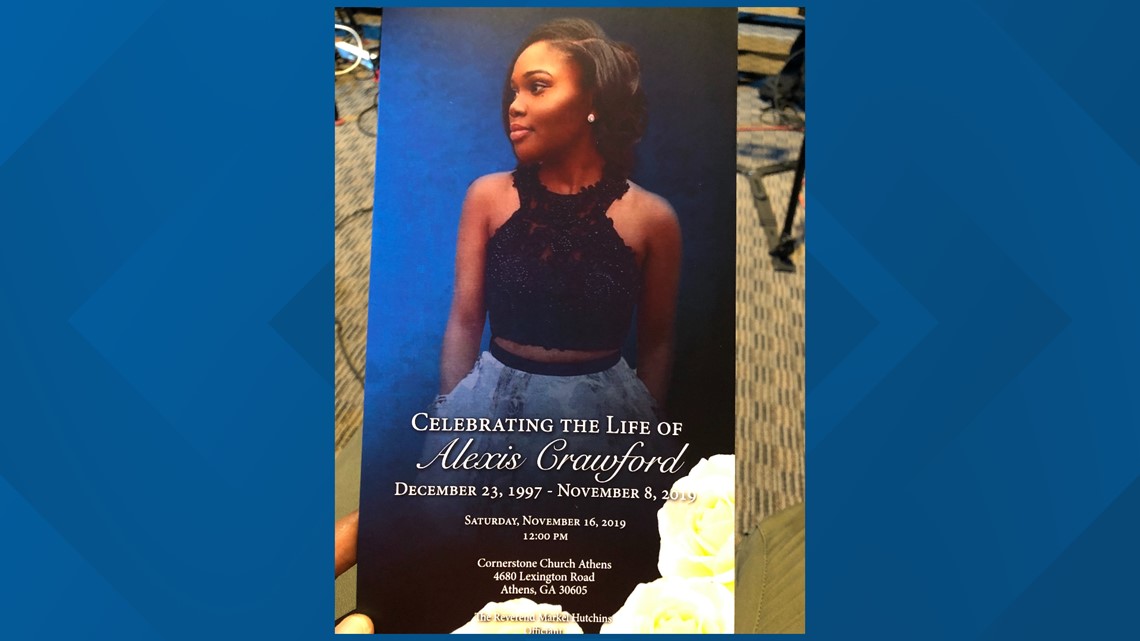 MORE ON THE ALEXIS CRAWFORD CASE:
Probable cause for cases to proceed against both accused killers of Alexis Crawford
'Sounds of agony': Detective testifies both accused killers of Alexis Crawford admitted parts of murder
Friend accused of killing Alexis Crawford denied bond
'Lex, you are special': Friends, family say tearful goodbye to Alexis Crawford at funeral
Singer Teyana Taylor honors Alexis Crawford during Atlanta concert
Clark Atlanta students try to cope with violence that has crept onto their campus
'Alexis had a bright future ahead of her', says family of murdered Clark Atlanta student
Documents reveal how Alexis Crawford was strangled to death
Roommate charged in murder of 'best friend' posted her missing person photo on Instagram