ATLANTA – Kenndric Roberts could walk out of jail today.
Based on probable cause, Judge Jaslovelin 'Jessy' Lall dismissed four of the six counts of false imprisonment and all human trafficking charges against the 33-year-old defendant, Roberts, during his arraignment and preliminary hearing Thursday morning.
The district attorney, however, could move forward with the additional charges for the grand jury to decide whether those charges will be included if Roberts stands trial.
He faced several charges stemming from human trafficking and false imprisonment accusations by multiple women, including six counts of false imprisonment, six counts of trafficking person for labor or servitude and two counts of possession of a firearm in the commission of a felony. An AK-47 pistol and a Glock .45 cal. handgun were recovered during the investigation.
Roberts sat quietly at the defense table, wearing a navy-blue Fulton County jail jumpsuit, handcuffed and shackled to a chain around his waist, gripping tightly to a maroon Bible--his tattoos scrolled across his hands, matching those of his "Diamond Kitties."
"The judgment of this bizarre contract is something that the state can try to get indicted and try to construe this as a trafficking case, or whether Mr. Roberts and Mr. Maloof will be tied up in civil court, trying to argue whether this particular contract in this bizarre fashion was entered into under some kind of duress or unconscionable issues," Lall said.
"I don't know whether I've been listening to a civil case regarding breach of contract or a criminal case involving trafficking, false imprisonment and so forth—but, clearly at the present time, based on the information that was presented, I find probable cause for the charge of false imprisonment for two of the alleged victims in the case, as well as possession of the firearms charge—dismissing the other charges," Lall said.
Lall ordered Roberts to no firearms and not to make contact with the two women named in case, as well as an $80,000 bond—$20,000 on firearm possession charge and $30,000 for each of the two false imprisonment charges.
A detective on the case testified that when police arrived at the Sandy Springs mansion, the woman who answered the door said, "Help me."
PHOTOS | Judge dismisses human trafficking charges, sets bond at $80K
PHOTOS | Judge dismisses human trafficking charges, sets bond at $80K
INSIDE | Sisters of Struggle: Being a 'Diamond Kitty'
The case started when one of Roberts' "Diamond Kitties," a 20-year-old mother who feared for her life, called 911, earlier this month, alleging that the 33-year-old was holding her and seven other women captive inside a lavish, sprawling mansion at 100 Strauss Lane in Sandy Springs, Ga.
"It's a house of full of girls and... if I try to leave, he'll try to kill me," the woman told the 911 dispatcher on Tuesday, March 7 just after 7:31 a.m.
The detective described, for the judge, his interview with that woman.
"She was recruited, enticed and harbored by the defendant for the purpose of labor servitude," the detective, whose identity is being withheld because he works undercover, testified. "She expressed that the defendant threatened to kill her if she left."
AUDIO | Terrified 20-year-old makes desperate call from million-dollar home
Roberts' attorney, Michael Maloof, argued that Roberts has a permit to have gun and never forced anyone to do anything.
"Everyone was free to leave at any time. No one was threatened or forced. And everybody stayed… and they lived well. That's not trafficking," he said to the judge.
"It's absurd. I ask your honor to dismiss everything."
The woman on the 911 call, told the dispatcher that she met Roberts, whom she referred to as her "boss," on a dating website that caters to "sugar daddies" seeking "sugar babies."
Dispatcher: OK, and how did you meet him?
Caller: On this website. It's called Seeking Arrangements.
Dispatcher: OK, if you said that there's nothing illegal going on and you're not allowed to
leave…
Caller: Mmm hmm… No, there are times where you can leave whenever you want. But (unintelligible)… and then he'll like threaten to kill you and stuff.
According to another Diamond Kitty, Roberts, known to his gang, Gangster Disciple, as "King Lop," promised them lucrative careers with his entertainment company.
"[He offered] a modeling career. I was so interested because that's what I want to do," one of the girls remembered.
She moved into an apartment with four other girls and Roberts in August, and within a week, she said, she signed a contract that stipulated that she would dance at a strip club to live there.
"I didn't know it was going to get worse," said the 19-year-old woman, who we are not naming because she is considered a victim in the case that's under investigation by the FBI.
But, according to her, it did.
EXCLUSIVE | Alleged human trafficking victim: 'I was just a little puppet'
She agreed to audition for the Pink Pony and started working there almost immediately, joining three other women she lived with.
The other women living with Roberts, she said, were sent to work at the Pink Pony, Mardi Gras, Oasis, nearby strip clubs, as dancers. They too were recruited through the dating website, as well as through his company, Live Star Nation's Instagram page and other strip clubs.
"It was very different," she said about working in the strip club. "It was crazy. I'd never experienced anything like that in my life."
But, she continued, she got used to it. It was the norm. Everyone in the house danced.
She never saw any of the money she earned. Every dime, she said, went to him—nearly $1,000 a night, from six to seven nights a week.
"I think I put almost $100,000 in that man's pocket."
The women said Roberts asked them to work at strip clubs to help get the company off the ground then coerced them into giving him their earnings each night, and threatened to kill them and their families if they left. In some cases, the women alleged that Roberts obtained fancy cars using their names and credit.
On Thursday, the detective testified that Roberts fined women who broke his rules.
"He also had, mixed in with the receipts, fines for four of the women totaling [more than] $100,000 for insubordination over a three-day period," the detective said. "He would fine them for insubordination for $10,000 to $20,000."
PHOTOS: Human trafficking suspect arrested for holding women hostage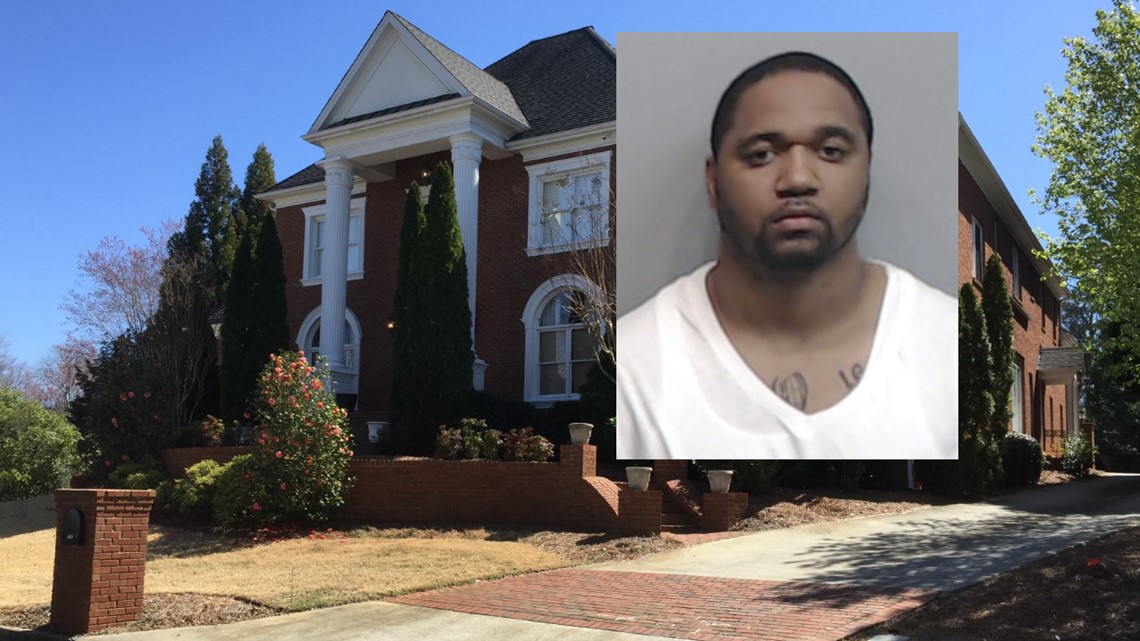 Branded with loyalty
To show solidarity, she and the other women in his home received matching tattoos on their wrists—also pledging allegiance and homage to the gang that Roberts is affiliated with, the Gangster Disciples.
"He made us get tattoos," she said, not wanting to get the ink.
The tattoos included the letters, "LOP," which stood for "Loyalty Over Pride," at the top of their
wrist, with the numbers "12 15 16 14" below, matching the tattoo on his chest, "12 L 15 O 16 P 14."
"He wanted us to put our pride aside and be loyal to him," she said.
Other women in the house had a second tattoo on their other wrist with the letters, "SOS," referring to the gang affiliation again and the abbreviation for "Sisters of Struggle." They knew more about Roberts, she said. They were on the "inside."
Identical tattoos weren't the only thing the women shared.
"He wanted us to be like sister-wives," she said of the other women, all of whom had sex with Roberts. She said she was forced to.
And the eight women living in the house were seemingly interchangeable.
"I felt like a robot living in that house," she said. "I was just a little puppet."
He dressed them alike. He chose their underwear. He chose their makeup. He chose their hair products and how they did their hair.
"That was my life, wearing the same things, the same purses the same glasses, hair everything was the same, even the bras and panties were the same."
He randomly took their phones, searching for anything and everything that he didn't approve of.
"I couldn't have a social life. I couldn't have any friends."
She was only allowed to leave the house for the club, grocery shopping or to get her nails done; and kept cameras rolling inside and outside the house to keep a close eye on everything that happened.
"He wasn't physical, just mentally screwed our heads up," she said.
She remembered, he used to tear the women down, saying, "You're not good enough; you're not smart enough." And telling them they could leave, but then, in a swift 180, making threats on their lives and their families' lives.
"He said, 'You can leave if you want… [but] I'll screw your life up,'" she said of his threats that he would hurt her family, plant drugs on her, reminding her that he knew where her mom lived.
"We couldn't leave," she said.
Alleged victim's mother: He said, 'I will find you and kill you' like you
But his defense attorney painted a vastly different picture: a luxurious life, lavish gifts and all the freedom the women wanted.
"Not one time did they go the police and say, 'This guy is holding me against my will,'" Maloof said. "Your honor, that's absurd."
When police arrived at the home on March 7, they found eight women—at least six being held against their will. With the assistance of the FBI, Sandy Springs Police arrested Roberts.
Lall dismissed most of the charges, leaving them up to a grand jury to decide, but did find probable cause for false imprisonment and weapons violation charges. She did stand firm when the assistant district attorney objected to the $80,000 bond.
His next court appearance was not announced.