AUSTELL, Ga. -- Police say a convicted felon is back behind bars after allegedly beating and pistol whipping a pregnant woman while on "every category of drug."
On Dec. 22, police arrived to find the victim, Courtney Wright "crying hysterically" and "bleeding from the head" as she explained to police what had just transpired.
According to an incident report filed with the Cobb County Police Department, the suspect, later identified as Stewart Schell, arrived at the victim's Austell home around 1:40 p.m. asking if a truck in the driveway was for sale.
"He asked me if it was for sale," Wright said. "I told him absolutely not."
Schell then said that he was in a car accident and asked to come inside.
"He told [me] he had been walking if I could get him a glass of water," she said. "I was like sure I don't mind."
While inside, Schell told the woman he could not find something in his backpack and asked her to help him look for it and organize it.
That was when the situation began to take an unusual turn as, the report states, the victim noticed jewelry and coins inside the bag.
When she asked, Schell told her that he stole the items. She continued to look for his missing item before giving the pack back to him and heading to her bedroom.
But soon, another alleged missing item would make the situation much more dangerous. Schell followed the woman now claiming that she had stolen his wallet.
"That's when he pulled out his gun - he had a gun in his back pocket," Wright said. "And when he pulled it out he pointed it at me and told me that he was going to kill me if I didn't give him his wallet back."
The encounter, unusual but not violent to this point, quickly escalated.
Police said Schell slammed the woman to the floor and began to punch her in the face several times. He also pistol whipped her over the head with a Keltec. 40 caliber pistol.
Wright said he hit her about seven times.
"All I kept saying is, 'I'm pregnant. Please, I'm pregnant. Don't hurt my son," she said.
The victim struggled to get away, even biting the suspect and squeezing his "groin area" according to the police report.
"I just grabbed his man area as hard as I could and I just pulled and ripped until he screamed and he, like, dropped down in the fetal position," she said.
She managed to break free but even then, Schell fired his gun at her feet. She ultimately busted out a window in her own home to escape and called 911.
As the shock wore off, the pain and realization of what happened began to settle in.
"All the adrenaline just stopped and my pain - I was bleeding everywhere," she said. "I just sat in the middle of the street and cried until the police showed up."
Police spotted the alleged attacker as the woman recounted the initial part of her story to them and they gave chase. He was ultimately found standing near a large refrigerator outside a neighbor's home.
Wright continues to run through the events of that day in her head and realizes just how close she came to dying.
"He could have killed me; he could have shot me right then and there," she said. "That one bullet and it would have been over with."
Even then, her focus wasn't to protect her own life - but instead that of her unborn son.
"When he was hitting me, I made sure I protected him," she said. "That was the only thing I cared about; hit my face, hit my body, do whatever you do just do not touch my son."
As police arrested Schell, he said that he was actually the one who had been assaulted even saying he had been shot, stabbed and that the woman had thrown bleach on him.
But police found a gun behind the refrigerator that still had the victim's hair stuck to the magazine. Officers also smelled no bleach and saw no indication of stab or bullet wounds.
RELATED: Mugshot gallery
Mug Shot Photos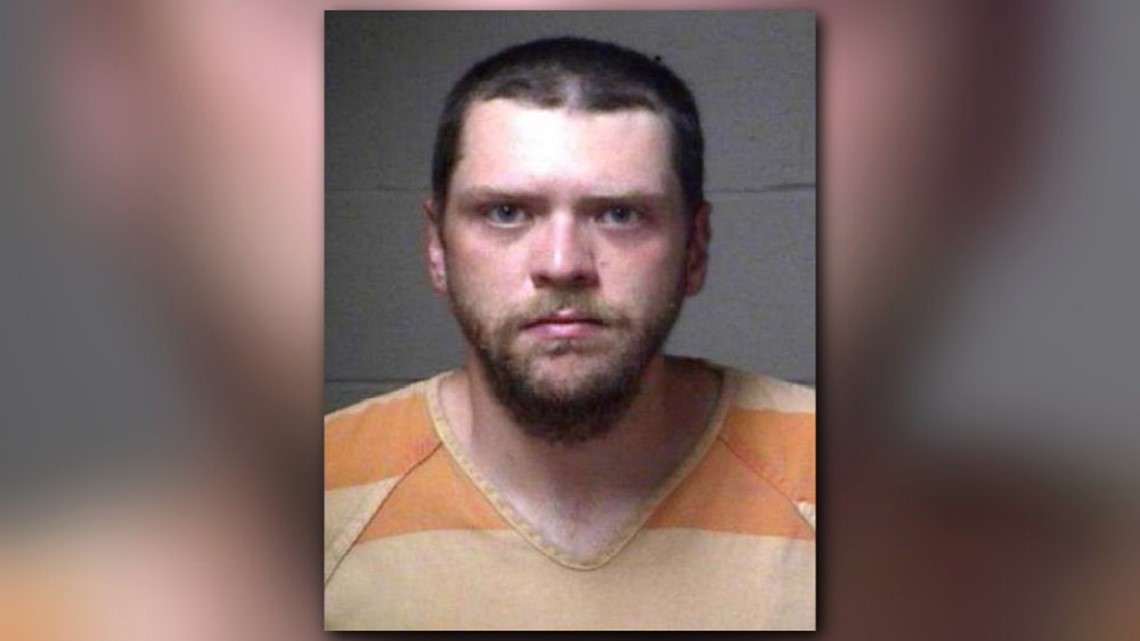 The suspect may have been in handcuffs, but it became clear that questions would have to wait since, police said, he was under the influence of some form of narcotic and "could not speak complete thoughts.".
Make that several narcotics.
Schell was taken to an area hospital where the head nurse said he was on " almost every category of drug" including meth, heroin and cocaine.
He now faces charges of aggravated assault, false imprisonment, possession of a firearm by a convicted felon, possession of a firearm during the commission of a felony and obstruction.
It turns out at least one part of Schell's story has been confirmed true. He had been in an accident earlier in the day which is how police first recognized him after the attack.
He was also wanted on a warrant for marijuana possession out of Carroll County.