GWINNETT COUNTY, Ga. -- The sister of Gwinnett County Police Officer Antwan Toney remembered her brother as a man with a passion for police work.
"We find comfort in knowing that he died doing what he loved," said Carla Johnson of Lakewood, California.
The shooting suspect, Tafahree Maynard, 18, was found hiding in a shed a few miles away from where the shooting took place. He was shot and killed by police on Monday, Gwinnett County Police confirmed.
Police had been looking for Maynard since the shooting on Saturday. He was found in the area of Hewatt Road SW in Snellville on Monday morning after getting a tip.
A second teen involved in the shooting, 19-year-old Isaiah Pretlow, was denied bond at his first court appearance Monday afternoon.
An anonymous call about a suspicious vehicle outside Shiloh Middle School near Snellville Saturday afternoon ended in Officer Toney's death.
At 2:30 p.m., Toney responded to the call, but police say he never got a chance to talk to anyone inside the vehicle because bullets began flying. Toney had been shot by someone inside the vehicle.
Another officer returned fire and pulled Toney out of the way. But it was too late -- he was hit and the suspects were on the run.
At 4:45 p.m., Sgt. Jake Smith said police were looking for the suspects.
"At this point, we're still trying to identify who the suspects might be," Smith said. "We don't have anyone in custody and we're not sure if the suspects have been shot. But we do have one officer shot- he's in critical condition at Gwinnett County Hospital."
During this timeframe, SWAT, K9, helicopters responded to tips about the suspect- searching houses in the area surrounding where Toney was shot.
At 5:30, Sgt. Smith revealed the heartbreaking news.
"Our officer is deceased, I'll start with that," Smith said. "His name is Antwan Toney."
The search continued over the next several hours, looking for a man described as 6-feet tall, dark-skinned, with dreadlocks -- wearing a grey shirt and green pants.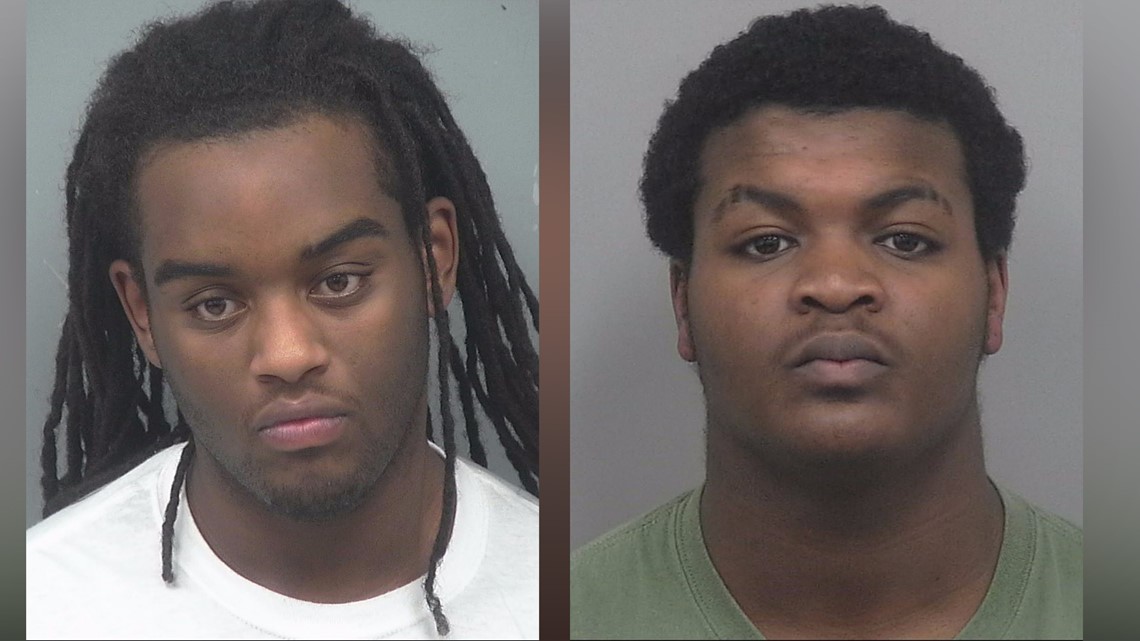 At 9 p.m., Chief Butch Ayers said they were questioning multiple people.
At 30 minutes before midnight on Saturday, 19-year-old Isaiah Pretlow was arrested and charged with aggravated assault. The manhunt then focused on 18-year-old Tafahree Maynard -- now charged with felony murder.
"Tafahree Maynard needs to turn himself in," Ayers said. "He is considered armed and dangerous."
The Gwinnett Police Department said Monday morning that they have received a credible sighting of suspect Tafahree Maynard within the past 12 hours. The department advises to keep an eye out and to call 911.
Maynard is described as 6-feet-1-inch tall and weighing 300 pounds.
Sunday evening, Gwinnett Police said they were fielding tips to find Maynard. They have established a 24-hour tipline to find information about Toney's murder: 770-513-5710. Anonymous tipsters may call 404-577-TIPS (8477) or visit www.crimestoppersatlanta.org. There is a $5,000 reward for information that leads to an arrest.
Gwinnett Police officer killed near Snellville, manhunt underway