DEKALB COUNTY, Ga. — A judge denied bond for the man accused of plowing over a 9-year-old girl and injuring her 11-year-old friend with his girlfriend's car.
Gabriel Fordham appeared in court Monday for his preliminary hearing. He's facing hit-and-run, serious injury by vehicle, and a few other charges.
His lawyers - Gerald Griggs and Ryan Williams - claim Fordham was being robbed inside of the car, which led to the crash that injured LaDerihanna Holmes and Alayshia Phillips. However, LaDerihanna's mom is not buying his story.
"If it wasn't for the video cameras on my house, this man would have got away with it," Charlette Bolton said.
Surveillance video captures the jaw-dropping moment. The crash happened on Friday, March 29 near the intersection of Cherokee Valley Drive and Cherokee Valley Way in Lithonia just before 7 p.m.
RELATED: Suspect in hit-and-run where girl was plowed over by car in custody
RELATED: 'You will be caught' promises mom of girl plowed over by car in hit-and-run
The video shows the two girls playing just outside the front of the home. Suddenly, a car can be seen careening down the street and hitting a curb before blowing through the intersection. In the next instant, the car is in the front yard and slams into the two girls.
"This man didn't look down at my daughter on the ground dying," Bolton said during her statement to the court before the judge denied Fordham's bond.
"I don't believe not one time that you were carjacked … because the man that jumped out of the car and ran faced you like he was waiting on you," she claimed.
"My daughter is afraid of this man," she added. "My daughter has seen his picture, and I'm afraid as well."
Miraculously both girls survived. Alayshia sustained a foot injury, but the 9-year-old's injuries were more severe.
RELATED: Man accused in hit-and-run of girls playing in front yard says he was carjacked
Photos: 9-year-old slammed by car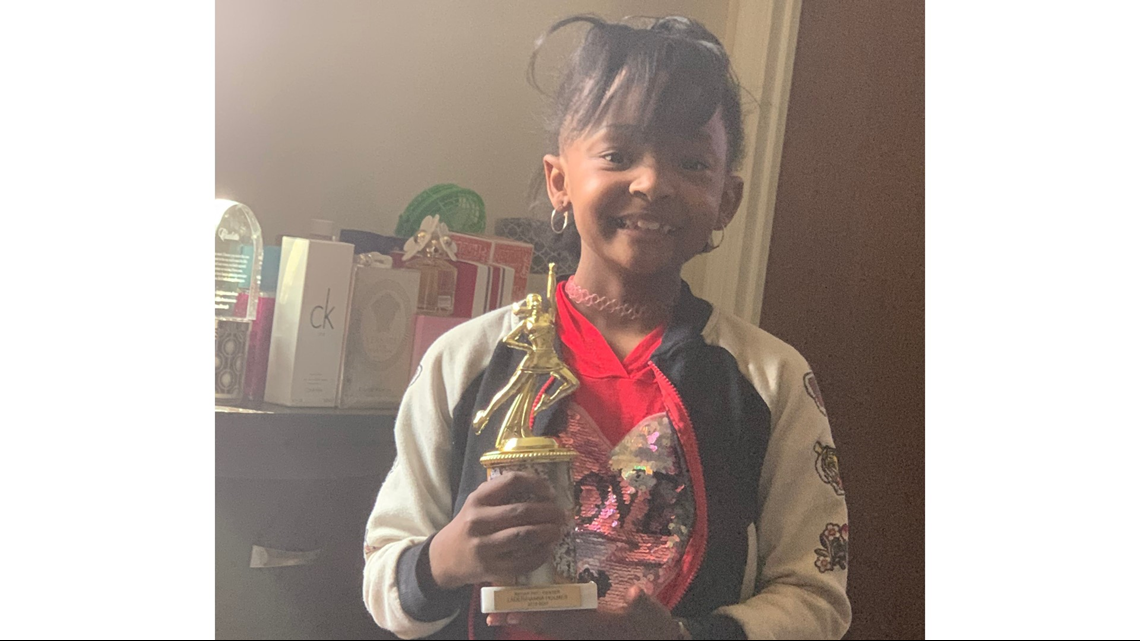 RELATED: She was playing in the front yard and watched a car plow over her friend.
LaDerihanna suffered a fractured skull and a fractured pelvis. Her dad said she is out of the hospital but has a leak in one of the valves that goes to her heart. The road to recovery is far from over.
During the hearing, Det. Connie Curtis of DeKalb Police testified that Fordham didn't reach out to them about the alleged carjacking. She said they contacted his girlfriend - the car's owner - who told them he was the one driving the vehicle.
Fordham's girlfriend also testified. She said he called her about the incident and said he was robbed.
The car was left at the scene, but Fordham's attorneys said he only left because someone was there with a firearm.
"My client did not leave the scene until this gun was in his face. This gun was waved around," Williams added.
The detective testified that it was the victim's brother, who was visibly upset.
"At no time do I see him point the weapon at Mr. Fordham," Curtis stated during the hearing. " I don't even think he knew the driver was Mr. Fordham at that point."
She said after Fordham left, the victim's brother took the gun and fired a few rounds in the air.
RELATED: Georgia girl who survived car strike says miracles do happen
RELATED: Jaw-dropping video shows car plow into 2 girls playing in DeKalb County yard
This is still an active investigation and police are trying to determine who was the second person inside of the car that left the scene.
The judge said she denied Fordham's bond not because she thought he was a flight risk, but because of his criminal history with probation violations. She said there is enough evidence for the case to move forward.
MORE NEWS |