A married couple is facing a slew of drug charges after police raided their apartment in Calhoun, Monday, and neighbors said they were shocked to learn they were living next door to a makeshift meth lab.
Richard Thomas Skaja, 36, and Amanda Jean Skaja, 34, were arrested Monday after police found methamphetamine and drug paraphernalia in their apartment, located on Harland Street in Calhoun.
Six fluid ounces and two solid grams of what appeared to be methamphetamine were found inside the apartment, along with hypodermic needles and a glass drug pipe, police said.
Police said a tip from a concerned citizen led them to the Calhoun Crossing Apartments to check on Amanda Skaja, who was on probation.
When officers found the makings of meth – including two different liters of chemicals – her husband, Richard Skaja, immediately warned officers.
"He said, don't shake it and do not let it heat up, because it will explode," Pyle said. "They explained there was enough of the precursors of meth and chemicals in that apartment, that had it exploded or caused a fire, it could have actually burned the entire complex down."
Photos: Authorities discover makeshift meth lab in Calhoun apartment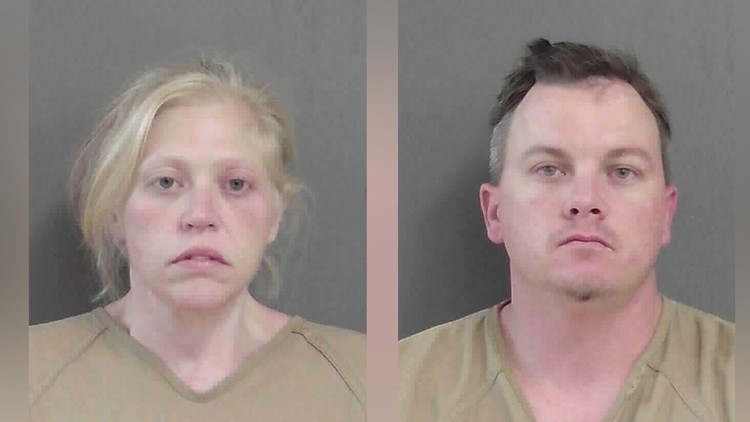 Neighbors said they had no idea what was going on inside the walk-up style apartment – but they did find needles in the grass and noticed a strong chemical smell hanging in the air.
Pedro Escobar, who also lives in the neighborhood, said he also saw needles in the grass.
"I could smell chemicals all the time," Escobar said. "We were living right beside it and we didn't know."
Calhoun Chief Tony Pyle said nearly 40 families were evacuated from their homes for hours while the DEA assessed the threat from the apartment Monday night.
"I was in the house waiting on my nephew to get off the bus, and all I know is, I was told to get out and evacuate the apartments," said Theresa Harrold, who lived nearby.
Investigators said the couple was making meth the "shake and bake" way, using two-liter bottles to mix the ingredients.
Although the situation could have turned dangerous fast, officers said the hazardous chemicals were contained in the liter bottles.
"It's one thing to be cooking meth, it's another to burn down an apartment complex and kill several police officers and other people along the way – that changes things dramatically for him," Pyle said.
Another neighbor, Karie Meeks, said she had no idea what was going on – and that's what frightens her the most. She said she never felt sick or light-headed after walking by the unit one day when the door was open.
"It's terrifying to me because, with a meth lab up there, this thing could explode at any time and we would have all been in trouble," Meeks said. "We've all got family here."