A family member of two teens found dead and buried behind their Effingham County home has told a Savannah TV station about what they think may have led to their deaths.
The bodies of the teens, 14-year-old Mary Crocker and 15-year-old Elwyn Crocker Jr., were found buried near their home last week.
The teens' biological father, 49-year-old Elwyn Crocker Sr., his wife and the teens' stepmother, 33-year-old Candice Crocker, the teens' step-grandmother, 50-year-old Kim Wright and a fourth person, 55-year-old Roy Prater have all been charged with concealing a death and child cruelty in connection with the deaths of Mary and Elwyn Jr.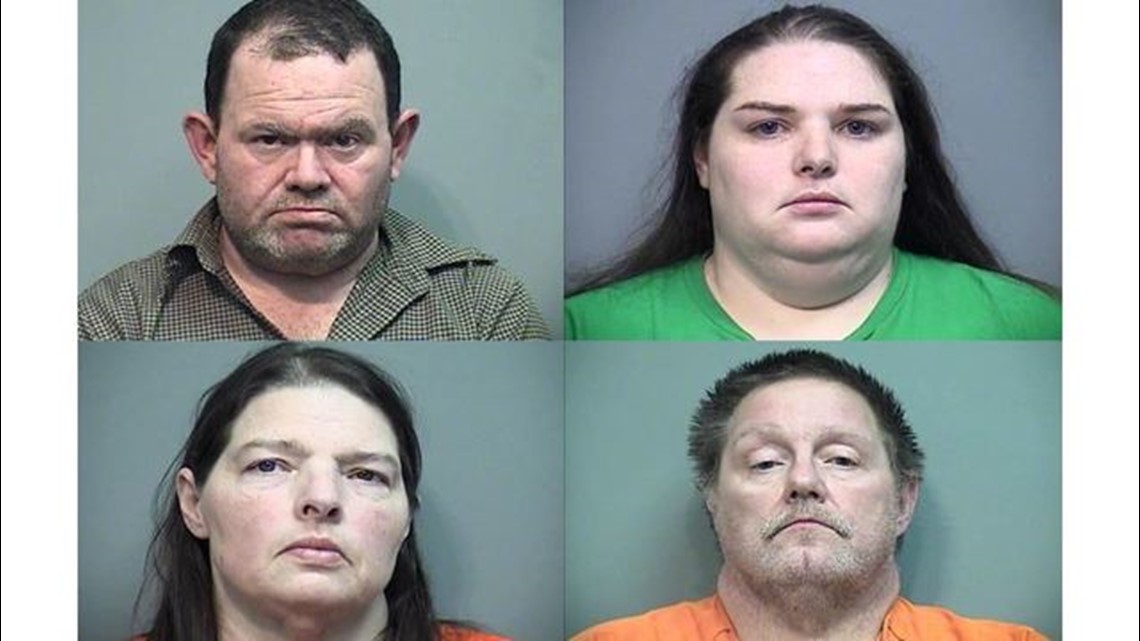 "I don't think it was for financial gain. I think this happened because financially, he couldn't take care of him. I think the only reason something didn't happen to (a younger child in the home) is because they were receiving an SSI check for him that would have been cut off," the family member said. "Payment for him, and that's what they were living off of."
Savannah television station WSAV said Mary had not been seen since October 2018. Elwyn Jr. had not been seen since November 2016. A missing child report was not filed for either child.
According to the Effingham County School District, both children had been students in the Effingham County School District. Elwyn Jr. was withdrawn in January 2014 when he was a 6th grader. Mary was withdrawn at the beginning of this past school year.
"The information on record indicates that both students were transferred to a homeschool program at the time of withdrawal," according to a statement from Effingham County School District officials released to WSAV.
A minor child with special needs was found inside the home on the day the bodies of the teens were found. He was taken to a hospital for observation.
Bodies of two teens found buried behind Guyton home
The relative says Crocker and his wife Candace moved to Georgia suddenly in 2012. Since then, she has not had much communication with them.
Effingham County Sheriff Jimmy McDuffie says deputies were initially called to the home on Dec. 19 after receiving a tip that a 14-year-old was missing and feared dead.
After speaking with the homeowners, investigators had determined that it was not a missing juvenile but a death investigation.
When deputies arrived at the home, they were given conflicting stories about the girl and how she lived elsewhere. Investigators questioned everyone in the home and said they determined that everyone lied about Mary's whereabouts after they stated she went to live with her mother.
When deputies returned to the home the following morning, they discovered Mary's body buried just feet away from the home. Elwyn's body was discovered nearby.
"I've been doing this for 41 years. And a while ago, I almost broke down in tears," said Sheriff Jimmy McDuffie. "I just can't understand how you do children like this. Horrible."
Investigators said more charges could be filed after the teens' autopsies are released. The manner of the teens' deaths remains unclear.
The relative says she has been in contact with detectives about the teens' biological mother and is helping them contact her so that they can determine who to release the bodies to.