GWINNETT COUNTY, Ga. -- Police have shot and killed the suspect accused of killing Gwinnett County Police officer Antwan Toney, Gwinnett County Police confirmed Monday.
Tafahree Maynard, 18, was found inside a shed behind a home a few miles away from where the shooting happened on Oct. 20.
Police had been looking for Maynard since the shooting on Saturday. He was found in the area of Hewatt Road SW in Snellville on Monday morning after getting a tip.
Gwinnett County Police Chief Butch Ayers said in a press conference Monday that a tipster called police around 3 a.m. to report that their shed, located at a home on Mistletoe Lane, appeared to have been disturbed and gave officers permission to search.
Two officers opened the shed door and found 18-year-old Maynard inside and ordered him to surrender. They gave him verbal commands but he refused to comply. An officer deployed a Taser. Ayers said Maynard had a lawn mower blade in his hand.
Ayers said Maynard did not surrender and at first kept his hands hidden behind his back.
"At one point, he did show his hand, which had an edged weapon," Ayers said. "The second officer did fire his firearm, striking Mr. Maynard. Mr. Maynard died at the scene.
Ayers said the second officer fired on Maynard from close range, about 5 to 6 feet.
The woman who lives at the home with the backyard shed told 11Alive she heard up to three shots. Another neighbor, Mark Swinson, said residents of the neighborhood hurt for Officer Toney, his department and family.
"It's gut-wrenching. He puts his life on the line like all these other officers do every day of their life," Swinson said. "And he lost his life protecting ours. And for that, I will be forever grateful."
Police search Snellville home for accused police shooter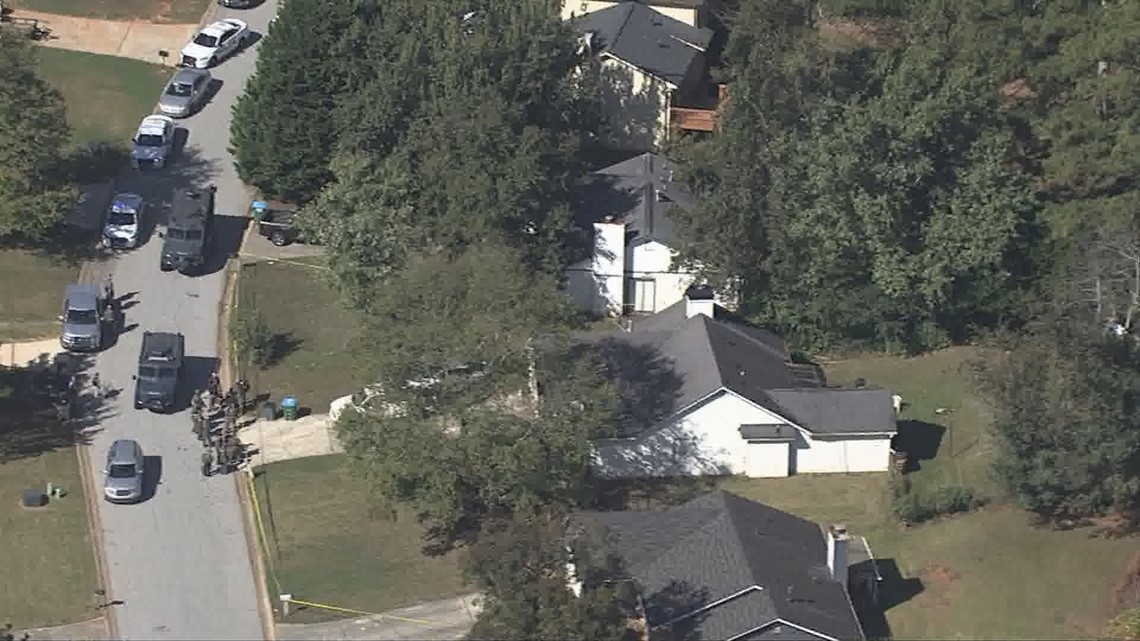 Up to 90 officers searched homes, yards and outbuildings in the search for Maynard.
The GBI is now investigating the shooting, along with the Gwinnett County District Attorney's Office. Ayers warned anyone who helped Maynard will face prosecution.
"The danger to the community is now over," Ayers said. "Now we are turning our attention to supporting the family of Officer Toney."
Another man, Isaiah Pretlow, 19, was captured by officers on Saturday. He's charged with aggravated assault against a law enforcement officer, a felony. Pretlow appeared before a Gwinnett County judge Monday afternoon for his first appearance. During it, he asked the judge about being allowed to make a phone call to find out if his brother was able to secure an attorney.
"I needed a phone call because before I got arrested, my brother said he was going to get me an attorney. So, I don't know if he got it. I just never got a phone call," Pretlow said to the judge.
His next court date for a preliminary hearing is next week.
Officer Toney was shot while responding to a suspicious vehicle parked at Crumps Landing and White Road near Shiloh Middle School in Snellville. An anonymous caller told 911 dispatchers they believed the people in the car were smoking pot.
As Toney and the other officer approached, they were shot at from inside the suspect vehicle. Police said Maynard opened fire on Toney without even rolling down the car windows. He shot through the car's window glass, hitting Officer Toney four times. The other responding officers pulled Toney to cover.
At least one shot came through the glass and struck Toney. It did not hit the officer's vest, Smith said. Toney was taken to Gwinnett Medical Center in Lawrenceville where he died of his injuries.
Toney had been an officer with Gwinnett County Police since 2015 and had just celebrated his 30th birthday a few days before he was killed. He was originally from southern California.
The visitation for Toney is Tuesday and his funeral is Wednesday morning For details on those, click here.