ATLANTA — An Atlanta Police detective testified on Friday during a preliminary hearing for one of the two accused killers of Alexis Crawford that both admitted at least parts of their roles in the murder under questioning.
Barron Brantley, Det. Michael Young testified, was arrested the day Crawford's body was found in Decatur and interrogated.
"He admitted to choking Alexis, Ms. Crawford, and while he was choking Ms. Crawford, Jordyn Jones put a plastic bag over her head," the detective testified.
A judge ruled probable cause for Brantley's case to proceed forward towards a trial. Jones waived her hearing, and so will also move forward.
Jones was the roommate, and close friend, of the slain Clark Atlanta University student.
The detective further testified that Brantley told him he knew Crawford was dead because she stopped breathing after she'd been "struggling to breath and she had sounds of agony."
Crawford, 21, was reported missing by her family Nov. 1 after they said they had not heard from her for several days. She was found dead in a DeKalb County park a week later.
Jones and Brantley are both charged with malice murder in the killing.
The detective revealed other details from the case in Friday's preliminary hearing for Brantley.
He said Brantley admitted to details after first denying knowing where Crawford's body was, then being confronted with "inconsistencies" in what he was telling the detective.
The detective said he first spoke to Jones earlier in the day. He said she helped lead authorities - with her dad present - to Crawford's body in the park, also after first trying to deny her role in the killing.
Detective Young testified that Jones first tried to tell police she was in her house the entire night of Crawford's death, and that she didn't leave until the next morning.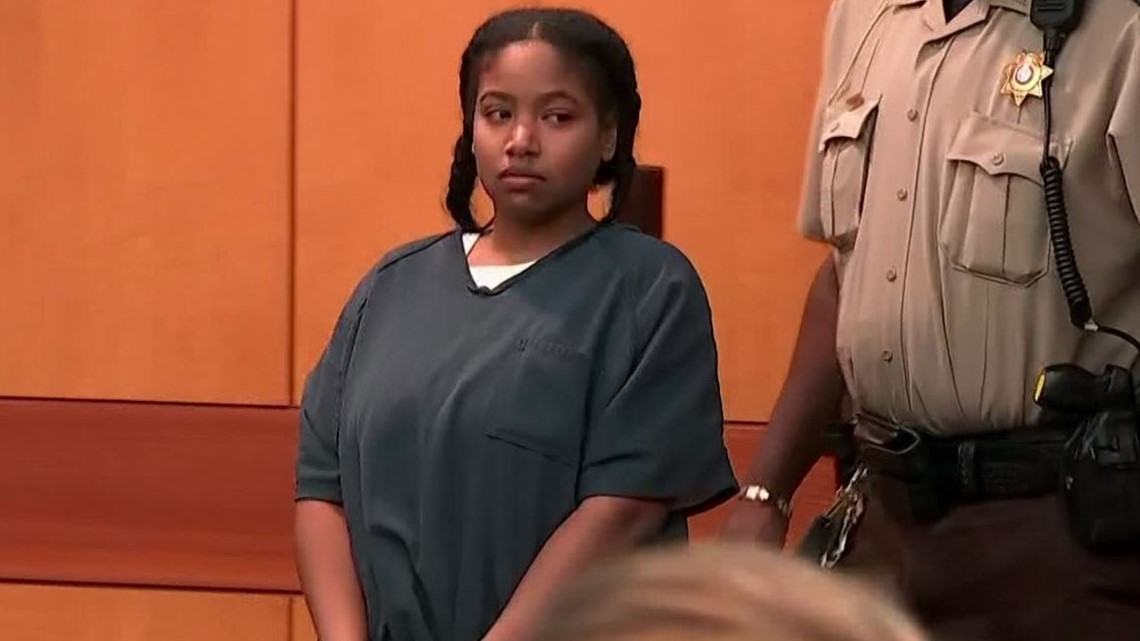 She admitted that wasn't true, Young stated, after he confronted her with surveillance footage from her apartment complex's parking deck that showed her at 3:11 a.m. that morning backing her car up to a door off camera for six or seven minutes, then being seen leaving the complex at 3:17 a.m. and then returning at 4:09 a.m.
The footage, Young said, showed her with another person during that period. She told police it was Brantley, the detective testified.
"She finally stated Barron Brantley was inside the house with her and her and Alexis got into a fight and during that fight Barron Brantley came outside of the bedroom and choked Alexis," Young said.
The detective testified his questioning with Brantley was done after reading him his Miranda rights.
He outlined how after questioning the two suspects, the crime scene unit went to the apartment where Crawford was killed and scanned the room for blood, finding five or six spots of it.
A day earlier, in the bond hearing on Thursday, prosecutors accused Jones of taking steps in the days after the murder to cover her tracks.
"On her own volition the defendant Ms. Jones called family members of Ms. Crawford and told them that there was no DNA found in the rape kit," the prosecutor said.
"Well that is incredibly incorrect, the results of the rape kit indicate" that Brantley's DNA was found, the prosecutor said.
The prosecution contended that already represents a level of witness intimidation, given that "there are many of the witnesses in this case will be family members of Ms. Crawford as they were the last people that she spoke to."
Jones' defense lawyer did not directly address that accusation, but said she was "supportive following the allegation of rape" and "accompanied her roommate at the time and spent however much time was necessary for her to be at Grady as she went through the rape kit scenario."
Remembering the life of Alexis Crawford