COBB COUNTY, Ga. -- A pastor said the woman charged with arson after his house burned down confessed to him that she's the one behind the fire.
The reason she allegedly did it was possibly over a spat with his stepson.
The Cobb County Fire & Emergency said 32-year-old Earnica Lowe was taken into custody in connection with the fire that happened on Red Barn Road on the morning of June 18.
The property owner, Pastor Karl Moss, told 11Alive that Lowe called him and confessed to the crime.
"I said, 'that's my house, why did you light it up?' and she said, 'we all did it.' Then she hung up," Moss said. "
But according to the arrest warrant, she told Moss' stepson before it happened that she would start a fire if he left home with another female.
"To me, that's fabricated," Moss said.
Moss said he was out of state when the fire happened. The historic home, built in the 1930s, was destroyed by the flames; a pull-behind camper sitting next to the house was also damaged.
"I'm glad I was in Florida, because if I was here, I would probably be on the other side of the camera, being interviewed for doing something bad."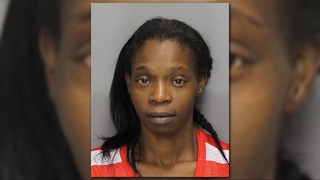 Authorities said someone was also inside of the camper sleeping when the fire broke out. Multiple witnesses provided statements that Lowe admitted she was responsible for setting the fire, according to the warrant.
"I was mad at the time, I was just mad," Moss said. However, he's decided to try to move past the anger.
"I'm a pastor, I have been for over 30 years," Moss said. "I teach forgiveness. But I always say until somebody slaps me on one cheek, I don't know if I can turn the other one. At this point, I have turned the other one."
"All I want is the girl to tell me why," Moss said. "Why did she burn down my house?"
Arson Investigation on Red Barn Road; 1 in custody

Moss, who is also a contractor, said he plans on fixing the house up in his spare time.
"The cost at my estimation is going to be 80,000 at least," he said. "I'm going to start on the roof, I gotta tear that down to the floor and come up."
"I got a lot of history that I got to rebuild."
"My grandmother gave it to my mother, my mother gave it to me," Moss said. " I'm the third generation that's had the property."
Authorities took Lowe to the Cobb County Adult Detention Center.
Mug Shot Photos