We now know the name of the deputy who was killed in the line of duty in Hall County Sunday night.
All who knew 28-year-old Deputy Nicolas Blane Dixon talk about how much he loved being in law enforcement and how much he loved his family—his wife and two young sons.
Deputy Dixon was shot and killed near the intersection of Jesse Jewell Parkway and Highland Avenue in Gainesville, according to Sheriff Gerald Couch.
Dixon joined the Hall County Sheriff's Office three years ago. He graduated from the Academy in June 2018 and began street patrol.
A family member told 11Alive's Jon Shirek, this was Dixon's dream job.
He was a married father of a 9-year-old and a three-month-old son, who was three months premature. Meaning, because of that, Dixon and his infant son had three months together.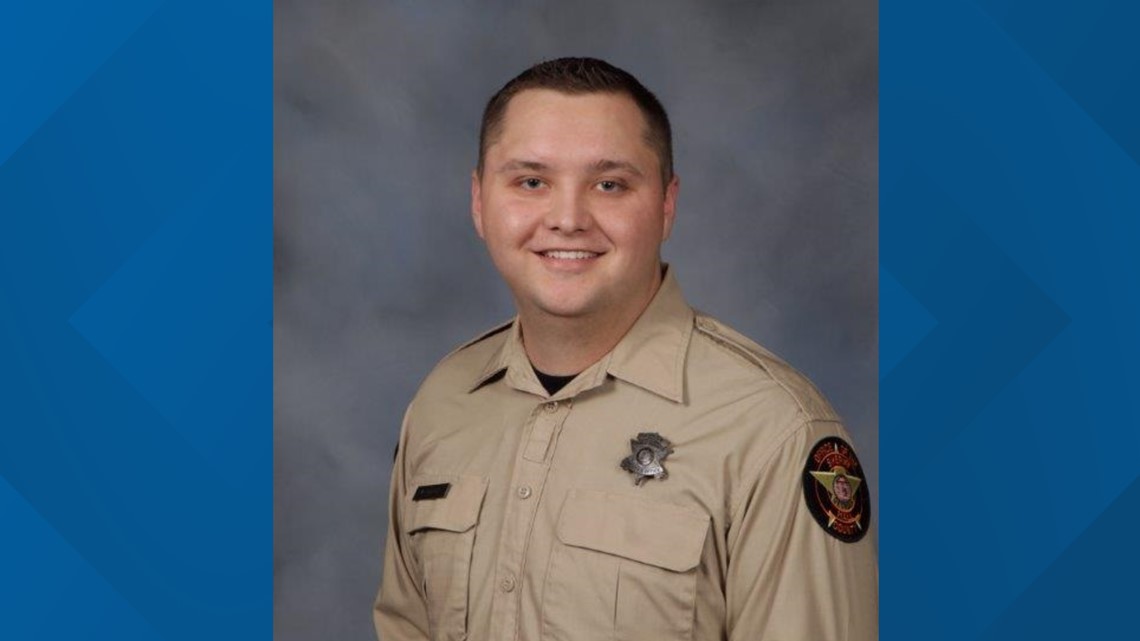 Now, there are memorial wreaths at the entrance of the Hall County Sheriff's Office and flags are at half-staff. The deputy's own family and his law enforcement family across this state are mourning a man who wanted nothing more than to be in law enforcement, serving others.
Couch described Dixon as a "beloved member of our sheriff's office." He said Dixon had a servant's heart.
"First and foremost keep Nicolas' family and our department in your prayers," the sheriff said. "There are no words to express the profound grief that this loss brings each of us. He was out there in the darkness while most of us slept comfortably, bravely doing things that he could."
"It was his job. He loved doing that, he loved serving," the sheriff added.
Couch said Dixon was the type of deputy to ran toward trouble to help others.
Deputy Dixon arrived to the funeral home in Gainesville with a flag-draped casket. He had not been alone since the moment he was shot. Dozens of law enforcement officers from across Metro Atlanta escorted the body of the fallen deputy.
It was an honor guard saluting not just a deputy who took the oath, or wore the badge, but also a deputy who loved to serve, they said.
Eddie Murray, one of Dixon's friends, was among the retired and off-duty law enforcement motorcycle officers who were part of the escort. He said of Dixon, "He was law enforcement. He loved doing what he did."
Law enforcement was his calling.
Dixon is believed to be the first deputy killed in the line of duty in Hall County since the 1920s, Couch said.
"He was a very valuable member of this agency, as a member of us," Couch said. "We do miss him and we will miss him. He was an outstanding deputy."
On Sunday July 7, deputies were attempting to stop a stolen car they thought was involved in several weekend burglaries. The occupants of the car ran and deputies chased them. Then, at around 11:15 p.m., the suspects and deputies exchanged gunfire, according to authorities.
Deputy Dixon and one of the suspects, Hector Garcia-Solis, were shot. Dixon later died at Northeast Georgia Medical Center where Garcia-Solis remains.
The community will gather to hold a vigil for Dixon Tuesday, July 9 from 8 p.m. until at the Hall County Sheriff's Office.
"This vigil is an opportunity to show support for Deputy Dixon's Family, Friends, and Brothers and Sisters in Blue," organizers wrote.
Location: 2895 Browns Bridge Rd, Gainesville, GA 30504