ATLANTA — Rapper Young Thug is facing seven new felony charges, in a case that is for now a second and separate one outside the Young Slime Life gang RICO case he was arrested for earlier this week, and was denied bond in the case Wednesday.
In a Fulton County court appearance, several new details came up in the sweeping legal tangle he now faces.
The attorney for Young Thug - legal name Jeffery Williams - strongly maintains the rapper's innocence, saying in the hearing that he does not agree he is "responsible for any type of crime."
Here are the key things to know after Wednesday's court proceeding:
New Young Thug felony charges
His 14-year-old son was home with him when he was arrested: Young Thug's attorney said he was "nothing but cooperative" when the arrest happened on Monday and that "he had his 14-year-old son with him at that time."
This is a second case - for now: The hearing revealed that these charges were added after a search of Young Thug's home after his arrest on Monday. That arrest was made on the indictment that alleges he is a founder and leader of the Young Slime Life gang and oversaw crimes as serious as murder as a "organizer, supervisor, or other position of management or leadership" of the gang.
The case could be folded into the RICO indictment: It's not clear if the Fulton County DA's Office will try to do that. A prosecutor said that "decision has not been made yet." The RICO case would have to be re-indicted to incorporate the new charges.
These are the charges, via the Fulton County Sheriff's Office:
Possession of marijuana with intent to distribute
Violation of Georgia Controlled Substance Act - possession of a Schedule III, IV or V Controlled Substance with intent to distribute
Possession of firearm during commission of a felony
Possession of sawed-off shotgun, sawed-off rifle, machine gun, dangerous weapon, or silencer
Unlawful for person employed by/associated with criminal street gang to conduct/participate in criminal activity
Unlawful for person employed by/associated with criminal street gang to conduct/participate in criminal activity
Unlawful for person employed by/associated with criminal street gang to conduct/participate in criminal activity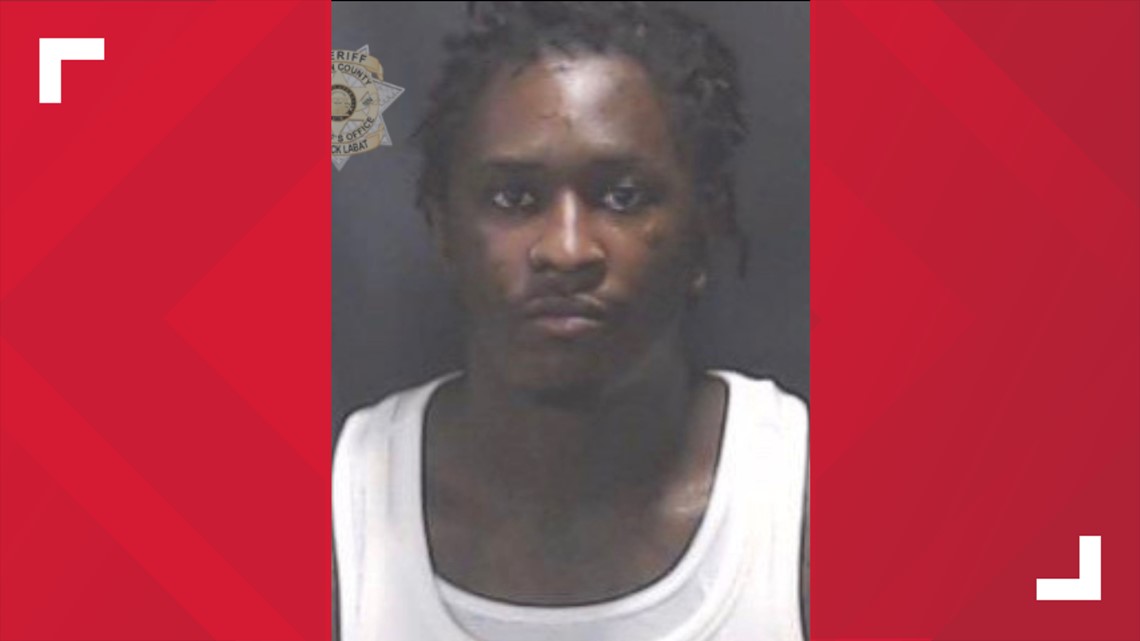 The prosecutor explained the bases for some of those charges: He said the search of Young Thug's home turned up a "large quantity of drugs," which would appear to account for the first two of the new charges, "several firearms" accounting for the third charge, and a kind of "automatic switch" to turn his firearm into an "automatic machine gun," which would appear to account for the fourth charge. The last three new charges are tacked on enhancements on the previous four as part of anti-gang laws in Georgia.
The judge found he was a flight risk, a risk to interfere in the larger RICO case if he were released and a risk to commit more felonies if released: The judge said he "agrees with the State's argument" against bond, and also specifically cited a four-year-old drug case in DeKalb County that remains outstanding, noting that the charges from that case are "the same charges alleged here."
Young Thug's attorney offered an explanation for the DeKalb case: He said body camera video showed someone else took responsibility for the drugs at the time of a 2018 traffic stop in DeKalb County, and that the legal process is dragging on that case.
The other judge overseeing the RICO case could make a separate determination on bond in that case: If that judge were to rule differently on whether Young Thug should be released pending trial, it's not clear if the judge overseeing these seven new charges would reconsider the bond matter. If he did not, Young Thug would remain in jail on these seven new charges regardless of what the judge decides about bond the RICO case. (It's not clear how bond would work out if the seven new charges were re-indicted into the larger RICO case.)
Young Thug's attorney asked the judge to reconsider: He argued the rapper isn't a flight risk because he has substantial ties to the Atlanta area and that there is "not a scintilla of evidence" that he "has done anything to try to obstruct justice or try to hinder people from turning themselves in or being arrested." He described his client as "like the Babe Ruth of the musical industry," described how he had traveled around the world and performed in front of massive audiences. He also offered to take custody of the rapper's passport and suggested he could wear an ankle monitor if the judge felt he was a flight risk.
The judge declined: He cited the risk of committing additional felonies and said "he has a lot of support outside the state of Georgia, it might be hard to get him back to the state."
It's not yet clear when the next step of his cases will occur: The rapper would now likely have to wait on a preliminary hearing next in this new case, while in the RICO indictment his lawyer said Wednesday they are still waiting for a date on a bond hearing.