Ali explained that the holiday known as Eid marks the end of Ramadan, considered by Muslims as the holiest month. Ramadan is the ninth month of the Islamic calendar and is observed by fasting from pre-dawn to sunset, prayer and reflection.
Ultimately Eid was not added to the GCPS calendar.
According to GCPS, during the calendar development process for the 2023-2024 school calendar, the school district provided inclusive calendar options following the online petition to students, families and staff.
GCPS said a more traditional calendar was selected based on the community survey feedback received. In an email to 11Alive, the school district said they plan to continue offering inclusive calendar options.
Where it all started
Ali made her request known to the school district during a board meeting in 2022. Within months, the petition amassed thousands of signatures in support of Eid from students and families throughout the school district. Currently, the petition remains open and has garnered 11,999 signatures.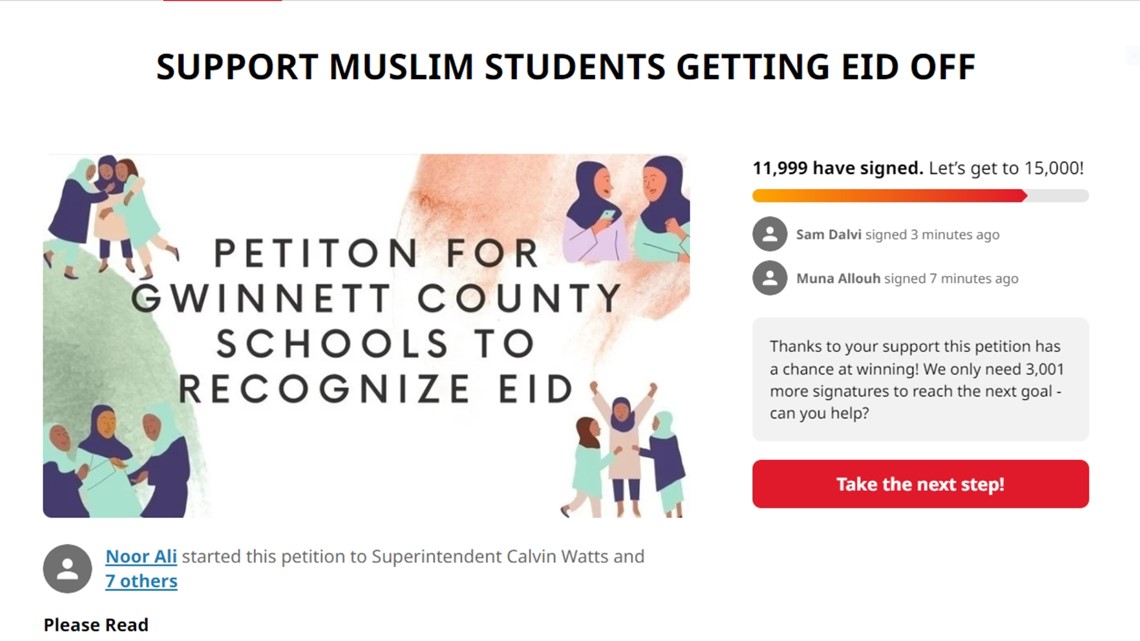 As a young Muslim student in GCPS, Ali said she did want to miss Eid, which she called her favorite day of the year.
"Every year on Eid, Muslim students like myself have to miss school and worry about assignments and tests when we should be thinking about the end of Ramadan and celebrating one of the most important days of our year. Students in Gwinnett County receive Columbus Day and MLK Jr. Day, so why not Eid," Ali said in her petition.
Where the petition to have Eid off in Gwinnett Schools stands now
In an interview with 11Alive, Ali said she plans to continue working towards having Eid recognized by GCPS. She also explained how some school board members had announced their support for adding Eid.
"I plan to continue in this pursuit of at least having some form of recognition and with the support already shown publicly by some members of the board, I fully believe that we can come to a sort of compromise, whether it be a day off, a digital learning day, or simply just putting it on the calendar along with other major holidays, to raise awareness as proper representation of the diverse cultures and beliefs of Gwinnett County," said Ali.
Ali explained that after the school district received survey feedback, GCPS informed her that several community members had also asked for different religious holidays to be considered.
The school board then informed Ali they could not accommodate all requests, making it unfair to others to have Eid added, said Ali.
"I don't think it's an outlandish request. Recognizing it as a holiday would mean that Muslim students would not have to choose between their faith and their education," Ali pointed out.
How Gwinnett County Public Schools is accommodating its Muslim students
When asked how and if GCPS offers accommodations for Muslim students who celebrate Eid, the school district explained they notify school principals each year as Ramadan approaches. An email sent to principals each year explains the observance.
Guidance is also given to schools on how to show respect and sensitivity to fasting students. It includes alternate locations for students to sit during lunchtime and activities requiring accommodations during Ramadan. An example provided by the district included allowing students fasting to be exempt from rigorous activity in gym class.
Food accommodations are also provided to Muslim students, a spokesperson for the school district said. Halal and vegetarian meals are offered.
Halal foods are foods with ingredients permitted under Islamic law, as defined by the Quran, the sacred scripture of Islam.
According to GCPS, halal meals vary between schools based on the student population and their needs. The school district said they're continuing to work with their Muslim Student Associations, parents and community partners on how meal options can continue to improve.
GCPS said superintendent Dr. Calvin Watts regularly meets with students and families in the Gwinnett Muslim community to listen to what is working well and what can be improved from their perspective in the future.
When is Eid celebrated in 2023
In 2023, Eid is expected to be celebrated on Friday, April 21, or Saturday, April 22, depending on the sighting of the moon and where you are in the world.
The online petition started by Ali remains open. The petition can be found here.