FULTON COUNTY, Ga. — A map depicting Israel as Palestine has left some Fulton County parents upset about a middle school multicultural night.
The idea of the event was to have families come and share their stories in an effort to promote cultural understanding. However, several parents have since e-mailed 11Alive upset about a map of the Middle East taking a clear side on the longtime Israeli-Palestinian conflict.
The map at the Autrey Mill Middle School event shows Palestine where present-day Israel should be. The conflict over the land goes back decades with both sides arguing over who owns rights to it. Several Israeli and Jewish parents said the map was highly offensive and brought it to the attention of the middle school principal.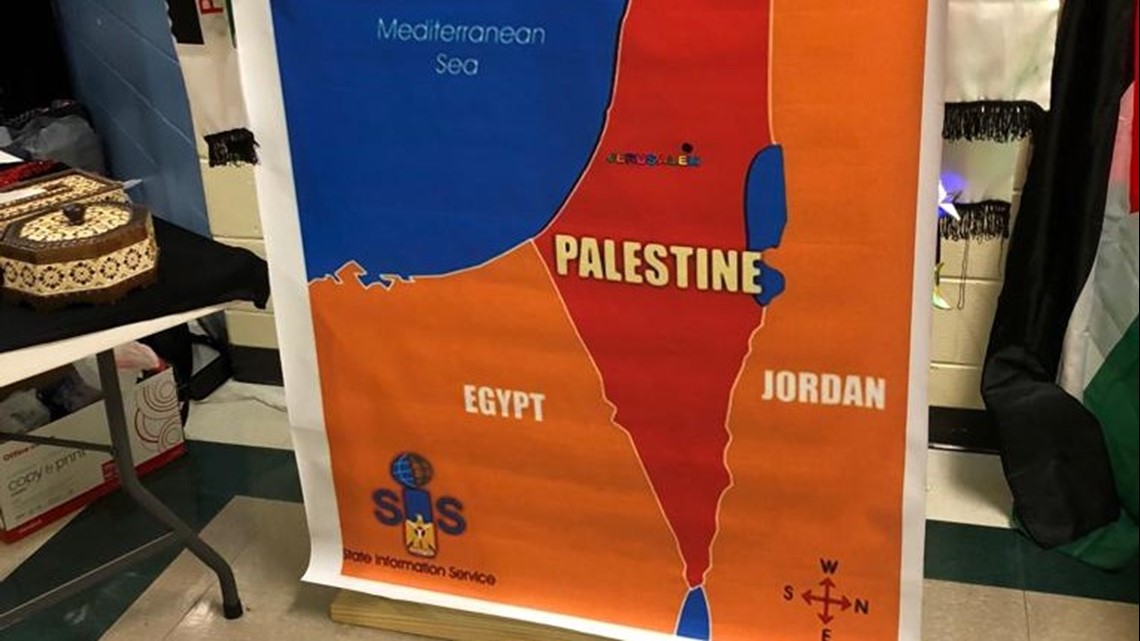 A Fulton County Schools spokesperson said the map isn't a regular display at the school and they're investigating to see who put it there. In a full statement, the school system said:
"Fulton County Schools was made aware of an insensitive political and geographic display at Autrey Mill Middle School's recent Multicultural Night. This event is hosted by families and staff with the intent of celebrating different cultures and nationalities. We condemn the negative and extreme political agendas these symbols represent. We are investigating this incident, and will take all necessary actions to find the individual(s) responsible and hold them accountable."
Parents on map replacing Israel
Parents said Autrey Mill's multicultural night is a celebration. But now they're concerned children who saw the map will believe it shows the present-day Middle East.
They agreed to speak anonymously as their children still attend the school.
"Kids who saw this or anybody that was exposed to this last night that doesn't even know what the story is behind all this, right now, thinks this is the map of Palestine," one Jewish mother said.
"Israel wasn't mentioned on that map at all," another student's mother said. They basically wrote Palestine in the place of Israel. They, the Palestinians, talk about from the land to the sea, which means having all the Jews wiped away and the Palestinians on the land instead of the Jews."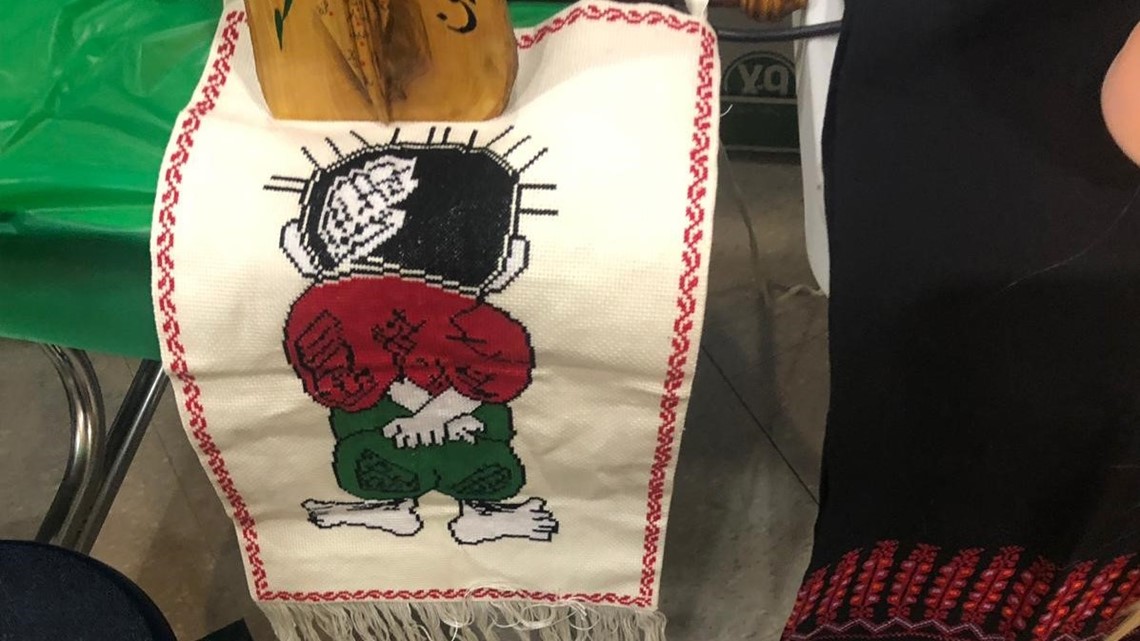 Those mothers also shared another image that shows a tapestry on display by the map depicting Handala - a young Palestinian boy living through the Israeli-Palestinian conflict.
Other images also show a separate table presenting Israel at the event with cultural pictures, food and books.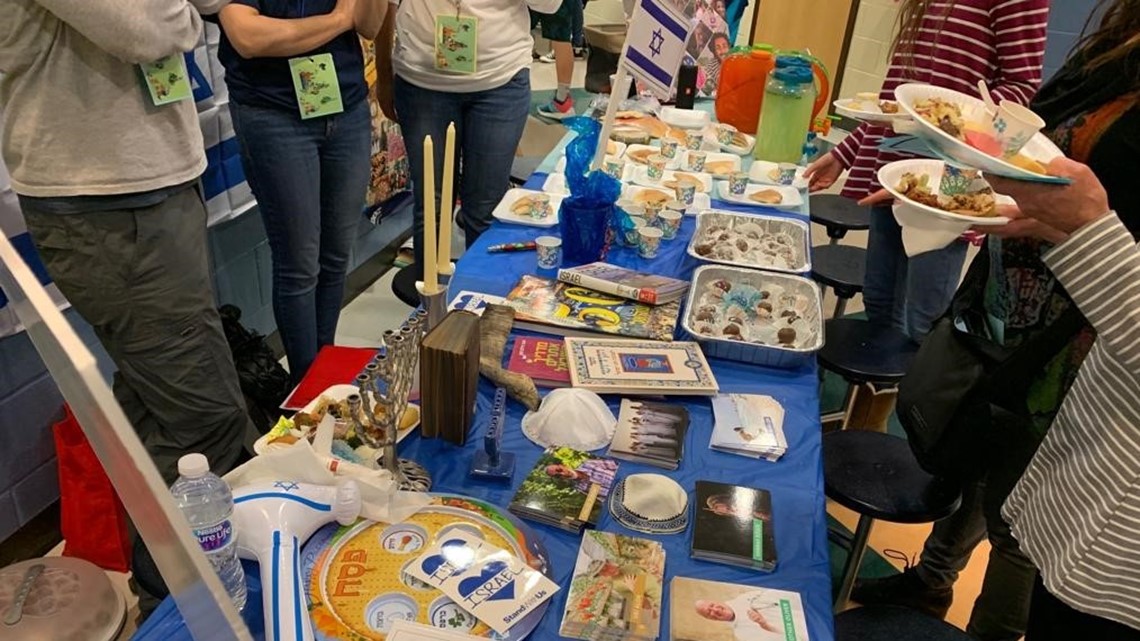 But the mothers said parents brought the map to the principal's attention that night but it stayed up.
"Nobody in the school was going over the content of the materials that is being presented," one of them said.
Principal responds to Palestine map
On Friday, Principal J.E. Trey Martin sent a letter to parents. He wrote that 500 peopled and more than 15 countries were represented. But he added that he was "extremely disappointed and disgusted with the individuals who presented an insensitive political and geographic representation" adding that "this display does not represent our school culture which is one that values inclusion and unity."
Palestine map supporters: It's part of history
Speak to a Palestinian American about the map, though, and you can find a different viewpoint.
Reverend Fahed Abuakel is an Arab American who has lived in Atlanta for the last 50 years. He said the state of Palestine existed on the land until 1948 and he believes students should learn the land's history.
"Israel became a state in 1948 and the United Nations with the nations of the world recognize Israel," he said. "That is a fact, but that you can't deny that the Palestinians don't exist and that the state of Israel became a state over the state of Palestine. That is a fact."
Investigation could mean policy change
Parents, though, believe the map didn't belong in a middle school cultural event.
"Not the political, controversial - let me be blunt - lies that were shared here," one parent said.
The parents 11Alive spoke to said they didn't believe politics or conflict belonged in the kids' event.
The principal also wrote in his letter that he is working with district leaders to investigate - and will take any necessary action.
A Fulton County Schools spokeswoman said the district is discussing options for reviewing materials at future events. But, no decisions have been made.
The full letter to parents
Dear Parents and Guardians,
As you may be aware, we held our annual Multicultural Night from 5:30 to 7:30 p.m. last evening. This important event is coordinated by a committee of diverse staff members who represent many nationalities and countries. The intent and spirit of Multicultural Night is to build understanding and knowledge of diverse countries, cultures, people, and food. Our families sign up in advance for space to display artifacts and serve food representing their culture. This allows all of us to enjoy and celebrate the students and families who make our community and school unique. We were pleased that more than 500 people and 15 different countries were represented.
However, I am extremely disappointed and disgusted with the individuals who presented an insensitive political and geographic representation. This display does not represent our school culture which is one that values inclusion and unity. Let me be clear, we condemn this attempt to use our Multicultural Night for one's own political or religious agenda. Please know that this type of display is not acceptable nor supported by the faculty and staff of Autrey Mill Middle School. This school is here for kids, not politics.
I will be working closely with district leaders and others as we comprehensively investigate this incident and any necessary actions will be taken including accountability for those responsible. In addition, I will be meeting with various parent and community leaders to discuss plans to educate our parent community and to ensure that multiculturalism continues to be a valued foundation of our school community.
Please contact me at martinje@fultonschools.org with questions or concerns. I appreciate your understanding and continued support of our school.
J.E. Trey Martin, Principal
Autrey Mill Middle School