ATLANTA — Nearly a week after students at Spelman College say messages of hate were left at their door because one of them is transgender, another note surfaced on April 30.
After discovering the note, Spelman College sent a letter to students and staff denouncing it.
Last week, 11Alive's Natisha Lance spoke to two students who were the targets of the hate speech.
"We don't want you. F*** you freaks. Keep Spelman safe. No queers."
Spelman senior Amber Warren said she found that hateful note directed at her scribbled on a piece of ripped lined notebook paper.
"I'm just hurt because I feel like I worked so hard to create safe spaces for everybody," she told 11Alive. "Even though I did all this work, it's not about individuals, it's really about unity."
Warren is the president of Afrikete, the historically black women's college LGBTQ organization. She said it was not the first message of hate directed toward her. Warren said the first message came at the announcement of pride week.
"Keep your (transgenfer slur) out of our bathrooms thanks," she remembers the message saying.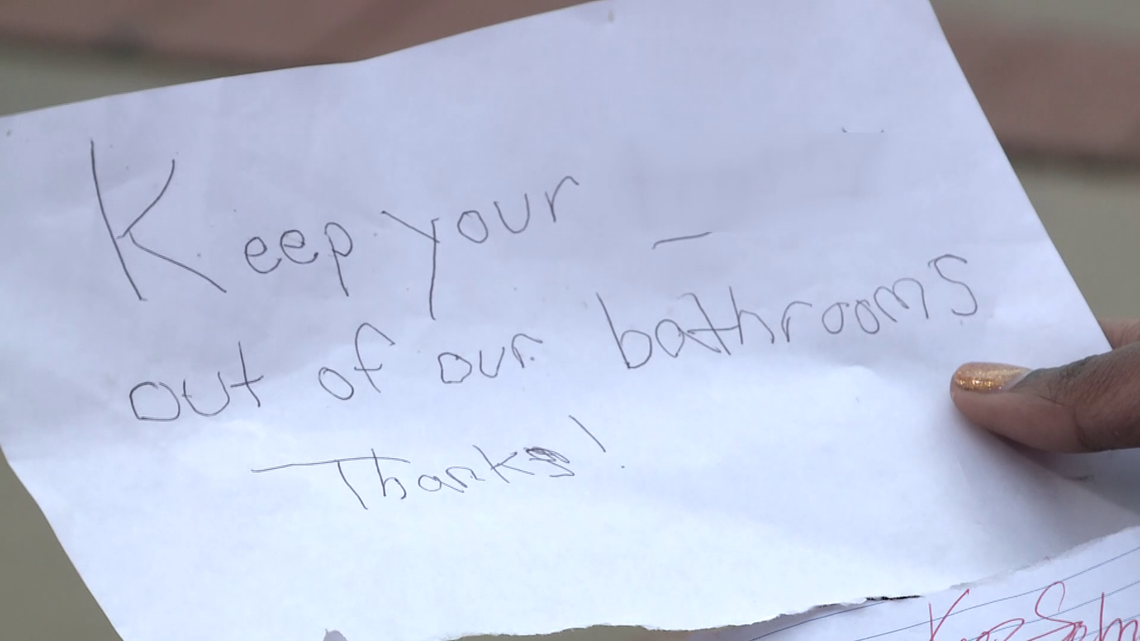 Warren said the message was referring to her partner, a trans man, also a student at the school who lives on campus.
In a letter dated May 1, President Mary Schmidt Campbell sent a message to the perp.
"You are not Spelman College. Spelman abhors your behavior. Spelman will continue to open its arms to embrace all of our Spelman students whatever their gender identity, sexual orientation or gender expression. Spelman is love, justice and respect. You, the perpetrator, are not Spelman."
The incidents come just months after the school announced plans in September to accept transgender students. Spelman is just the second historically black women's college to announce such a policy.
It was highly-debated among alumna and current students, and now that it's just months away from going into full effect on campus, Warren said the school has some work to do to make all students feel safe.
Spelman's new policy will roll out next school year.
As for the notes being left in the dorms, Spelman said they launched a formal investigation and are encouraging anyone with information to come forward.