ATLANTA — A generous donation has changed the lives of nearly 400 men who just graduated from Atlanta's Morehouse College – and some are still trying to process it all.
"Now that I'm not sleep-deprived, the gravity of what he did is setting in," explained Joshua Reed, a 2019 Morehouse grad. "That fact that you don't have to worry … is an astounding thing. You're not indebted to anyone, no one is going to come knocking … it really gives you the freedom to do what you really want to do."
Robert F. Smith, Morehouse's graduation keynote speaker, shocked the college and made national headlines Sunday after announcing he was going to pay off student loan debt for the entire graduating class – a gift estimated to be worth about $40 million.
"My family is going to create a grant to eliminate your student loans," Smith said from the podium. "You great Morehouse men are bound only by the limits of your own conviction and creativity." (Click here to watch the moment)
Morehouse graduate Myles Washington said the news didn't sink in right away.
"It definitely took a second. We had to be (at school) at 6 a.m. We are hot … it's 80 degrees, most of us are wearing suits under our caps and gowns," Washington recalled. "We cheered, shouted, some of us cried. It took later that evening and into this morning for it to sink in that this actually happened."
"I haven't slept much because it's still setting in – becoming a Morehouse man and being debt-free," Wilson said. "I was hot, trying to wipe sweat off my head and then he said it and we're all like, 'wait. We are about to be debt free? Wow. Did he just say that?' … Debt free, we really are debt free. For my family and me, it's a beautiful, wonderful thing."
Morehouse College has a long list of esteemed alum. The historically black and all-male liberal arts school can come with a lot of debt – but for graduates, being known as a "Morehouse man" is something to be proud of.
"It's about discipline, service and leadership. Outside of how you dress, how you walk, how you talk, they try to instill that in every student. People recognize that," Washington said. "Once we go out into the world, the brotherhood, the camaraderie – they'll all see it's something special. We call it 'the mystique' – how you go out into the world and how you carry yourself is an excellent story."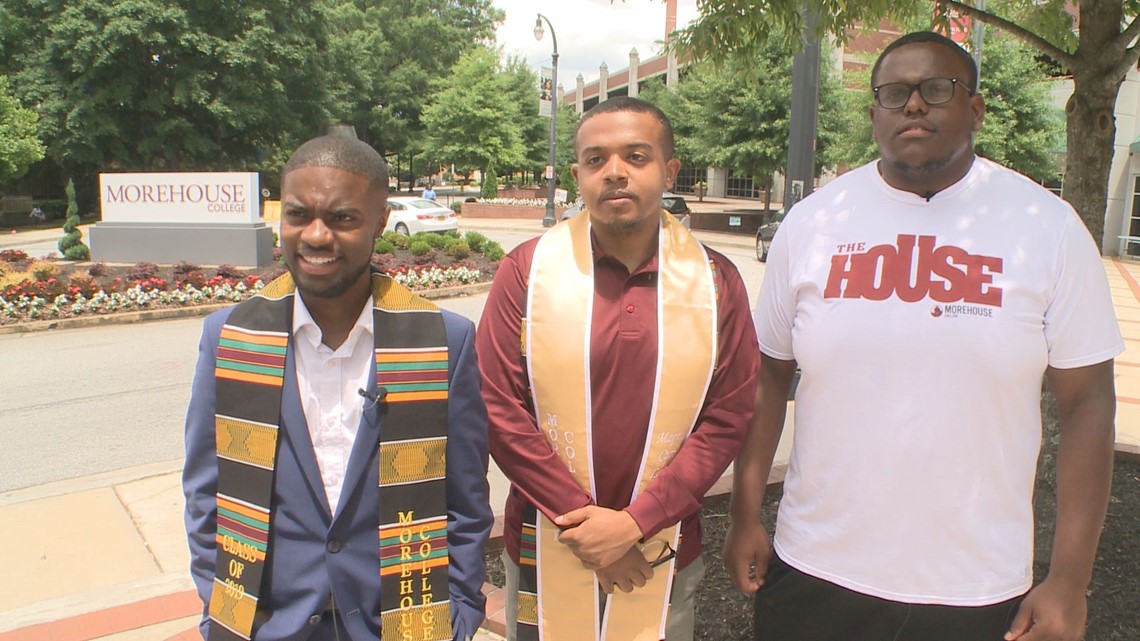 "The knowledge you have, that you've acquired … becoming a Morehouse man, by the service going out into the world, you find the change and seek the change," Wilson added.
Reed, Washington and Wilson all said they were lucky because they received grants and scholarships that allowed them to attend Morehouse. But, Wilson pointed out that their class started with over 800 students – and four years later, the graduating class was about half that many.
"That's the sad thing about it, a lot of men had to leave due to financial reasons, not having enough money to pay tuition," Reed said. "That's one thing moving forward I'd like to see change. (More help) for those who had to leave, due to financial reasons."
"I hope this spurs more alum to do good, to hopefully pay it forward," Washington said. "I know students just as smart, just as talented as we were but who were not able to finish because of that financial strain."
As the three men and their brothers from the class of 2019 prepare to start new careers and launch the rest of their lives – they said the generosity of one man is going to help the entire community.
"Thank you so much for helping out my brothers. You're giving us a chance at real freedom," Reed said.
"We are really thankful, really blessed," Wilson added. "It's an act of God, but to be that billionaire and give back to us, that's a start. We really thank you from the bottom to the top of our hearts."