Like the rest of the nation, metro Atlanta school systems are reeling after Thursday's Florida high school shooting, one of the deadliest in U.S. history.
"We can and will do more," said Marietta Schools Superintendent Grant Rivera, in a message to school parents. "As I watch the media coverage and reflect on our opportunities, I commit to you that we will be reflective on how we improve preparedness, emergency response, and reunification efforts.
"I never want your child or mine to be involved in any such dynamics and, at the same time, we all must have confidence in one another that we have prepared and practiced to keep our schools safe."
Nikolas Cruz, 19, is charged with 17 counts of premeditated murder in a shooting rampage at Marjory Stoneman Douglas High School in Parkland, Fla., on Thursday.
RELATED | Florida shooting suspect harassed peers, bragged about gun
"Our hearts are heavy and our thoughts and prayers are with the students, families, teachers, staff, administrators and the entire Parkland community," said Rockdale County school system's Cindy Ball. "The safety of our students and staff is always our number one priority. We have a great relationship with our local law enforcement and other community partners to work collaboratively to keep our schools safe."
Rivera said the Marietta system has a close relationship with local police and has officers frequently leading various educational programs.
"Also, particularly for our high school students, our student life center has been proactive in identifying social-emotional needs of students and providing therapy and support."
Ball said Rockdale has the following security measures in place:
Controlled access at all schools
School Resource Officers
RCPS Office of Safe Schools has personnel dedicated to school safety
GEMA approved school safety plans
School safety drills
Routine K-9 searches
Improved emergency radio inventory and communication abilities
Improved surveillance equipment on campuses
All administrators have taken the FEMA National Incident Management System training course
Provide professional school-based mental health services
Provide Youth Mental Health First Aid training and suicide prevention training
Two alternative schools in Gwinnett County have metal detectors, and the system has its own police officers that includes 74 POST-certified officers. The system has one officer at each middle school and two at each high school.
Gwinnett schools also tell 11Alive it has video surveillance systems to monitor each school. There are emergency notification system buttons in each school that are connected to the county 911 center and the school police headquarters that provides video feeds of schools in case of emergency.
The system controls access to its elementary and middle schools through buzzers.
PHOTOS: Shooting at Florida high school
PHOTOS: Deadly Florida high school shooting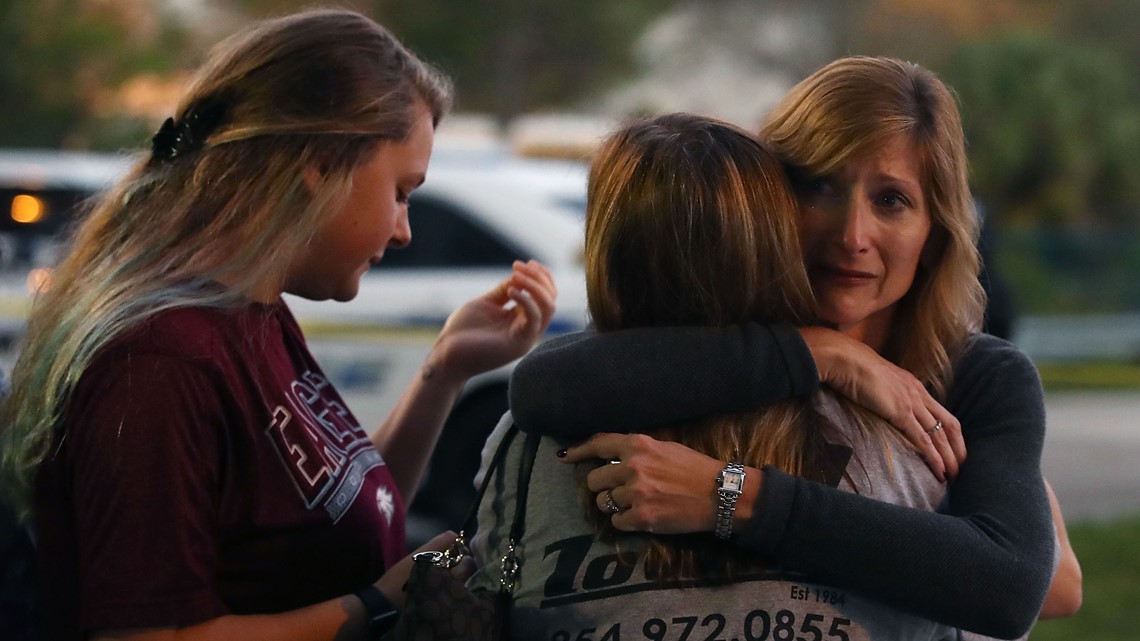 Henry County schools do not have metal detectors in any of its schools, nor does it have its own police department. "We do utilize school resource officers in partnership with the Henry County Sheriff's Office," said a school spokesperson, who added the system does have cameras in all of its schools.
"Access to our buildings is focused on the main front doors," the system said. "An extra layer of protection exists at many of our schools with a second set of security doors which force visitors into the front office before they can go elsewhere in the building."
DeKalb County is upgrading some aspects of its campus security, including a pilot program for metal detectors.
All five high schools in Douglas County have two resource officers, while middle schools each have one per school, according to Sean Roach, coordinator of safety, health and emergency preparedness for the system.
"Elementary schools are served by officers from middle or high schools if emergencies arise," Roach said. "Our elementary and middle schools have controlled access buzz in systems for visitors. All of our schools have extensive video camera monitoring system.
"Our schools also hold drills designed to protect our students in case of an active shooter emergency a minimum of two times a year," Roach said. During an active shooter situation, when given the secret code word, all teachers have been given specific information and instructions to protect students.
In addition, to these drills, schools regularly hold school lockdown drills in the event of an emergency on campus or in the neighboring community.
Additionally, schools have been drilled on silent evacuation procedures should they have to evacuate during an emergency.
Fulton County schools do not use metal detectors, but it does have its own police department of 62. All high schools and middle schools within the district have officers assigned as primary beats, with elementary school schools as secondary assignments.
All schools and non-instructional facilities are equipped with video surveillance equipment, and the district said major upgrades in this equipment are currently being made.
Visitors must depress the video doorbell systems and staff must grant access to enter after confirming their identity.
MORE COVERAGE