atlanta — Atlanta hip-hop group Migos started their music journey in Gwinnett County nearly 10 years ago, with hopes of making it big one day. Fast forward to 2018 and they've now tied with The Beatles for the most simultaneous Hot 100 entries amount any group on the Billboard charts. The old record has been untouched for more than 50 years.
The Grammy nominated rap group is about to kick off a huge tour with Drake in a few weeks to capitalize on their success - dominating the charts, streaming apps, and releasing a highly anticipated second album Culture II.
But their dream for stardom all started in Gwinnett County. 11Alive's Neima Abdulahi breaks down their road to success and what it took to create a powerful brand.
Quality Control Music co-founder Kevin "Coach K" Lee says he knew he wanted to sign Migos when he first heard their music. The music exec saw raw talent, star potential and a brand he could help build. The related trio -- Offset, Quavo, and Takeoff -- invited Coach K to their creative space, Quavo's mom's basement.
"His mother said baby you gotta go through the side door," Coach K said. "I walked into this basement. And them boys had this little computer sitting on a chair, a makeshift booth with a blanket covering the booth with a microphone in it. I heard some of the most amazing music that I heard in a long time," he said.
In a sit-down conversation with Morehouse College students and Spotify's Amber Grimes, Coach K explains how he launched Quality Control with Pierre "Pee" Thomas. The two had the resources and needed the talent. Migos was the first artists signed to Quality Control.
Here's a timeline of their career.
In 2009, the group started rapping together. In 2012, their song "Bando" proved to be an internet sensation helping them get recognition. In 2013, Migos released what would become a Billboard hit single "Versace." Artist Drake hopped on the remix and helped it reach a new audience. "Versace" was produced by Atlanta producer Zaytoven who also produced Gucci Mane's first hit single "So Icey" in 2004 with Young Jeezy.
In 2015, their song "look at my dab" start a dance craze nationwide. 2016, they released the popular "Bad & Bougee" song. And in 2017, Donald Glover gave the group a shoutout during his acceptance speech at the Golden Globes.
The group would go on to reach a new level of worldwide appeal.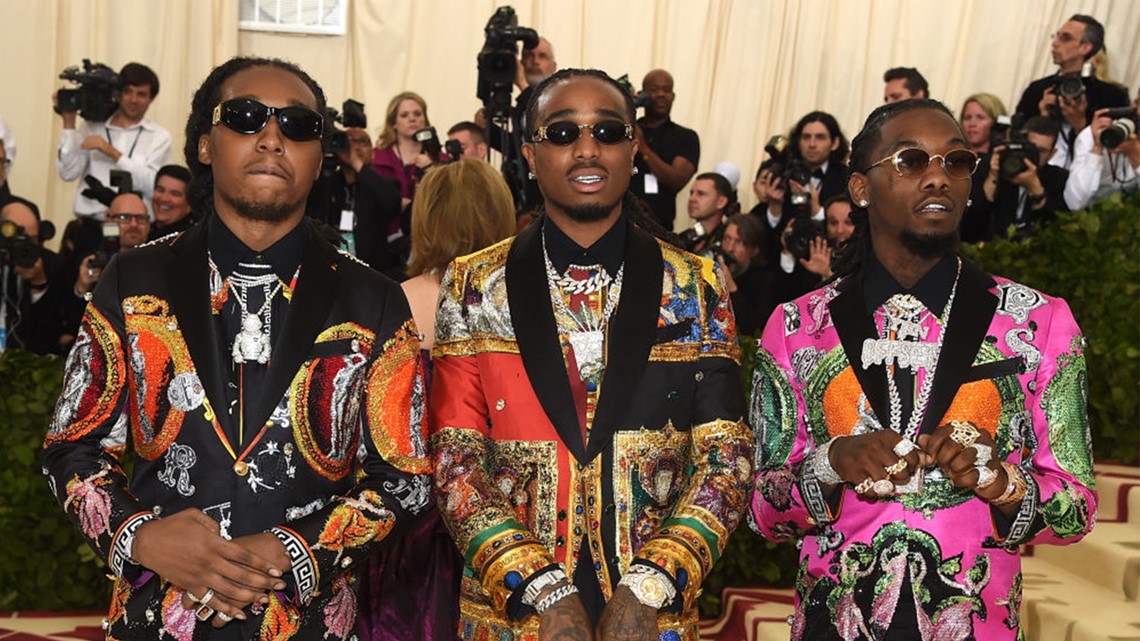 Coach K says for a local record label to take off in hip-hop's capital, right here in Atlanta, the talent has to be undeniably influential to the culture.
"It really was all a dream," he said.
Coach K's business partner Pierre "Pee" Thomas agrees. 11Alive's Neima Abdulahi interviewed him during the Huncho Day event.
"It's just a blessing. I'm thankful to just be in this position to give people opportunities. I'm just thankful that's all," he said.
Producer Zaytoven describes the first time he met the group.
"Quavo stepped on my shoes. I'm like these are nice shoes I got on. But when I looked at him I was like oh snap you're the guy I been looking for. And it was vice versa," he said.
The group says they didn't envision this level of success when they first started making music - all the money, fame and massive fan base all over the world.
"Believe in what you want to believe in. Keep God first," Quavo said.
Hot 107.9's program director Hurricane Dave says Migos has shifted the culture time and time again.
"To see a hometown group become an international world brand is just amazing," he said.
V103's DJ Greg Street, who helped launch more careers than we can name in this report, remembers seeing the Gwinnett County rappers at small venues.
"It was an open mic night. A showcase night and they were ready to perform….I called Coach. I said Coach, they bout to be out of here," he said.
Streetz 94.5's Ferrari Simmons says their come-up has set a new standard for how songs sound.
"They created a sound where everybody sounds like them," Ferrari Simmons said. "It made the price go up… because now everyone's getting hip to what was already hip."
The group says no matter how far they make it, they'll always appreciate their rise to stardom in Atlanta.
"This my community. This where I came from. This where I put my hard work and blood and tears," Migos member Quavo said.
Pierre Thomas shares the same sentiment.
"I was born and raised here. I went to elementary school. Born at Grady hospital. It just means a lot for us to have an impact on the world coming out of this city," Thomas said.
Quality Control is continuing to expand their brand, with a roster of artists taking over the airwaves and online - like Lil Yachty, Lil Baby, City Girls, Marlo and others.
It's safe to say Quality Control is here to stay - the home of young hitmakers who are proud to wear the QC chain.
Sign up for The Speed Feed newsletter below to get the latest headlines in your inbox each weekday! (App users click here)