ATLANTA -- Atlanta's former chief procurement officer accepted bribes to help secure city contracts, according to a criminal complaint released on Tuesday.
Adam Smith, 53, pleaded guilty to a conspiracy charge in federal court on Tuesday. He's accused of accepting more than $30,000 in cash from a construction vendor bidding for city contracts, the criminal complaint alleges.
"This is a horrible day and a horrible time in Mr. Smith's life. However, this misconduct is a total aberration and I firmly believe that Mr. Smith will continue to do great things in life,' said Brian Steel, Smith's attorney.
Steel said that Smith takes full responsibility for his actions.
In February, Smith was fired after FBI agents seized evidence -- including a computer and a cell phone used by Smith -- at City Hall.
As Chief Procurement Officer, Smith was in charge of tracking all purchasing activities for the city. He was appointed to the position in 2003 and served until his termination in 2017.
The complaint said that the city of Atlanta awarded contracts worth millions of dollars to the construction firm and projects of which the firm was a part of, including projects at Hartsfield-Jackson Atlanta International Airport.
According to the U.S. Attorney's complaint, Smith allegedly met with the vendor multiple times, including many times at local restaurants. During those meetings, Smith and the vendor talked about city projects, bids and solicitations. At the time of those meetings, the vendor was seeking city contracts, according to the complaint.
Prosecutors said that after those meetings, the vendor met Smith in the restaurant bathrooms and gave him $1,000 in cash.
In return, the complaint alleges that Smith knew that the vendor expected him to use his power as purchasing director to assist the vendor in obtaining city contracts and provide other benefits and favors "when needed".
The complaint also alleges that Smith provided the vendor with information about the city's purchasing processes. When the vendor won a bid, Smith allegedly submitted it to the mayor and city council for final authorization.
Smith never told the city council about his relationship with the vendor, according to the indictment.
In all, the vendor allegedly paid more than $30,000 to Smith.
CATCH UP ON THE STORY: What's the big deal about Atlanta's bribery scandal?
The charge against Smith come months after two construction contractors entered guilty pleas in federal court after being accused of bribing city officials for city contracts.
Elvin Mitchell is accused of bribing unnamed Atlanta officials with more than $1 million in exchange for city construction contracts. Charles P. Richards was charged after prosecutors say he paid $185,000 to unnamed city officials for contracts for his company, CP Richards Construction.
Both Mitchell and Richards are said to be cooperating with investigators.
BACKGROUND ON THE CASE:
Smith is the fourth person to be implicated since the U.S. Attorney's office launched its investigation into possible bribery within the City of Atlanta in 2016.
The scandal centers on the rewarding of construction contracts to private businesses and contractors.
As part of their investigation, the U.S. Attorney's office requested more than 1 million documents from the city. Through an Open Records request, 11Alive and other media outlets requested the same documents.
PHOTOS | This is what 1.4M documents looks like at City Hall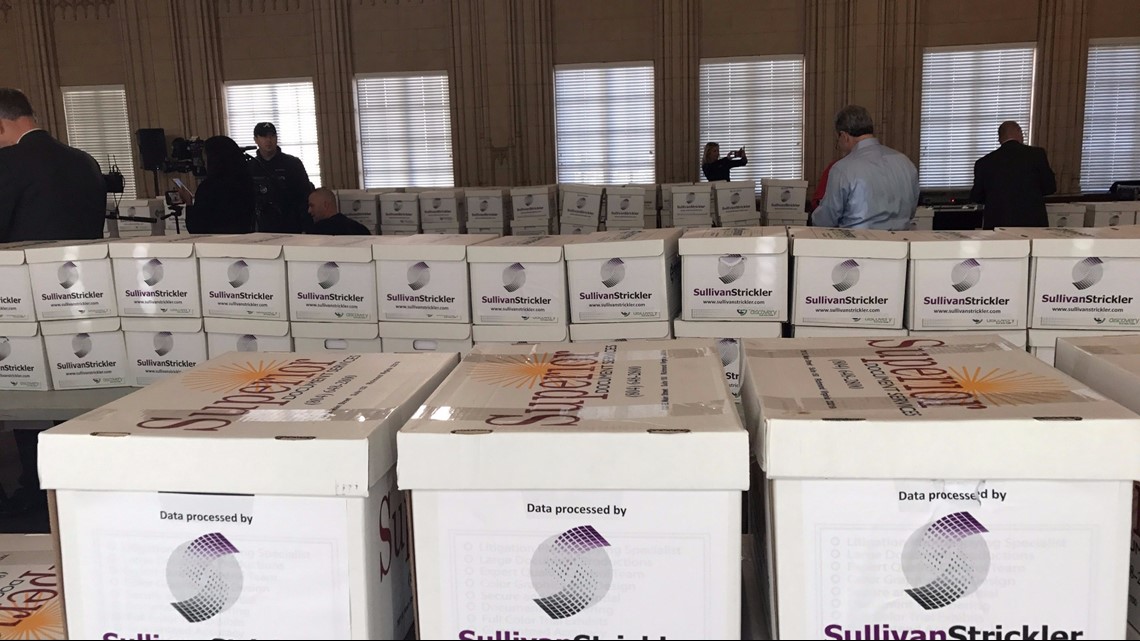 In February, the City of Atlanta and Mayor Reed made copies of those documents available to news outlets. There were more than 1.4 million documents, many of which had Mitzi Bickers name on them.
Bickers, who has not been charged, serves as pastor at Emmanuel Baptist Church, but has had her hands on many branches of Atlanta city government. At one time, she worked for E.R. Mitchell. Click here for more information on her background. She was also a political consultant for Mayor Reed's campaign and he has said she was instrumental in mobilizing voters for him.
In additional to Mitchell, Richards and Smith, a fourth man, Shandarrick Barnes, was indicted in August after being accused of throwing a brick through Mitchell's window as well as leaving dead rats outside his home. Charges of terroristic threats and criminal damage to property against Barnes were dropped, but he was later charged with witness intimidation.
Smith is the first person from City Hall to be directly implicated in the investigation. He'll be sentenced on Jan. 16 and faces up to five years in prison.
After Smith's plea on Tuesday, Atlanta Mayor Kasim Reed spokesperson Jenna Garland issued a statement saying,
"While the City does not comment on personnel matters, it is important to note that Mr. Smith was separated from the City on February 21, 2017. The City of Atlanta has been working in full cooperation with federal authorities for more than a year – since August 2016 – and assisting them remains our top priority.
Any allegation that the City's procurement process has been compromised in any way undermines the public's trust in government.
Accordingly, we will not rest until this case is fully resolved and justice has been served. Those involved in any wrongdoing should be prosecuted to the fullest extent of the law."
Richards and Mitchell will be sentenced in October.