ATLANTA — It's been one year since Special Counsel Robert Mueller opened an investigation into possible collusion between the Trump campaign and Russia during the 2016 presidential election, and majority of Georgians believe he should be allowed to complete his investigation.
According to the results of an exclusive poll from 11Alive News and SurveyUSA, more than 50% of respondents believe Mueller should be allowed to finish his investigation, while nearly a quarter believe the investigation should be stopped. An equal number of people are not sure whether the inquiry should proceed or not. (Scroll down to see exact percentages.)
While most are on board with the investigation coming to a conclusion, 40 percent of those surveyed believe the results of the investigation will lead to nothing. More than 10 percent of people believe there may be criminal charges waiting at the end of the investigation while 7 percent of those surveyed believe President Trump could be impeached as a result of the findings. Fifteen percent believe there may be both criminal charges and impeachment. Meanwhile, nearly 30 percent of survey respondents were unsure of the outcome of the investigation will be.
Regardless of the outcome of the special investigation, a solid majority of people believe President Trump will finish his first term in office – 59 percent to 18 percent, with nearly a quarter of respondents answering they were not sure.
When asked their opinion of President Trump, more people said they had a favorable opinion than an unfavorable one, 42 percent to 36 percent. Fifteen percent of people had a neutral opinion of him, with 7 percent having no opinion of him.
DIG DEEPER | Read complete results of this poll, including by race and age
Georgians support completion of Mueller investigation, but unsure of outcome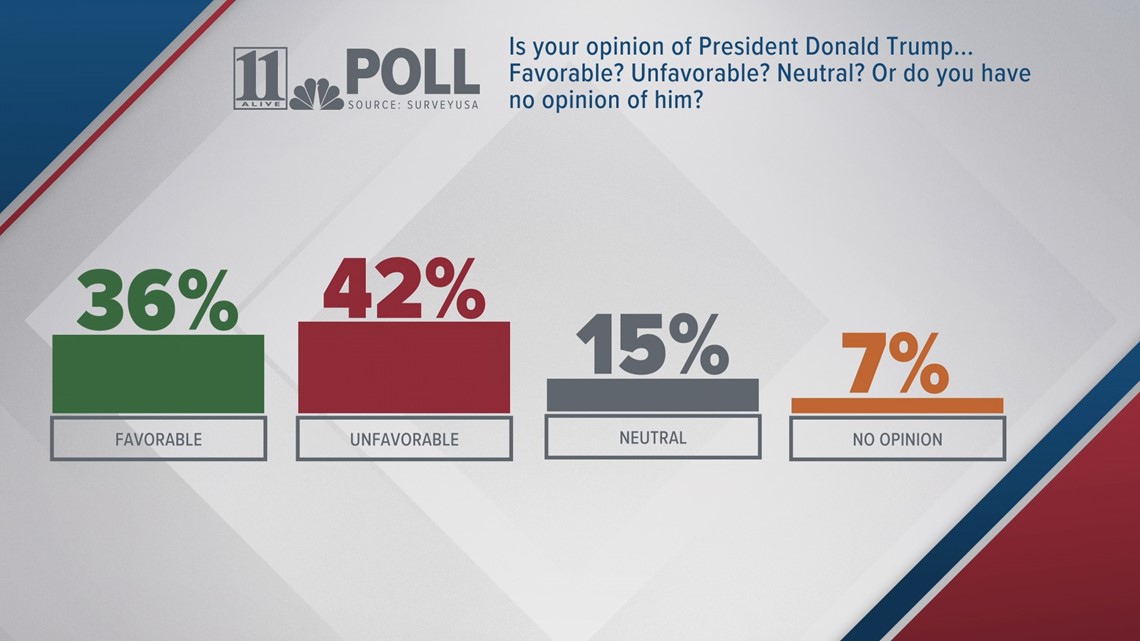 QUESTIONS
1. Is your opinion of President Donald Trump ... favorable? Unfavorable? Neutral? Or do you have no opinion of him?
36% Favorable
42% Unfavorable
15% Neutral
7% No Opinion
2. Should Special Counsel Robert Mueller be allowed to complete his investigation? Or should the investigation be stopped?
53% Allowed To Complete His Investigation
24% Investigation Should Be Stopped
24% Not Sure
3. Do you believe the Mueller investigation will lead to criminal charges against President Trump? Impeachment? Both? Or lead to nothing?
11% Criminal Charges
7% Impeachment
15% Both
40% Lead To Nothing
27% Not Sure
4. Will President Trump finish his first term?
59% Yes
18% No
23% Not Sure
HOW THE POLL WAS CONDUCTED: 11Alive commissioned the scientific poll with SurveyUSA. They interviewed 2,875 state of GA adults 05/10/18 through 05/15/18. Of the adults, 2,339 were registered to vote. Of those registered to vote, 1,033 were determined by SurveyUSA to have already returned a ballot or to be likely to do so before the 05/22/18 deadline. Of the likely primary voters, 558 chose a Republican primary ballot, 475 chose a Democratic primary ballot. Incumbent Republican Governor Nathan Deal is term-limited. If necessary, a run-off election would be 07/24/18.
MORE EXCLUSIVE POLL RESULTS