MARIETTA, GA - The Marietta Museum of History is no stranger to ghosts. They've captured a few of their own on their surveillance cameras.
So when Kristie Caputo sent us an eerie picture she took using her iPhone we wondered, could it be true? The picture is set against a World War I military uniform. If you zoom in, there appears to be a face staring back at you.
PHOTOS: Ghostly image captured at Marietta museum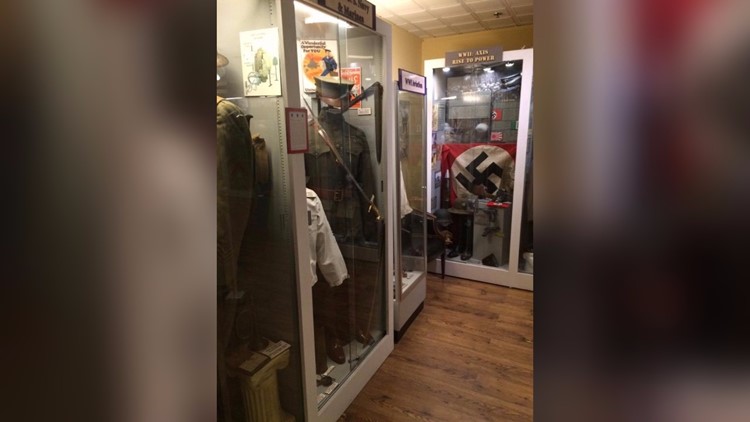 The museum has plenty of creaking sounds, old photos and history to make it a kind of creepy - even without the ghost stories.
According to its website, the building was first constructed in 1845 as a cotton warehouse. It was later remodeled into the Fletcher House Hotel and served as a makeshift hospital and morgue during the Civil War.
So when Jan Galt, the Director of Operations received the photo, it wasn't the first ghost she'd seen. Galt says there have been unexplained sounds, like the tapping of metal against metal. There have been strong smells of popcorn and cigar smoke. Visitors and workers also report unusual events.
"At one point in time the elevator would move up and down pretty much, seemed to be with its own mind," said Galt.
Paranormal researchers have visited the museum several times.
"They saw a light or motion of what looked like a little boy peaking his head out into the hallway, very playful," Galt said, explaining the findings of one visit. She says another team that same night saw a woman and wondered if perhaps the boy was hiding from her.
Other visitors have reported seeing a woman in a pink dress. The military room, where Caputo's picture was taken, has also had a number of sightings but most of those involve men. The face in Caputo's picture looks like a woman.
We asked for a picture of Caputo and the friend she was with that day to see if the reflection could be their own. The images didn't match and they insist no one else was in the room.
Galt says every time they get a ghostly claim, they check for the obvious. This time they thought it might be a hand print on the glass.
"We're a museum. People go up and put hands down and look at things. But the glass was not dirty," said Galt.
Caputo and Childers were visiting from out of town on March 12, so by the time they noticed the apparition, they couldn't go back to the museum themselves. They did check the museum's virtual tour, which allows you to go room by room, getting a 360 view of all their displays. Still they say they couldn't find anything that matched.
"I'm quite certain that the ladies who saw this, have come in contact with a ghost," said John Williams, the General Manager at Showcase Photo and Video. He humored our questions as we tried to figure out what could have caused the image.
"You can digitally manipulate images to create almost anything you want. The most obvious is to say it's a reflection of something."
Galt says they've been able to explain almost every "sighting" but admits sometimes the answer isn't obvious.
"It's fun, it's almost a different way to look at history because it's intriguing, who might have stayed in the building."