This article contains ongoing U.S. and international updates on the COVID-19 pandemic and its effects. Here are some key updates for Tuesday, May 5, 2020. You can find more details by scrolling through the story.
US task force could wind down work by early June
President Donald Trump travels to Arizona to visit a facility manufacturing N95 masks.
South Korea has reported its lowest daily increase in coronavirus cases since Feb. 18
As governments race to develop mobile tracing apps to help contain infections, attention is turning to how officials will ensure users' privacy.
From Monday: Worldwide COVID-19 death toll passes 250,000
There have been 1.2 million confirmed cases of COVID-19 in the U.S. as of 6:00 p.m. ET Tuesday, according to Johns Hopkins University. There have been more than 70,000 deaths and nearly 190,000 people recovered.
Worldwide, there have been 3.65 million confirmed cases with 256,000 deaths and nearly 1.2 million recovered.
For most people, the coronavirus causes mild or moderate symptoms. For some, especially older adults and people with existing health problems, it can cause more severe illness, including pneumonia and death.
Tyson Foods to reopen pork plant in Iowa
Tyson Foods will begin limited operation Thursday of its huge pork processing plant in Waterloo, more than two weeks after closing the facility because of a coronavirus outbreak among workers, the company announced Tuesday.
Tyson said workers have been invited to tour the plant Wednesday to see enhanced safety measures and social distancing procedures that have been implemented. The plant has been closed since April 22, and the Iowa Department of Public
Health reports 444 workers have tested positive for the virus. The plant is Arkansas-based Tyson's largest pork processing operation, with the ability to process 19,500 hogs per day. That accounts for 3.9% of the U.S. pork processing capacity, according to the National Pork Board.
Airbnb laying off 1,900 employees due to travel decline
Airbnb says it is laying off 25% of its workforce as it confronts a steep decline in global travel due to the new coronavirus pandemic.
It's a serious setback for the 12-year-old home-sharing company, which just a few months ago was valued at $31 billion and planning a hotly anticipated IPO. Airbnb lists around 7 million properties on its web site.
In a letter to employees, CEO Brian Chesky said the San Francisco-based company is letting 1,900 of its 7,500 workers go and cutting businesses that don't directly support home-sharing. Those include its investments in hotels, air transportation and movie production.
Trump visits Arizona mask factory
Making himself Exhibit A, President Donald Trump visited an Arizona face mask factory Tuesday, using the trip to demonstrate his determination to see the country reopen even as the coronavirus remains a dire threat. At the same time, the White House said it hopes to wind down its virus task force in the coming month as Trump's focus shifts.
Trump acknowledged the human cost of returning to normalcy.
"I'm not saying anything is perfect, and yes, will some people be affected? Yes. Will some people be affected badly? Yes. But we have to get our country open and we have to get it open soon," he said.
Trump had said he would be willing to don a face mask if the factory was "a mask environment," but in the end he wore only safety goggles during a tour of the facility. Nearly all Honeywell workers and members of the press as well as some White House staff and Secret Service agents wore masks, but not senior White House staff.
The Centers for Disease Control and Prevention has recommended that all Americans wear cloth masks when they can't socially distance, such as in supermarkets and pharmacies, especially in places with high community transmission.
Trump began the visit with a meeting with native American leaders during which he distributed 1,000 quick Abbott virus tests.
US task force could wind down work by early June
Vice President Mike Pence says the White House coronavirus task force could wind down its work by early June.
Pence tells reporters at a White House briefing that the U.S. could be "in a very different place" by late May and early June. Pence says the administration is beginning to eye the Memorial Day to early June window as the appropriate time to have federal agencies manage the pandemic response in a more traditional way.
Pence's comments came as an Associated Press analysis found infection rates rising even as states start to lift their lockdowns.
The vice president characterized the discussions as preliminary.
Dr. Deborah Birx, the task force coordinator, says the federal government will still keep a close eye on the data when if the task force disbands.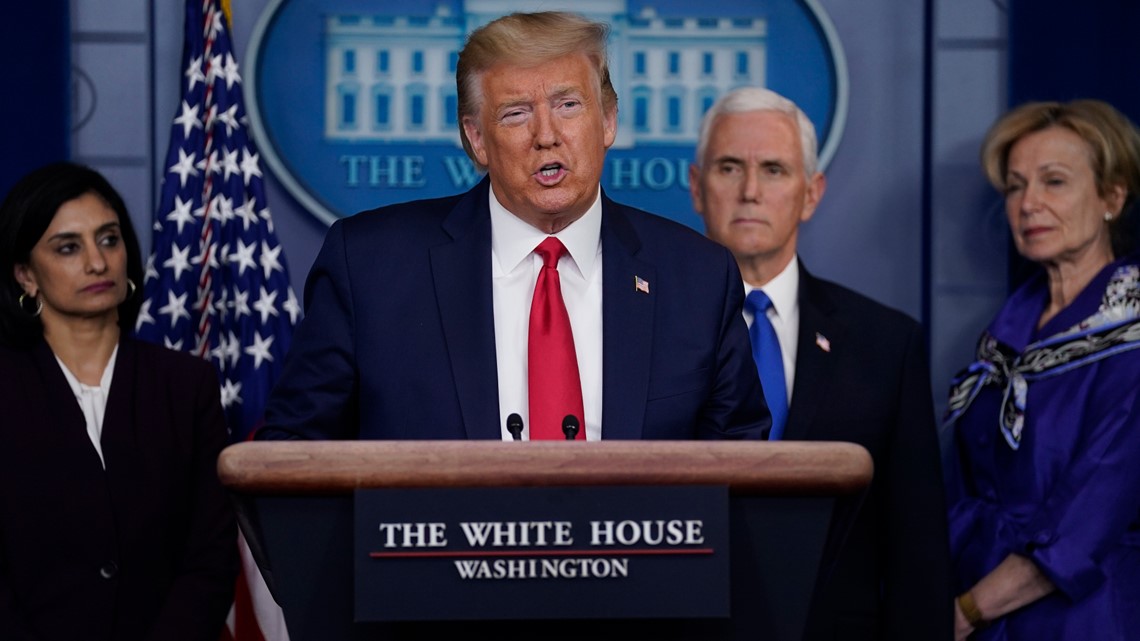 Obamas to deliver virtual commencement speeches
Former President Barack Obama and former first lady Michelle Obama are getting ready to celebrate the Class of 2020.
The Obamas announced Tuesday they'll be participating in three virtual celebrations for graduating seniors in high school and college.
The graduation events include "Show Me Your Walk, HBCU Edition," "Graduate Together: High School Class of 2020 Commencement," and "Dear Class of 2020 Commencement Address."
"Graduate Together" was organized by NBA superstar LeBron James and features an hour-long prime time TV special airing on Saturday, May 16 at 8 p.m. Eastern. The event will air live on ABC, CBS, FOX, and NBC, and will be streaming on multiple online platforms.
Hong Kong to begin relaxing social distancing measures
Hong Kong will relax some social distancing measures, allowing businesses such as gyms, cinemas and beauty salons to reopen and doubling the number of people allowed at public gatherings to a maximum of eight.
Businesses must continue to observe social distancing measures, Hong Kong chief executive Carrie Lam said Tuesday.
For example, cinemas are not allowed to fill all of their seats and restaurants must continue to space tables at least five feet apart and provide hand sanitizer to customers.
Schools will begin resuming May 27, with students in the more senior grades returning first.
Italy experts warn of second wave after gradual reopening
Italian experts are warning a second wave of coronavirus infections will most certainly accompany Italy's gradual reopening from Europe's first lockdown.
They are calling for intensified efforts to identify possible new victims, monitor their symptoms and trace their contacts
Dr. Silvio Brusaferro, president of the Superior Institute of Health, briefed a Senate committee on Tuesday about the next phase of Italy's coronavirus pandemic. He joined experts a day after 4.4 million Italians went back to work and restrictions on personal movement were eased for the first time in two months.
Brusaferro says the key to keeping the outbreak under control lies in the early isolation of people with suspected infection, more tests and the quarantine of their close contacts. He says it will require "a huge investment" of resources for training medical personnel to monitor possible new cases. He adds any phone app that can help trace contacts, while useful, doesn't substitute for the actions of people.
The head of the institute's infectious disease department, Dr. Giovanni Rezza, told La Repubblica the coming weeks were essentially an "experiment" to see how the infection curve reacts to the easing of the lockdown and production shutdown.
"We are not out of the epidemic. We are still in it. I don't want people to think there's no more risk and we go back to normal," Rezza told La Repubblica.
In Italy's hard-hit northern Lombardy, tens of thousands of sick overwhelmed the health care system. Scientists say a second wave of infection would particularly hit the south, which didn't have many infections.
Poll: Americans oppose reopening businesses during outbreak
The poll said that most people, 82 percent, were against reopening movie theaters. Reopening gyms (79 percent opposition), dine-in restaurants and nail salons (both 74 percent) followed close behind.
This comes as several states are starting to lifting restrictions that helped prevent the spread of the coronavirus.
The Washington Post said the interviews of 1,005 random adults for the poll were conducted between April 28 and May 3.
Pfizer and BioNTech test COVID-19 vaccine on people
It was part of Phase 1/2 in clinical trials for the BNT162 vaccine program.
The Phase 1/2 study is designed to determine the safety, immunogenicity and optimal dose level of four mRNA vaccine candidates evaluated in a single, continuous study.
"With our unique and robust clinical study program underway, starting in Europe and now the U.S., we look forward to advancing quickly and collaboratively with our partners at BioNTech and regulatory authorities to bring a safe and efficacious vaccine to the patients who need it most," said Albert Bourla, Chairman and CEO, Pfizer.
British leader acknowledges testing shortfall
The British government's chief scientific adviser has acknowledged that the country should have been testing more people for the new coronavirus early in the country's outbreak.
Patrick Vallance told Parliament's health committee that "if we'd managed to ramp up testing capacity quicker it would have been beneficial, and for all sorts of reasons that didn't happen."
Critics say Britain's Conservative government responded too slowly when COVID-19 began to spread, and failed to contain the outbreak by widely testing people with symptoms, then tracing and isolating the contacts of infected people.
Countries that did that, including South Korea and Germany, have recorded lower death rates than those that did not.
The U.K. has recently expanded its testing capacity and is setting up a "test, track and trace" program as it looks to relax a nationwide lockdown.
Britain is one of the world's hardest-hit countries in the pandemic, and looks likely to overtake Italy for the largest number of COVID-19 deaths in Europe.
South Korea has low daily increase as sports resume
South Korea has reported its lowest daily increase in coronavirus cases since Feb. 18 as the country restarts professional sports and prepares to reopen schools.
The three fresh infections and two more virus-related deaths bring South Korea's totals to 10,804 cases and 254 fatalities. Infections have slowed over the past month amid tightened border controls and waning transmissions in the worst-hit city of Daegu, which reported zero new cases on Tuesday. Schools will reopen in phase starting with high school seniors on May 13.
The pro baseball season started without fans in the stands, while soccer will kick off under similar conditions on Friday.
European virus tracing apps highlight battle for privacy
As governments race to develop mobile tracing apps to help contain infections, attention is turning to how officials will ensure users' privacy. The debate is especially urgent in Europe, which has been one of the hardest-hit regions in the world, with nearly 140,000 people killed by COVID-19.
The use of monitoring technology, however, may evoke bitter memories of massive surveillance by totalitarian authorities in much of the continent.
The European Union has in recent years led the way globally to protect people's digital privacy, introducing strict laws for tech companies and web sites that collect personal information. Academics and civil liberties activists are now pushing for greater personal data protection in the new apps as well.