ATLANTA — Amid coronavirus concerns, Emory University has decided to suspend residential learning for the rest of the semester. The school will remain open, however, they are transitioning to remote learning.
"Effective immediately, Emory University will extend spring break for students until Sunday, March 22, 2020," the school said on its website. Emory said the message was sent to all of its students, staff, and faculty.
The university said they will then transition to remote learning for graduate and undergraduate classes on March 23. They are asking for students who can, to remain home following spring break.
The university said students who reside in the residential halls should collect their belongings and move out between now and Sunday, March 22 at 5 p.m. After that point, the residential facilities will remain closed for the spring semester.
"The decision to transition to remote learning, limit events, and offer telecommuting options is consistent with CDC guidelines to prevent the further spread of COVID-19 and reflect similar actions from peer institutions," Emory said."We carefully considered all options to ensure that our entire community can feel safe in these uncertain times."
As for classes, the school said students would hear from faculty about plans continue them.
"The university is developing contingency plans for students and faculty who might need technical assistance and support during and through the transition to remote learning," the school said.
The school also gave suggestions as it relates to events.
"We recommend canceling all gatherings not essential to the academic mission in order to reduce the risk of exposure to and transmission of the virus," the university said.
Emory is continuing its indefinite suspension of all official and previously authorized travel to China, Iran, Italy and South Korea. They also strongly suggests for students, faculty and staff to reconsider domestic and international travel.
They plan on releasing additional guidance on events and traveling over the news couple of days.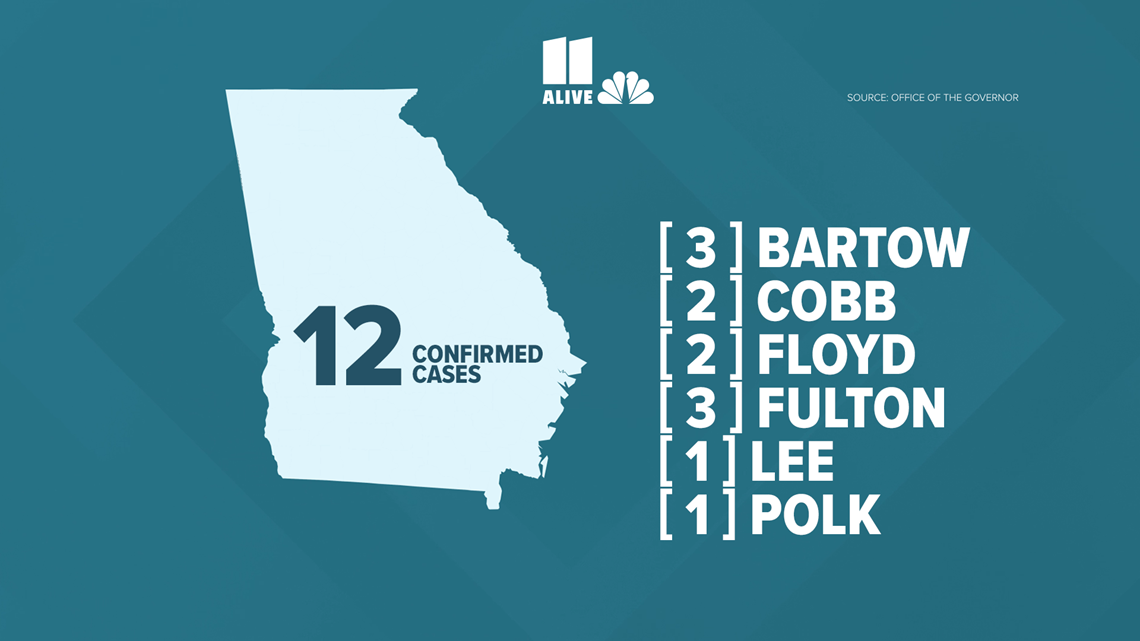 In Georgia, Gov. Brian Kemp's office said Wednesday night there were 12 confirmed coronavirus cases and 19 presumptive positive cases.
The risk of contracting COVID-19 remains low in the state, according to officials. At 11Alive, we're focusing our news coverage on the facts and not the fear around the virus. To see our full coverage, visit our coronavirus section, here: www.11Alive.com/Coronavirus.