ATLANTA — Numbers from the Georgia Dept. of Public Health show the number of new COVID-19 cases being reported per day could be on the decline.
But Dr. Harry Heiman with Georgia State University's School of Public Health said he doesn't believe the number of new cases has been trending downward long enough to reopen businesses across the state.
"We are nowhere near that, nor do we know where we actually are. We are still in a situation where we haven't done adequate testing," Heiman said.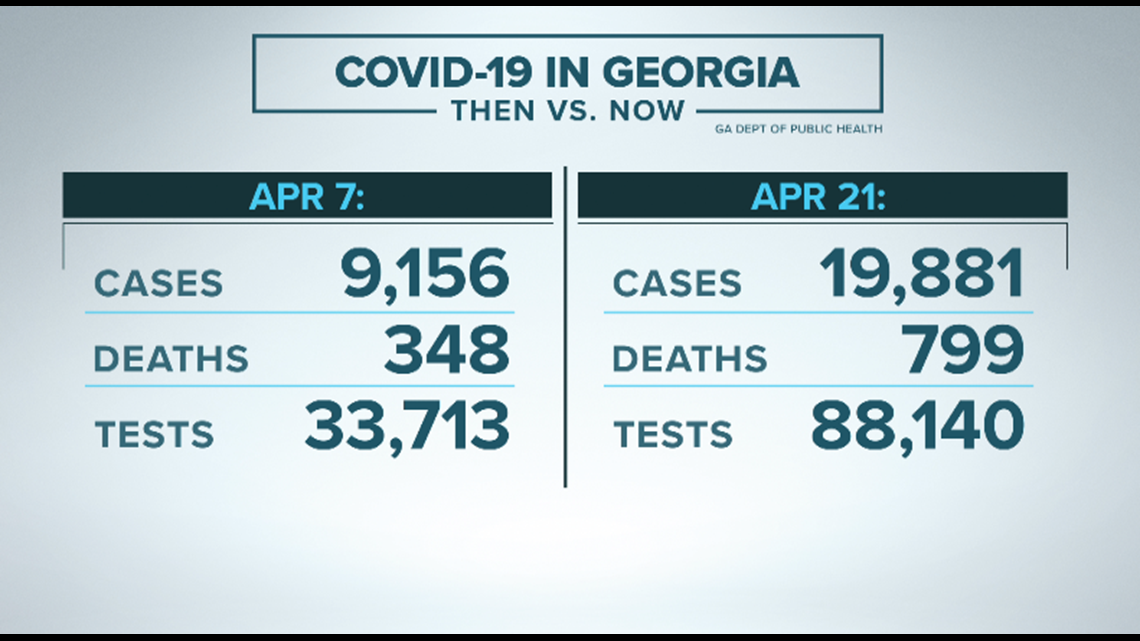 Heiman added the state still needs to find a way to expand testing amongst minority and impoverished communities, as well as testing to identify asymptomatic individuals, who could be carrying the virus and not know they're infected.
Augusta University associate professor Dr. Jeffrey James said the university should begin making the swabs for distribution by the end of the week.
James said the 3D printing plans for swabs came from the University of South Florida and then were adapted by AU faculty and residents to meet the needs of COVID-19 testing in Georgia.
James believes the plans could be distributed to other states in the near future to assist other health agencies struggling to find swabs.
"We are all working on that very diligently, our legal team is working on how this could be open source and shared to the world because the whole world needs testing," James said.
Moving beyond testing, Heiman said before re-opening businesses the state also needs to have teams in place to deal with future cases and isolating new patients.
"We need to have on the ground public health capacity to do rapid case identification, containment, contact tracing," Heiman said. "We are planning to train up public health students, I think that is a great strategy but that strategy is just being initiated."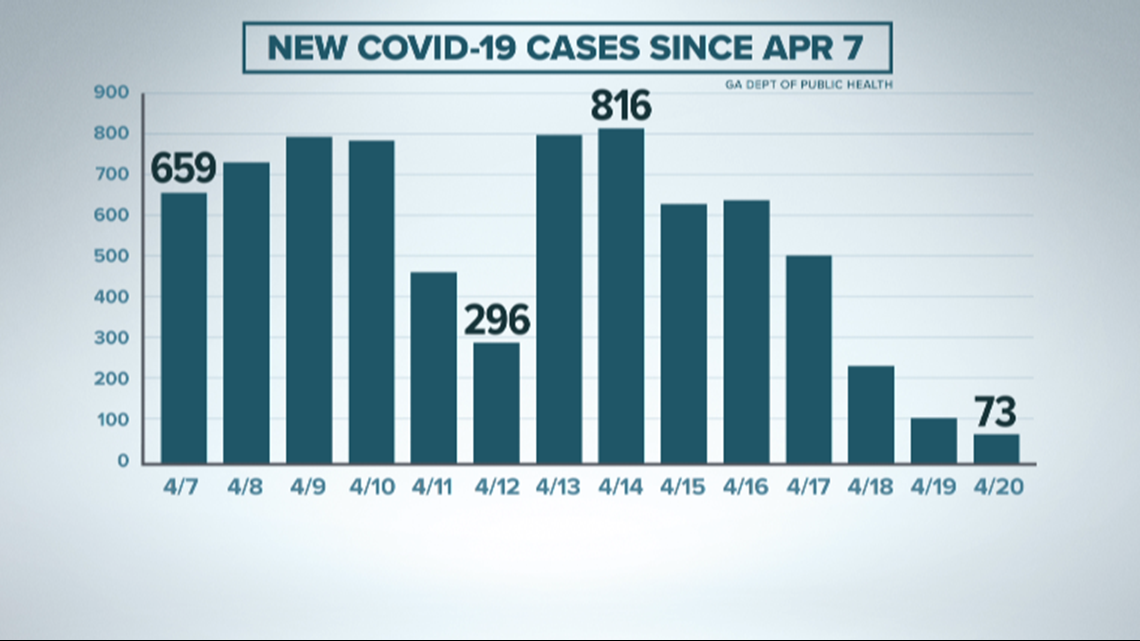 Since April 7, numbers from the Georgia Dept. of Health appear to show a downward trajectory in the number of new COVID-19 cases per day. The state's numbers though come with a footnote reading, "The most recent days of these trend data are impacted by a reporting lag that varies based on how the case is reported to public health and are subject to change."
Heiman said the footnote is important, as numbers for new cases can be updated after the fact and a recent trend could be washed away, or due to under testing new cases could actually still be on the rise.
"The White House document it a sort of blueprint of what needs to happen, but one of the things the White House document says is that you need a 14 day sustained decrease in cases and clearly we aren't there."
Before businesses reopen, del Rio also said testing needs to be expanded in many parts of Georgia. He said expanded testing is important to the continued decline in new cases, but believes the state still needs more time.
"If you're able to identify cases early and you're able to isolate them you limit the spread of the disease," del Rio said. "We are moving in the right direction and I think in the next 10 days to 2 weeks we will probably be where we need to be and hopefully resources will be put there so we can actually do that."
Both del Rio and Heiman said they will continue to practice social distancing on Friday when barbershops and several other businesses are allowed to reopen.
"I'm not ready to go get a haircut, I'll let my hair grow a little longer," del Rio said.
"I haven't had a haircut, nor do I plan to get a haircut any time soon," Heiman said.
As an infectious disease expert, del Rio stressed even though businesses may resume normal hours, people need to continue to follow the health guidelines many have practiced lately and also use common sense.
He said don't confuse open signs for meaning the threat is over and stressed people should continue to wear a mask in public, wash their hands often and stay at home.
"I'm going to still practice social distancing, I hope that people do the right things," del Rio said. "It isn't what the government does for us that will end this epidemic, but what we as citizens do. "
As businesses re-open the state is also allowing some elective surgeries to resume. Heiman said hospitals were already struggling to find enough persona protective equipment to protect healthcare workers and patients. As surgeries increased and businesses search for PPE to protect their staff, he worries more issues will arise.
"So what is going to happen to that supply chain when you have not only healthcare workers wearing many more masks than they already have been and we are talking about barbers, nail salons and everybody else having increased demand for those things," Heiman said.
11Alive is focusing our news coverage on the facts and not the fear around the virus. We want to keep you informed about the latest developments while ensuring that we deliver confirmed, factual information.
We will track the most important coronavirus elements relating to Georgia on this page. Refresh often for new information.
MORE CORONAVIRUS HEADLINES: