COBB COUNTY, Ga. — For most families, Monday marked day one for online learning as school districts throughout the city shut down schools and turned to distance learning.
That means homes have become the playground as well as the classroom, and parents, on top of juggling jobs, have also become the teachers' assistants.
Forsyth County reported a few interruptions as students logged on to check out their assignments, over loading the system. But by afternoon it seemed the service provider, It's Learning, had worked out the kinks.
11Alive reporter Rebecca Lindstrom spent the day talking with families and found most were pretty upbeat – and cautiously optimistic it would stay that way.
CLASS TIME
While some parents have posted online color-coded charts or handwritten timelines to give other families ideas on how to structure their day, Ashley Mahoney says sticking to a routine is almost impossible with her schedule.
She's grateful her company is allowing her to work from home, but she has multiple meetings to attend online.
"My meetings don't really have a schedule. They're kind of sporadic throughout the day," she told Lindstrom.
Mahoney has agreed to let 11Alive follow her Cobb County family over the next few weeks to highlight some of the challenges, successes and questions that pop up.
Her biggest challenge right now is keeping her 3-year-old daughter, CiCi, engaged and her 12-year-old son, Connor, on task.
As Mahoney tried to help Connor find a worksheet he needed to do, CiCi begged in the background for her attention. Soon, her next work meeting would start and she still needed to get lunch ready.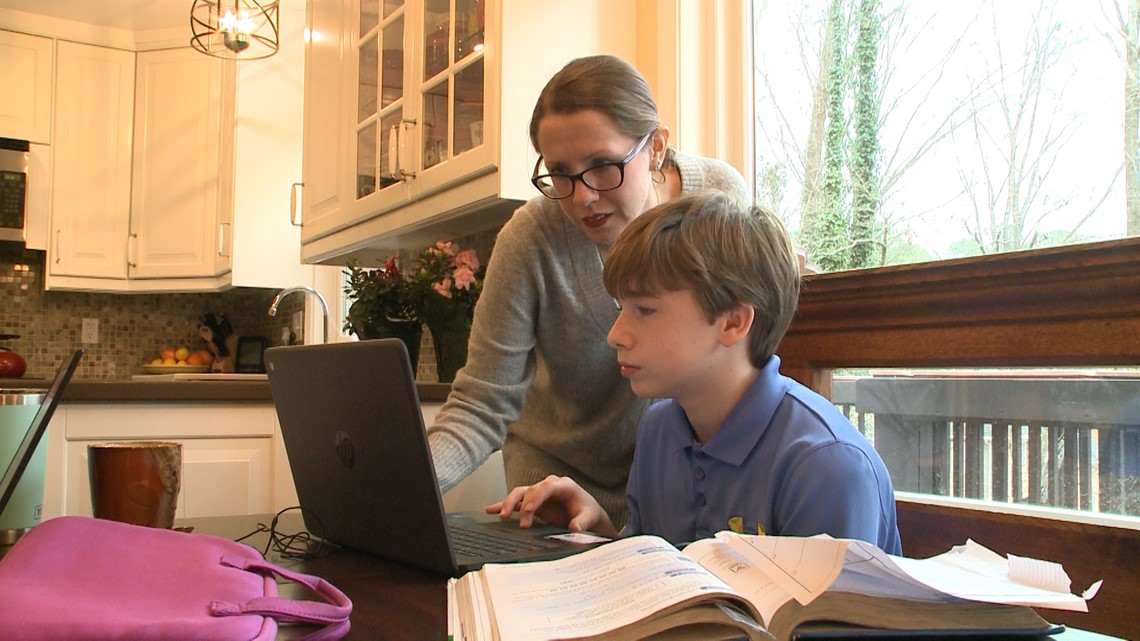 LUNCH
Lunch, that's something Mahoney admits she will have to try to remember. She usually works through it when she's at the office.
Mahoney has said no to neighborhood get-togethers or playdates.
"We're not doing any. They can play outside, they can ride their bike in the front," Mahoney explains.
On Monday CiCi normally gets to go hang out with her grandparents, but to protect them, she's said no to that too.
"She has fun over there. She has tons of toys. They do coloring and play-doh and rice table. And mommy can't really do all that," said Mahoney
RECESS
Social distancing is tough.
11Alive caught up with two families who were spending some time together, walking on Wiggly Road. They called it recess.
"We knew that we needed to do something to get out of the house," said Jeremy Silver.
Silver said he picked a time his sixth grade son would have normally been in PE. Later this afternoon, his son and another sixth grader out on the walk, will try out a virtual orchestra practice.
"I have some other neighbors who are in orchestra as well so we're going to all get on at the same call and play our instruments together," said Ethan Silver.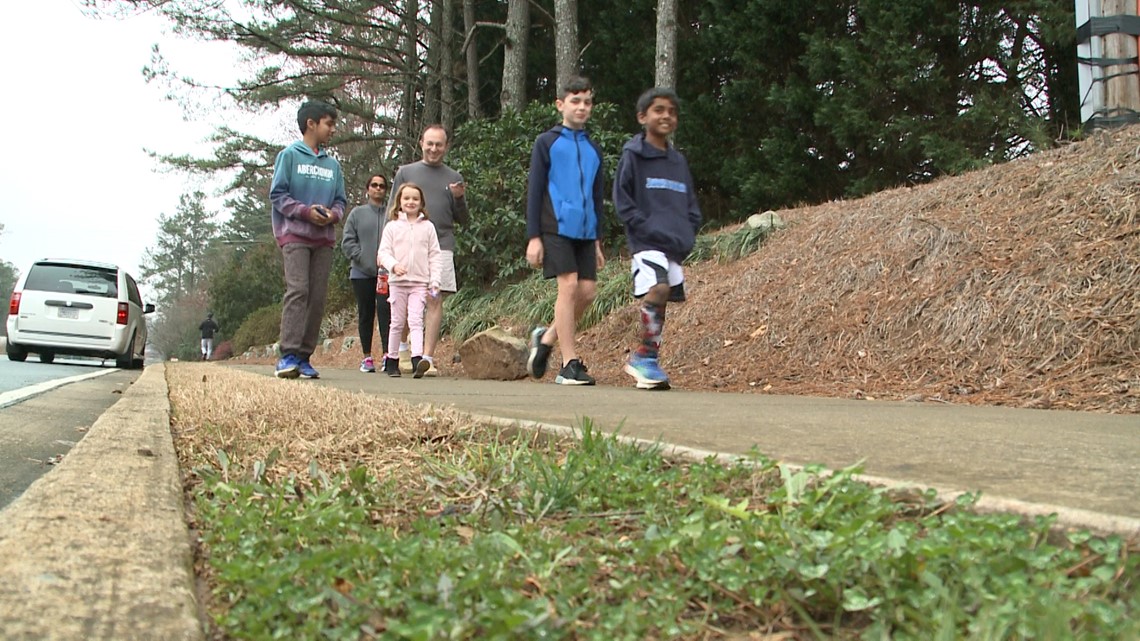 ARE PLAYDATES SAFE?
It raises the question many families have about play dates. Yes or no?
11Alive asked an infectious disease specialist her opinion. Patty Olinger is the Executive Director of the Global Biorisk Advisory Council. She says avoiding playdates eliminates risks. But if you want to keep some kind of social interaction, it's best to pick one family and have both agree to limit play dates with each other.
One parent also asked about playgrounds. Olinger said that when away from home, it's safer to play outdoors. The risk comes in touching the playground equipment, which is virtually impossible to sanitize moment by moment.
And movie theaters? Olinger says to ask about the theater's process for disinfection. Some theaters have announced they will limit sales to only 50 tickets per show, to make sure customers can keep a chair between them and other guests. If you go, be sure to wipe down all of the surfaces before you sit.
Mahoney's son Connor is okay with skipping the playdates, but says he's not thrilled about online learning.
"I'd rather do it at school, being physically taught, but I guess this is fine," he says tapping away at his keyboard.
Mahoney says it's an adjustment, but it does come with some perks.
"I get more time with my kids. That is a huge pro, I really like that," explained Mahoney.
At 11Alive, we're focusing our news coverage on the facts and not the fear around the virus. To see our full coverage, visit our coronavirus section, here: www.11Alive.com/Coronavirus.
Coronavirus links