FORSYTH COUNTY, Ga. — Cortney Gibbs had a smile on her face when she sat down at her computer to talk with 11Alive about the challenges and joys of having her kids home all day, every day. Her laugh was genuine, but every so often, hints of frustration peek through.
"I feel like I'm being pulled in lots of directions," said Gibbs.
There's no doubt, parents are wearing a lot of hats while schools are closed amid coronavirus concerns -- employee, teacher, and therapist to name a few.
Gibbs has a 7-year-old son with special needs. Ayden is pre-verbal, he's just now learning to talk and doesn't really understand what's going on.
"He went from having a very busy schedule. School all day and therapy after school. And we were doing seven therapies a week," explains Gibbs.
That's now down to three, speech, physical and hippotherapy, a program that includes horseback riding to work on coordination, balance, and strength. Gibbs hopes those programs are able to stay open. She needs the support and Ayden needs the interaction.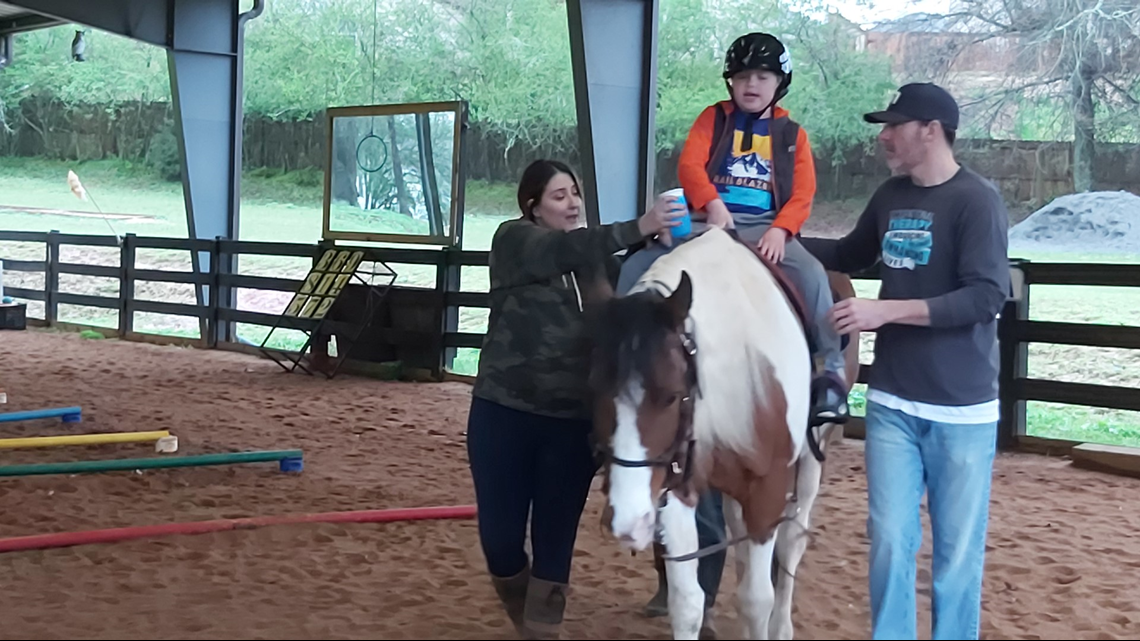 "We are seeing some behavior that we haven't seen in a very long time come back. Some aggression. He doesn't understand. Everything has been taken away," said Gibbs.
She tries to keep him busy with the things he loves, but while Ayden is dancing to Disney music at full blast, her older son, who has an IEP as well, is trying to study.
"So he's running around. He's loud, he's happy. And then my oldest is upstairs like, 'Mom, I need help,'" Gibbs explains with a sigh. "And I'm like, 'I don't know what to do.'"
While Gibbs tries to juggle the needs of her children in Forsyth County, Ashley Mahoney sits in a house more than 20 miles away dealing with many of the same struggles.
Mahoney has a 12-year-old son. When the cameras are around, he's quiet and likes to do his own thing. His 3-year-old sister CiCi, on the other hand, loves the attention.
As "The Reveal" reporter Rebecca Lindstrom chatted with Mahoney, the top of CiCi's head could be seen in the background, running from side to side, flipping the lights on and off. On camera, she had raspberries and smiles to share.
They are silly moments that made Lindstrom laugh, but they're perhaps not so funny when mom is trying to hold a business meeting online.
"I did end up sending them outside quite a bit last week if I had some really big meetings," said Mahoney.
Games and activities she thought would keep her daughter distracted, don't always last as long as she hoped. Take for example a dollhouse she gave CiCi as a surprise.
"That big, big dollhouse came out this week. I thought that would keep her entertained for a few hours, but she set it up and she said she was all done," said Mahoney.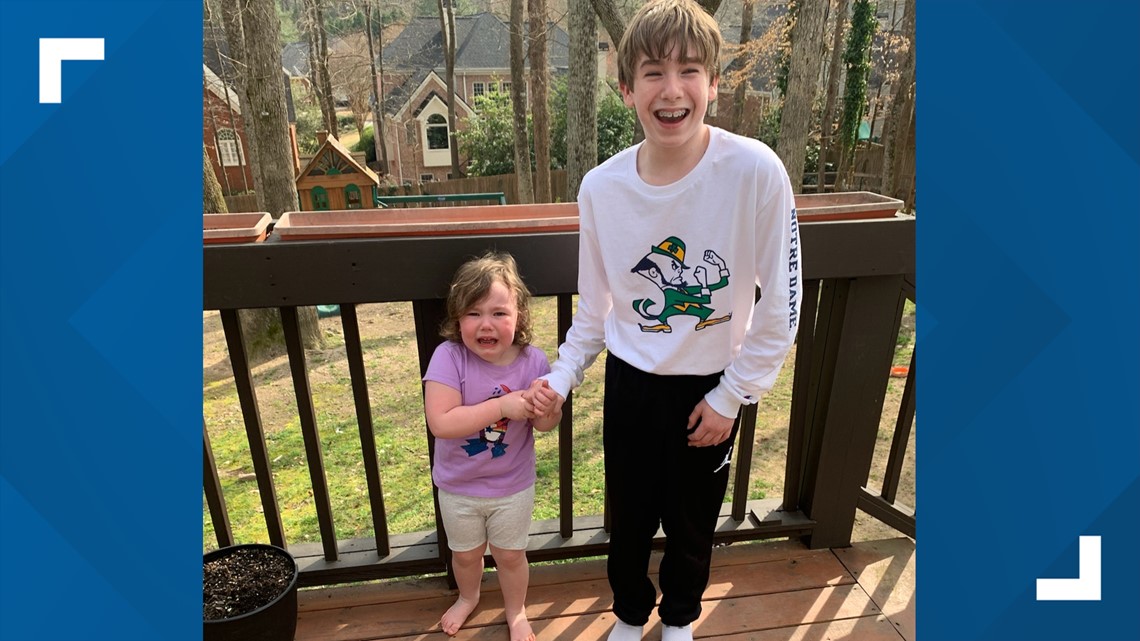 She also quickly discovered, 4 p.m. was just a bad time for a web meeting. The kids are restless and CiCi is tired. She just wants Mom.
Mahoney says she's grateful her boss and the client she serves are so understanding.
And she's thankful teachers are understanding as well. Not all of Connor's homework assignments made it in on time. Mahoney isn't sure what went wrong but says she's going to pay more attention to what needs to be done and make sure the technology works when it's time to turn the assignments in.
"I think making sure he's getting things done. So he thinks he's getting them done and he's forgetting to submit something or he's submitting it but it's not going through. I think that's been frustrating for him," said Mahoney.
"Online learning has been tedious because it's still kind of crashing a lot. And some passwords aren't linked," said Gibbs. "I'm not a teacher. I'm doing my best that I can, so I am concerned that he's really learning anything from it."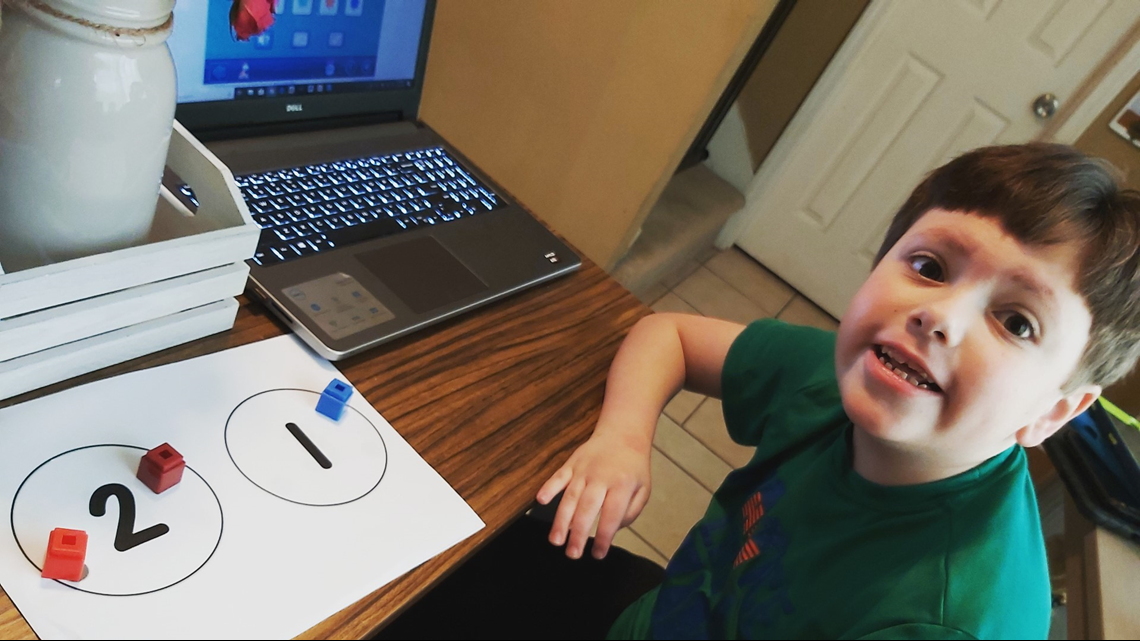 Both moms say the uncertainty of the situation is a struggle, not knowing when this will end.
"It's one of those things where you don't really have any comfort because you don't know what's going to happen," saiddGibbs.
Despite the challenges, both moms say the time with their children is priceless. Gibbs plans to incorporate more life skills into their day like cooking and she wants to take more time to sit down and simply talk.
There have been successes to celebrate as well. CiCi decided she was finally ready for potty training.
"This is a huge deal," Mahoney said with an equally huge smile across her face.
11Alive is focusing our news coverage on the facts and not the fear around the virus. We want to keep you informed about the latest developments while ensuring that we deliver confirmed, factual information.
We will track the most important coronavirus elements relating to Georgia on this page. Refresh often for new information.
MORE CORONAVIRUS HEADLINES |