ATLANTA — The metro Atlanta area is basically shut down, as public officials take steps to limit the spread of the novel coronavirus.
It's okay, though - we're all in this together, and we're going to get through it.
While it might seem the only thing left to do in the world is collapse on your couch and binge-watch "Tiger King," we've got some ideas that will hopefully help you manage the next 30 days.
Activities away from home
Going outside is, of course, trickier, but it's not banned, and in certain respects, it's even encouraged. In all cases in which you leave your house though, remember to practice social distancing, don't touch your face and wash your hands after you've touched things.
Here's some of what you can leave the house for:
Exercise (biking, hiking, walking, jogging): This is the trickiest one. Doctors have naturally encouraged people to continue to try to practice healthy lifestyles, including exercise, and to that end public officials have generally been reluctant to fully close off parks and trails. But understand, because they're some of the last public spaces open, these parks and trails can also draw a lot of people. Use common sense - if you find an empty stretch of the BeltLine, feel free to take advantage of it for as long as it remains open. The unpaved gravel portions along the Southside trail are likely to be less crowded than the more popular walking stretches on the eastside, for instance. But if you go someplace and there are simply too many people already there to reasonably practice social distancing, consider it closed.
Go to a grocery store: Again, this is tricky. Everyone needs to eat, and grocery stores remain open as an essential business under stay-at-home and shelter-in-place orders. Still, there are going to be times when they're overly crowded, and if you show up at the store and it seems like it's especially busy, consider going back home and coming back at another time.
Go for a drive: The roads are emptier than ever, gas is cheaper than it's been in years, so why not take advantage? There are plenty of cool spots around Atlanta to stop and take a picture from your car or, if there's not really anybody else around, get out and enjoy the scene for a moment.
Play catch, toss a frisbee, kick around a soccer ball: This is stuff you and your family can do in your yard. If you live in an apartment, drive around a bit, find an open space, and make it your own (don't trespass, obviously). As long as you're quarantining with at least one other person, casual sports activities should be pretty doable.
Donate blood: With everybody shut-in, officials face a dire blood shortage. There's a Red Cross blood drive from 10 a.m.-3 p.m. next Monday at Atlanta Motor Speedway (Tara Ballroom, Condo Buiding at 1500 Tara Place). The Red Cross says, "Individuals can schedule an appointment to give blood with the Red Cross by visiting RedCrossBlood.org, using the Red Cross Blood Donor App, calling 1-800-RED-CROSS or enabling the Blood Donor Skill on any Alexa Echo device. Donors are asked to make an appointment before showing up to donate in order to manage the flow of donors appropriately in alignment with social distancing practices." Enter sponsor code 'atlantaspeedway' and choose the donation time that works best for you."
Home activities
See your friends!: No, not in person. Virtual hangouts on platforms like FaceTime, Skype and Zoom are all the rage - it's no replacement for actually being in the company of other people, but this is what we've got for the time being. Give it a shot!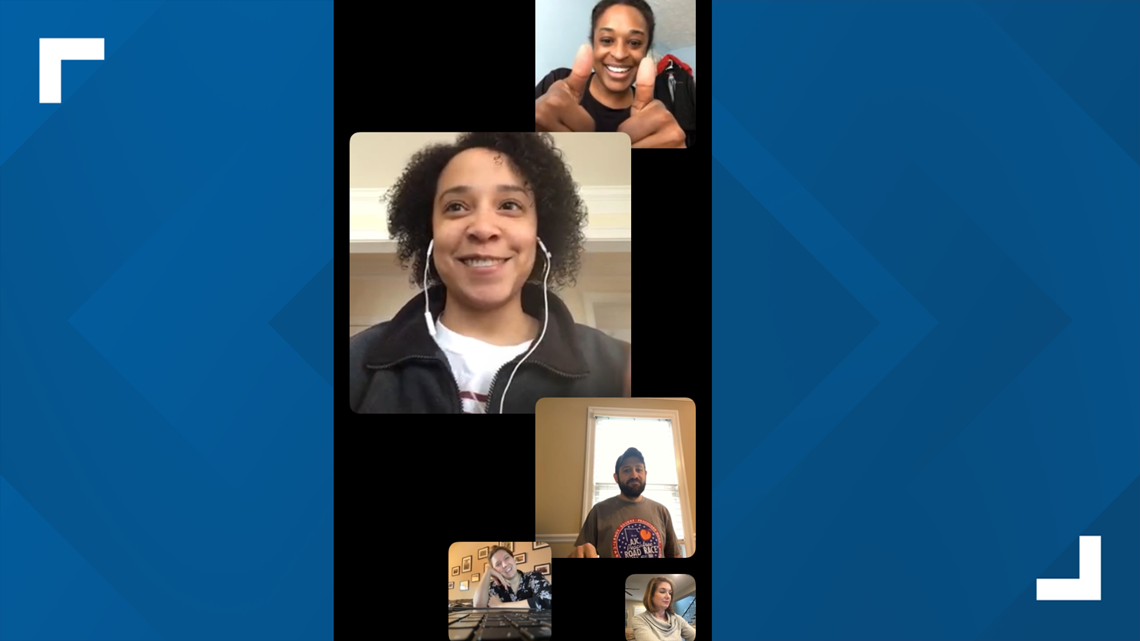 Help somebody: There are dozens and dozens of organizations working to help alleviate the pain the coronavirus outbreak is causing among vulnerable communities. In many instances, all it takes is the click of a button to do your part.

RELATED: Ways to help: Community partners and charities in need amid coronavirus pandemic


Read a book: You see cool books, you buy the books, you never find the time to actually read the books. Well, here's your chance.
Learn to cook something: You know you can get delivery groceries from stores like Walmart or with platforms like Instacart? Lookup a cool recipe, get the ingredients delivered right to your door and try your hand at something new. You can even try one of the Instagram classes some celebrity chefs are holding.
Don't cook anything at all: Your local restaurants need your help, so if you want a great meal and tonight's just not the night you're going to do it yourself, try a takeout or delivery order from an independent restaurant.
Work out: You can do this inside either through traditional weights and machines or with a little more creativity. Here are some tips an Atlanta fitness guru shared with us: How to stay in shape while you stay inside: Atlanta fitness guru shares tips for healthy living in coronavirus quarantine
Visit a museum!: Some of the world's greatest art collections, including those at the National Gallery of Art in Washington and the Musee d'Orsay in Paris, are hosted online by Google. Museums like London's British Museum have remarkable, immersive digital exhibits. Search your favorite museum, see what they're offering.
Learn a language: Or, at least, learn a little bit of it. None of us are going to be fluent by the end of social distancing, but apps like Babbel and Duolingo can help you get started.
Learn literally anything else you want: A staggering amount of knowledge is available through free online Ivy League courses at Class Central. Take a course on the science of well-being at Yale or try a class on the wonders of ancient Egypt at Penn.
Go to a concert: Musicians are hosting shows on Instagram and YouTube, DJs are doing live sets, and this past Sunday some of the most accomplished musicians alive held a worldwide "living room concert." It's a great time to be into music, with artists making it available in direct, personal ways like never before.
11Alive is focusing our news coverage on the facts and not the fear around the virus. We want to keep you informed about the latest developments while ensuring that we deliver confirmed, factual information.
We will track the most important coronavirus elements relating to Georgia on this page. Refresh often for new information.
MORE CORONAVIRUS HEADLINES